Vegan Globetrotter is supported by our audience. When you purchase through one of our links, we may earn a small affiliate commission.  As an Amazon Associate I earn from qualifying purchases. Your cost is not affected.
==================
This Vegan Chocolate Lava Cake is rich, gooey, and delicious, And trust me; it's so good that nobody will even know it's vegan. Except for you, of course! So whether you're looking for a treat everyone can enjoy or just trying to find a delicious and guilt-free dessert, this lava cake is definitely worth a try.
Vegan Chocolate Lava Cake: Oozing with rich goodness!
Before, I used to believe that vegans wouldn't enjoy desserts as much as non-vegans do. But I was wrong! All you have to do is be creative; trust me, this chocolate lava cake might be the key!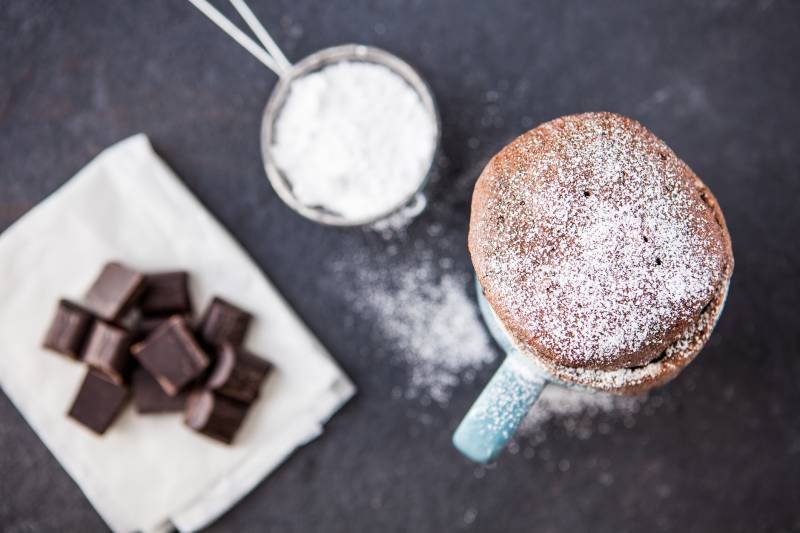 How Chocolate Lava Cake was Invented?
Chocolate lava cake is said to be a beautiful mistake. It said lava cake was invented with an accident pulling a cake from the oven with an uncooked runny center. But, no, lava cake is not an undercooked cake- it has this gooey, rich ganache inside that flows runny once you have the first slice. It was so good that it quickly became a popular dessert worldwide. These chocolate lava cakes have undergone numerous modifications, including vegan versions.
The traditional lava cake is made using eggs, milk, and chocolate. But for this version, this delectable dessert will use vegan ingredients instead. Can you believe this recipe contains no dairy? Yes, you heard it right! But before we get started on the recipe, let's go over our vegan substitute ingredients.
Vegan Chocolate Lava Cake Components
All-purpose Flour – This will be the body of your chocolate lava cake. If you want to make a more nutritious version,substitute it with gluten-free flour. 
Vegan sugar– these sugar are the ones that are considered raw and unrefined. The best example would be beet sugar, or you can also use coconut sugar. 
Unsweetened Cocoa Powder- you can choose from two types of cocoa powder. There is the natural cocoa and the alkalized or dutch-process, which I prefer more because of its more intense color and flavor. These two types of cocoa are both vegan-friendly. 
Baking Powder  – this will help the lava cake rise and give it a fluffy, light, and bouncy texture. These two main components are both natural and vegan. 
Salt – is not extracted from any animal source and is naturally vegan. Adding salt to sweet recipes will help them balance and enhance the flavor. 
Chickpea Aquafaba – your egg replacement usually comes from chickpea water. Soybean water is also another egg replacement option. 
Vegan Chocolate Chips – who said that vegans couldn't have chocolates? These vegan options are made from cacao beans with no added dairy or animal products. 
Coconut oil – is an excellent substitute for butter. If you dislike the coconut taste and aroma, you can substitute it with any neutral vegetable oil. 
Tahini – is a paste made from ground sesame seeds. It has this paste texture, a little savory and nutty in flavor. Tahini will serve as the molten center of your vegan lava cake.  
Flaky sea salt for garnish – this is optional. But this will give the lava cake another layer of flavor. 
Vegan Chocolate Lava Cake is now your new favorite!
The best way to enjoy Vegan Chocolate Lava Cake is to microwave it for 30 seconds, then let it sit for 1 minute before serving. This process will allow the molten filling center to become gooey and delicious. It is easy and delightful to enjoy a delicious and healthy treat. It is also a fantastic way to get your daily dose of chocolate without overindulging.
The preparation is simple; it is usually baked in individual ramekins suitable for a single serving. Once the cake is baked, it is inverted into a serving plate. You can garnish it with vegan ice cream or dust of powdered sugar and fresh fruits.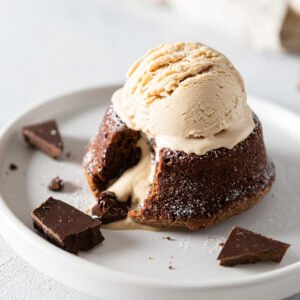 Vegan Chocolate Lava Cake
If you love chocolate lava cake, you're in for a treat! This vegan version is just as rich and indulgent as the original but far healthier. Made with natural ingredients, it's a delicious dessert that everyone can enjoy!
Ingredients
1

cup

all-purpose flour

or use gluten-free flour

3/4

cup

beet sugar

coconut sugar, or any vegan version of your choice

1/4

cup

cocoa powder

unsweetened (natural or dutch-process)

1/4

teaspoon

salt

fine

1/2

tsp

baking powder

1/2

cup

aquafaba

liquid drained from a 15.5-ounce canned of chickpeas
Chocolate Mixture
1/2

cup

chocolate chips

vegan

1/4

cup

coconut oil
Instructions
Preheat the oven to 350 degrees Fahrenheit.

Spray four 4-ounce ramekins liberally with nonstick cooking spray. Place the ramekins on a baking sheet with a rim.
Cake Mixture
Combine all the dry ingredients by sifting all together the flour, cocoa powder, sugar, baking powder, and salt.

Whisk everything together.

Using a stand mixer with a whisk attachment, fill the mixing bowl halfway with aquafaba. Whisk it for 3 to 5 minutes on high speed, until soft peaks form.
Chocolate Mixture
Melt vegan chocolate chips with coconut oil using a microwave-safe bowl.

Microwave it in 30 seconds increments while mixing in between. Allow cooling for 1 minute before adding to the flour mixture.
Assembling
Using a spatula, fold in the whipped aquafaba until combined.

Fill the ramekins roughly halfway with batter. Make a well in the center with your fingertips.

Fill each well with two teaspoons of tahini.

Cover the tahini with more batter by gently placing a small disc of batter on top. The goal is to hide the tahini but not press it out of the well.

Bake until the cake edges are firm and the tops are slightly cracked but set, 20 to 25 minutes.

Invert onto serving plates, garnish with a sprinkle of flaky sea salt or scoop of vegan ice cream and serve immediately.
Notes
You have another option for the lava filling. It can be made with a vegan version of chocolate, butter, cream cheese, or even vegan marshmallows. You can also make a vegan ganache by melting vegan chocolates and mixing them with coconut cream. Store it in the refrigerator to set and scoop it out once ready to use.
Nutrition
Calories:
419
kcal
Carbohydrates:
44
g
Protein:
6
g
Fat:
27
g
Saturated Fat:
17
g
Polyunsaturated Fat:
3
g
Monounsaturated Fat:
3
g
Sodium:
204
mg
Potassium:
231
mg
Fiber:
3
g
Sugar:
13
g
Vitamin A:
8
IU
Vitamin C:
0.5
mg
Calcium:
73
mg
Iron:
3
mg
More Easy Dessert Recipes
Love vegan baking recipes? You could try these simple recipes at home to impress your loved ones. Perfect for after-meal treats and coffee and tea parties with friends and family!
To Wrap It All Up 
And there you have it, whether you are a vegan who loves chocolate lava cake, or maybe you're a baker looking for a delicious and dairy-free dessert to make for your next dinner party. Either way, this recipe is sure to please! This vegan chocolate lava cake is rich, gooey, and totally irresistible. Trust us; once you try it, you'll be hooked! So what are you waiting for? Fire up those ovens and get baking! 
Connect With Us
If you've tried these vegan version of Chocolate Lava Cake, don't forget to leave a rating on the recipe card. Tag us on our social media accounts and make sure to subscribe to our weekly newsletter, and follow the Best Baking Tips and Vegan Globetrotter sites for more delicious ideas!
Read More
Leafy Vegetables For Great Health