Vegan Globetrotter is supported by our audience. When you purchase through one of our links, we may earn a small affiliate commission.  As an Amazon Associate I earn from qualifying purchases. Your cost is not affected.
==================
Are you looking to eat healthier by air-frying your meals, but without taking up too much counter space? Look no further than the Ninja Foodi Digital Air Fry Oven! Not only is this a revolutionary appliance that combines both air-frying technology and convection heat for deliciously crispy results without using any oil, but it also fits easily on your kitchen counter. This detailed review of the Ninja Foodi Digital Air Fry Oven will give you an in-depth look into all its features, from size & design to performance! Read more about why this oven could be the perfect addition to your kitchen!
A Detailed Review: Ninja Foodi Digital Air Fry Oven
.
As someone who loves to cook, I'm always looking for the latest and greatest kitchen gadgets. That's why I was thrilled to get my hands on the Ninja Foodi Digital Air Fry Oven. This versatile appliance promises to revolutionize how you cook, with its ability to air fry, roast, bake, and more. But does it live up to the hype?   In this detailed review, I'll take you through my experience with the Air Fry Oven, sharing both the pros and cons of this innovative appliance. From its sleek design to its impressive cooking capabilities, there's plenty to talk about when it comes to this top-of-the-line air fry oven. So, let's dive in and find out if the Ninja Foodi Digital Air Fry Oven is worth the investment.
.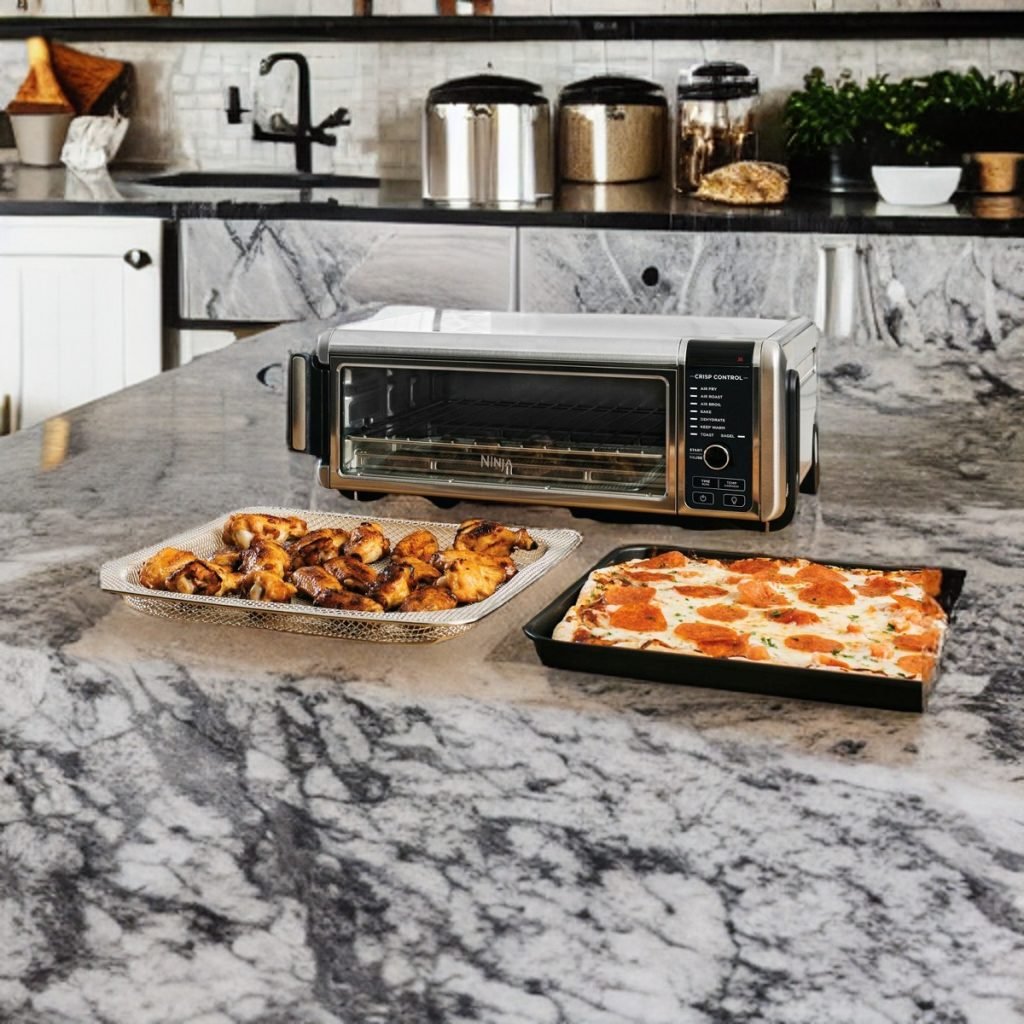 Getting to Know The Ninja Foodi Digital Air Fry Oven
.
As a lover of crispy, golden-brown food, I was on a quest to find the ultimate cooking gadget that would deliver restaurant-quality meals right in my own kitchen. And boy, did I hit the jackpot with the Ninja Foodi Digital Air Fry Oven!
This incredible kitchen powerhouse is a game-changer for busy home cooks who crave delicious, healthy meals without sacrificing time or convenience. The Ninja Foodi Digital Air Fry Oven can air fry, roast, bake, broil, toast, and dehydrate – all in one compact, countertop unit.
This oven is incredibly versatile and easy to use, equipped with a digital control panel and multiple cooking settings. Plus, its sleek design adds a touch of sophistication to any kitchen. It's perfect for cooking everything from roasted veggies to homemade pizzas and dehydrated fruits.
One of the standout features of this Air Fry Oven is its unique cyclonic air technology, which allows for even airflow and faster cooking times. This means your food will be cooked to perfection every time, without ever having to worry about flipping or rotating it. And don't worry about greasy foods – the removable crumb tray and non-stick interior make cleanup a breeze!
Specifications
.
Material: Stainless Steel

One of the key features of this impressive piece of tech is its sleek and sturdy stainless steel construction. From the moment you take it out of the box, you can't help but appreciate this appliance's modern, upscale look.
Dimensions: 7.56″D x 19.72″W x 14.96″H

It's compact enough to fit on my already-crowded countertop. But don't let the size fool you. This oven delivers evenly cooked, crispy results every single time.
Item Weight: 18 pounds

It may not be the lightest appliance out there, but trust me when I say it's worth it. Just make sure you have a sturdy countertop to support it.
Capacity: 169 cubic inches

I was beyond excited to put its 169 cubic inches of capacity to the test. From roasted vegetables to homemade pizzas, this versatile appliance exceeded my expectations in every way.
Video Credit: @NinjaKitchenUS
Features Of The Ninja Foodi Digital Air Fry Oven
.
As a foodie, I am thrilled to share my personal review of this Air Fry Oven. This kitchen appliance is a game changer and has significantly impacted the way I cook my favorite meals. Let me dive deeper into the features that make this product stand out.
Digital Crisp Control Technology
The Digital Crisp Control Technology is outstanding. It ensures that my food gets evenly cooked and comes out crispy every time. Now, I don't have to worry about whipping up soggy French fries or undercooked chicken wings. This technology takes care of it all.
8-in-1 Versatility
This appliance does everything from air frying and baking to dehydrating and roasting. And because it's so versatile, it serves as the perfect substitute for my traditional oven. It saves me time, energy, and money, as I don't have to turn my main oven on every time I want to cook something.
Less Fat
As someone who takes health seriously, I appreciate that I can still enjoy my favorite fried foods without feeling guilty or worrying about my cholesterol levels. I can indulge in crispy potato chips or roasted vegetables without sacrificing my health.
Overall, Its Digital Crisp Control Technology, 8-in-1 Versatility, and Less Fat features have impressed me beyond words. It's worth the investment, and I believe every home cook should have one of these in their kitchen arsenal. The future of cooking is here, and it's in the form of this brilliant kitchen appliance.
Ninja Foodi Digital Air Fry Oven Pros and Cons
As someone who loves to cook and experiment with different kitchen appliances, I was recently allowed to test out the Ninja Foodi Digital Air Fry Oven. After several weeks of use, I can confidently say that this appliance has its fair share of pros and cons.
Versatility
Perhaps the biggest selling point of the Ninja Foodi oven is its versatility. Not only does it function as an air fryer, but it can also bake, roast, broil, and dehydrate. This means that you can use it for anything from making crispy french fries to roasting vegetables to dehydrating fruits for homemade trail mix.  
Capacity
With a 13-inch by 13-inch cooking chamber, it's large enough to cook for a family, but not so big that it takes up an entire countertop. Plus, the digital display and control panel make it incredibly easy to navigate, even for those who aren't particularly tech-savvy.  
No Preheating Necessary
The Ninja Foodi oven doesn't require any preheating. This is a huge time saver, especially for busy weeknight dinners when you want to get food on the table quickly.
Pricey
One of the biggest cons of the Ninja Foodi oven is its price. It's certainly not cheap. While it's undoubtedly a great investment for serious home cooks, it might be too steep for those who only cook occasionally.  
Interior Cleaning
The interior of the oven can be difficult to clean. While the non-stick coating is supposed to make cleaning easy, I found that certain foods, like melted cheese or sticky sauces, tended to burn onto the surfaces, making them extra stubborn to scrub off.  
Not the quietest appliance
A minor con is the fact that the Ninja Foodi oven is quite loud when in use. This might not be an issue if you have a separate kitchen or dining area, but the noise could be a bit obtrusive for those with open-concept living spaces.
All things considered, I would definitely recommend the Ninja Foodi Digital Air Fry Oven to anyone looking for a versatile kitchen appliance that can handle a wide variety of cooking tasks. While there are certainly some cons to be aware of, the pros definitely outweigh the cons in my opinion. So if you're in the market for a new oven, consider giving the Ninja Foodi a try!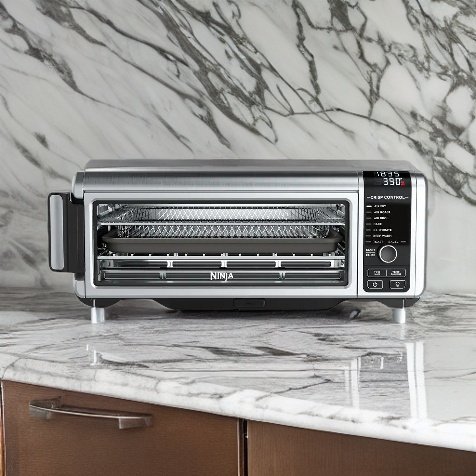 Let's Wrap It Up: Our Ninja Foodi Digital Air Fry Oven Verdict
After thoroughly testing the Ninja Foodi Digital Air Fry Oven, we concluded that this kitchen appliance is a game-changer.   Firstly, the versatility of this oven blew us away. Not only does it air fry to perfection, but it also functions as a convection oven, toaster, and dehydrator. This means less clutter in the kitchen and more bang for your buck.
Another standout feature is the digital display and easy-to-use control panel. An appliance cannot often be both high-tech and user-friendly, but the Ninja Foodi Digital Air Fry Oven manages to achieve both.
In terms of performance, this oven did not disappoint. We tried everything from fried tofu to sweet potato fries, and the results were crispy and delicious each time. And because it uses air instead of oil, we felt less guilty indulging in our favorite fried foods.
The only downside to this appliance is its size. It's larger than your average toaster oven, so it may take up more counter space than you anticipated. But for the convenience and quality of cooking it provides, it's well worth it.
Overall, if you're in the market for a multi-functional kitchen appliance that can air fry, bake, and more, the Ninja Foodi Digital Air Fry Oven is definitely worth considering. It's convenient, easy to use, and always produces delicious results.
Frequently Asked Questions
Is the capacity of the Ninja Foodi Digital Air Fry Oven big enough for my family?
Absolutely! The oven has a large capacity, easily fitting up to six slices of toast, a 12-inch pizza, or a ton of roasted vegetables. So, whether you're cooking for yourself or your entire family, this oven has you covered.
What other features does the Ninja Foodi Digital Air Fry Oven have?
Besides air frying, the oven has a variety of other cooking modes, including baking, broiling, and roasting. It also features a built-in thermometer for perfectly cooked vegetables and an adjustable temperature range from 105°F to 500°F. With the included accessories, like a sheet pan and air fry basket, you'll be able to cook almost anything.
Is the Ninja Foodi Digital Air Fry Oven energy efficient?
Yes, the oven is designed with energy efficiency in mind. It has a low standby power consumption when idle and uses less energy than a traditional oven when cooking. This means you can save money on your energy bill while still enjoying your favorite foods.
How does the Ninja Foodi Digital Air Fry Oven compare to other air fryers on the market?
The Ninja Foodi Digital Air Fry Oven stands out from the competition due to its versatility and "set it and forget it" convenience. With the ability to cook a wide range of foods and the included accessories, you can do more with this oven than with a traditional air fryer. Plus, the digital controls and presets make it incredibly user-friendly.