Vegan Globetrotter is supported by our audience. When you purchase through one of our links, we may earn a small affiliate commission.  As an Amazon Associate I earn from qualifying purchases. Your cost is not affected.
==================
If heaven were a dessert, it would undoubtedly be a decadent chocolate ganache tart. If you're looking for something seriously indulgent that also satisfies your craving for something sweet and chocolaty, this is the perfect treat! With an easy-to-follow recipe that comes together in no time flat and requires minimal effort, you'll be enjoying a rich and creamy chocolate tart before you know it. Let's get baking—it's time to tantalize your taste buds with this gorgeous chocolate ganache tart!
Decadent Chocolate Ganache Tart
Satisfy those cravings with our Chocolate Ganache Tart
If you're a true foodie with a sweet-tooth, chances are you've been dreaming of the day when dessert time rolls around and your options for indulging include more than just ice cream. Well folks, here's something that'll satisfy even the biggest chocolate cravings – an incredibly decadent Chocolate Ganache Tart! Rich and creamy ganache melts in your mouth alongside light and buttery crust – it's enough to make the angels sing! If you're feeling adventurous, get creative by adding different toppings or flavor combos; this tart can handle it all! So what are you waiting for? Ready. Set. Indulge!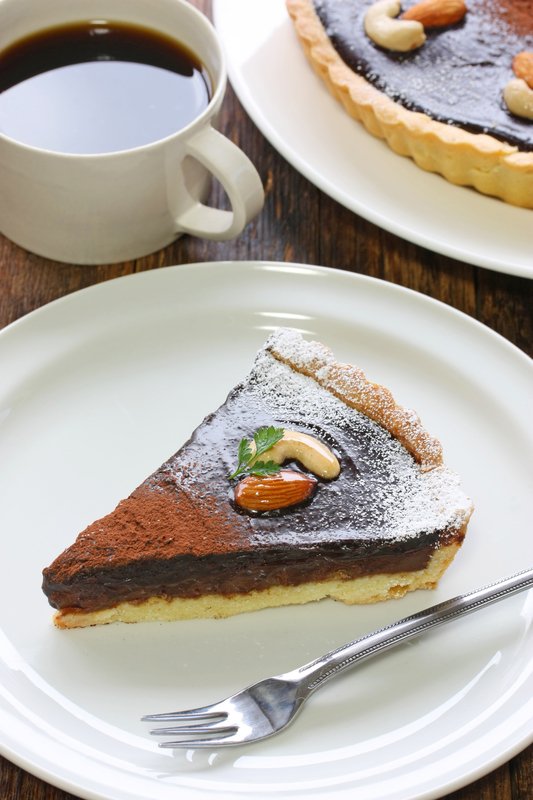 Chocolate FAQ's
1. Chocolate is made from the beans of the cacao tree.
2. The scientific name for chocolate is "Theobroma cacao", which means "food of the gods".
3. Chocolate was first introduced to Europe by the Spanish in the 16th century.
4. More than 3 million tons of chocolate are produced each year.
5. The largest chocolate bar ever made weighed over 5,000 pounds and was over 9 feet long!
6. Chocolate can be used as a currency – in some parts of Africa, cocoa beans are still used as currency today.
7. Dark chocolate has been shown to have numerous health benefits, including reducing the risk of heart disease and stroke and improving cognitive function. (source: BBC)
8. The word "chocolate" comes from the Aztec word "xocolatl," which means "bitter water."
9. Chocolate is made by grinding the cacao beans into a paste, which is then mixed with sugar and other ingredients to create a variety of different products.
10. Milk chocolate was invented in 1875 by Swiss chocolatier Daniel Peter, who added milk powder to the chocolate paste to create a new variety of smoother and creamier chocolate than dark chocolate.
11. White chocolate is not technically chocolate, as it does not contain any cocoa solids.
What is a Ganache?
Rich and creamy, ganache gets its decadence from chocolate blended with heavy cream. (source: insider.com) It works well as a filling or a frosting, but the ratio of cream to chocolate varies with the intended use. (source: delightedcooking.com)
Chocolate Ganache Tart
Chocolate lovers will appreciate this decadent chocolate ganache recipe. Enjoy it with family, friends, or give as a gift to a very special person.
Ingredients
3/4

cup

vegan butter

1/2

cup

Swerve

or favorite sugar substitute

1

teaspoon

almond extract

1 1/2

cups

all-purpose flour

or preferred type of flour

1/8

tsp

salt

16

ounces

dark chocolate

chopped

1/2

cup

oat milk

or preferred plant milk, hot

1/3

cup

sliced almonds
Instructions
Preheat oven to 350°F.

Place butter and sugar in a bowl. Use a stand mixer or hand mixer and beat the mixture until it turns a pale yellow.

Add almond extract. Blend for an additional 30 seconds.

In a separate bowl, mix salt with the flour. Add this to the butter mixture. Slowly combine until flour is completely incorporated and a dough forms.

Divide the dough in half. Put 1/2 of the dough in the freezer. With your hands, press the remaining dough into a 9 1/2-inch tart pan evenly.  Make sure that the dough is not too thick in the center as it will not cook completely if it is.

For the filling, add chopped chocolate to the bowl. Pour VERY HOT (but not boiling) plant milk over the chocolate and stir until the chocolate is smooth. Pour chocolate filling over the dough.

Take the dough from the freezer and crumble it over the top. Sprinkle with almonds.

Bake for about 40 minutes, until golden brown.
Notes
Substitutes
As with most recipes, you may use a different plant milk, if you choose. We usually use oat milk for its creamy texture. But soy milk or cashew milk have given us good results, too.
Prefer fruit over almonds? Just put raspberries, blueberries, or sliced strawberries on top instead. Kiwi works well, too, and makes a beautiful presentation.
You might top with a little vegan whipped cream, too.
Nutrition
Calories:
381
kcal
Carbohydrates:
37
g
Protein:
5
g
Fat:
27
g
Saturated Fat:
12
g
Polyunsaturated Fat:
3
g
Monounsaturated Fat:
9
g
Trans Fat:
0.1
g
Cholesterol:
1
mg
Sodium:
123
mg
Potassium:
310
mg
Fiber:
5
g
Sugar:
9
g
Vitamin A:
554
IU
Calcium:
37
mg
Iron:
5
mg
Find More Recipes On Vegan Globetrotter