Vegan Globetrotter is supported by our audience. When you purchase through one of our links, we may earn a small affiliate commission.  As an Amazon Associate I earn from qualifying purchases. Your cost is not affected.
==================
This veganized version of the classic Italian Panettone Bread is perfect for Christmas or any special occasion. It's rich, egg-free, and dairy-free, but still full of flavor. You can make it your own by adding your favorite dried fruits or nuts. So good, no one will miss the eggs or butter!
Classic Panettone Bread
Panettone is a traditional Italian Christmas bread that originated in the city of Milan. The word panettone comes from the Italian word for "big bread." Panettone is made with a yeasted dough that is filled with candied fruit and raisins. The dough is then baked in a tall, cylindrical mold. Panettone is typically enjoyed around Christmas time, but it can be found year-round in many Italian bakeries.
While the traditional panettone recipe calls for candied fruit and raisins, there are now many variations of the cake available. Some bakeries make chocolate panettone, which includes chocolate chips or chunks in the dough. Other variations include panettone with liqueur-soaked fruit, Nutella filling, or ricotta cheese. No matter what the filling, panettone is always a delicious treat!
Panettone the "big bread" you will love!
You will love this panettone as they are perfect for holidays and even on other special occasions. This big bread will become your favorite classic treat. In addition, this panettone is not just delicious but they are healthy and made with plant-based ingredients. I swear you will love this bread too, below are the reasons.
1. The Taste
First and foremost, panettone is delicious. It is a sweet, fluffy cake that is typically studded with raisins, candied fruit, and nuts. The cake is then soaked in a syrup made of sugar and water, which gives it an even more moist and flavorful texture. Panettone is typically served around the holidays, but it can be enjoyed year-round.
2. The Tradition
Panettone is also steeped in tradition. The cake originated in Italy during the 15th century, and it was originally made as a Christmas gift for the wealthy upper class. Over time, the cake became more widely available and today it is enjoyed by people of all backgrounds. Whether you are Italian or not, panettone is a delicious treat that you can enjoy with your family and friends.
So what are you waiting for? Go ahead and try this panettone at your home. They are easy to make with easy-to-find ingredients. Get baking!
Panettone: FAQS Answered
Many vegans ask about this big bread since this bread is from Italian cuisine. Below are the frequently asked questions and if you have questions feel free to comment below.
1. What are the benefits of eating Panettone Bread?
There are several benefits to eating Panettone during the holiday season. First, the cake is a great source of complex carbohydrates, which can help to give you sustained energy throughout the day. Additionally, the cake is packed with vitamins and minerals, such as iron and potassium. Finally, the cake is also a good source of fiber, which can help to keep you feeling full and satisfied after meals.
2. How can I make Panettone Bread?
If you want to try your hand at making Panettone this holiday season, there are a few things you should know. First, it is important to use high-quality ingredients, such as organic flour and butter. Additionally, it is important to allow the dough to rise for several hours before baking, as this will help to create a light and fluffy texture. Finally, be sure to bake the cake until it is golden brown on the outside and cooked through in the center.
I hope these frequently asked questions will be helpful to you. So, if you try this panettone don't forget to share your thoughts and photos.
Go ahead, bake this big bread!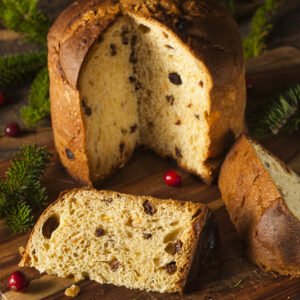 Vegan panettone
This veganized version of the classic Italian Panettone Cake is perfect for Christmas or any special occasion. It's rich, egg-free, and dairy-free, but still full of flavor.
Ingredients
What you will need:
4

cups

all-purpose flour

2

tbsp

flax seeds meal

stir them into 3 tbsp of water

2

tbsp

nutritional yeast

2/3

cup

almond milk

1/2

cup

confectioners' sugar

1

tsp

vanilla extract

4

oz.

vegan butter

melted

1/2

cup

raisins

or cherry, dried

1/4

cup

hazelnut

optional

1

tbsp

lemon zest

1

tbsp

orange zest
Instructions
What you will do:
Preheat the oven to 365°F and line a baking tray with parchment paper.

In a medium bowl, mix together the all-purpose flour, confectioner's sugar, kosher salt, and vanilla extract. Mix them well.

Then add the almond milk, flax seed mixture, and vegan butter. Mix until everything is incorporated.

In a separate bowl, combine the dried fruits, lemon zest, and hazelnuts. Now, stir them into the all-purpose flour mixture. Cover and rest for 2 hours.

Transfer the dough to the prepared baking tray and bake for 40 minutes or until the inserted toothpick comes out clean.

Serve with a cup of coffee.
Nutrition
Calories:
3091
kcal
Carbohydrates:
522
g
Protein:
70
g
Fat:
108
g
Saturated Fat:
22
g
Polyunsaturated Fat:
32
g
Monounsaturated Fat:
46
g
Trans Fat:
0.5
g
Sodium:
986
mg
Potassium:
1860
mg
Fiber:
32
g
Sugar:
4
g
Vitamin A:
4365
IU
Vitamin C:
22
mg
Calcium:
399
mg
Iron:
29
mg
For More Vegan Holiday Recipes
I've provided a list of vegan dishes that are all made completely of ingredients from plants. Additionally, they make a wonderful addition to any vegan dish. These are tasty even for meat eaters, and for more vegan recipes subscribe to our newsletter.
Cranberry Orange Bread (Quick & Easy)
Try This Panettone Today!
Now that you know all there is to know about panettone, what are you waiting for? This classic Italian bread is perfect for any holiday occasion. Surprise your friends and family with a homemade panettone this year – they'll be impressed! And if you're looking for more traditional Italian recipes, check out our blog. We have everything from pizza dough to lasagna tips. Ciao!
Connect With Us
If you tried this classic panettone cake take a ?  and tag us on our social media: Facebook, Twitter, and Pinterest, and subscribed to our YouTube Channel. I'd be delighted to see it!
To make sure you don't miss any recipes, remember to subscribe to our email newsletter which will be delivered to your inbox every week. ? In addition to this, if you are looking for vegan baking recipes visit Best Baking Tips they also published a lot of healthy baking recipes
Read More