Vegan Globetrotter is supported by our audience. When you purchase through one of our links, we may earn a small affiliate commission.  As an Amazon Associate I earn from qualifying purchases. Your cost is not affected.
==================
This Cranberry Gingerbread Cheesecake (no bake) is perfect for the holidays! The flavors of gingerbread and cranberry are a delicious combination, and the cheesecake is sure to please everyone. This recipe is vegan and gluten-free, so it's perfect for those with dietary restrictions. Plus, it's easy to make and no baking is required – you just need a few simple ingredients.
The gingerbread crust is made with a blend of whole wheat flour, oat flour, and almond flour, and is then filled with a creamy vegan cheesecake filling. Topped with fresh cranberries and a drizzle of maple syrup, this cheesecake is sure to please everyone at your holiday gathering, especially during the winter season. So go ahead and indulge in this holiday treat – your taste buds will thank you!
Cranberry Gingerbread Cheesecake, a Holiday Must-Try Recipe
December is a month full of hustle and bustle. But this year, I'm making time for one new recipe in particular: cranberry-gingerbread cheesecake. Here's why this showstopper of a dessert is a must-try this holiday season.
1. Best of Both Worlds
Cranberry-gingerbread cheesecake combines two classic holiday flavors in one delicious dessert. The tartness of the cranberries pairs perfectly with the spicy sweetness of the gingerbread, and the creamy cheesecake filling is the perfect canvas for both flavors. This cake is sure to be a hit at any holiday gathering!
2. Elegant and Impressive
This cake looks as good as it tastes! Cranberry-gingerbread cheesecake is an elegant dessert that is sure to impress your guests. The deep red of the cranberries and the rich brown of the gingerbread crumbs create a beautiful color contrast, and the decorative garnishes take this cake over the top. But don't worry – despite its impressive appearance, this cake is actually quite easy to make!
3. Vegan and Gluten-Free Options Available
This recipe can easily be made vegan by substituting vegan cream cheese for regular cream cheese and using a gluten-free gingerbread cookie crumb crust. No one at your holiday party will have to miss out on this delicious treat!
So what are you waiting for? Give cranberry-gingerbread cheesecake a try this holiday season! You won't be disappointed.
You will need to know about this dessert: FAQS Answered!
Our cranberry gingerbread cheesecake is the perfect holiday dessert. It's easy to make, undeniably delicious, and can be enjoyed by vegans and non-vegans alike. But we know that with any new recipe, there are bound to be a few questions. So, we've compiled a list of FAQs to help you make the perfect Cranberry-Gingerbread Cheesecake.
Can I make this cheesecake ahead of time?
Yes! This cranberry gingerbread cheesecake actually tastes better when made a day in advance. The flavors have time to meld together and the texture becomes more velvety. Simply store your cheesecake in the fridge until you're ready to serve.
I don't have fresh cranberries, can I use frozen?
Absolutely! If you can't find fresh cranberries, frozen will work just as well. Just be sure to thaw them completely before using.
My cheesecake cracked while baking, what happened?
There are a few reasons why cheesecakes crack while baking. One possibility is that you opened the oven door too often while it was baking which caused fluctuating temperatures and cracking. Another possibility is that you overbaked your cheesecake. Be sure to follow the recipe instructions carefully and check for doneness by lightly shaking the pan—if the center jiggles, it needs more time in the oven.
We hope these FAQs have helped you feel confident about making our Cranberry-Gingerbread Cheesecake! Remember, this recipe can easily be made vegan with a few simple substitutions. If you end up trying out this recipe, be sure to tag us on Instagram @veganglobetrotter so we can see your creation! Happy baking!
Indulge this holiday treat – your taste buds will thank you!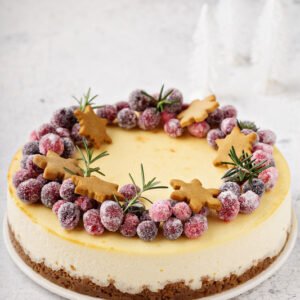 Cranberry Gingerbread Cheesecake (No Bake)
This no-bake cheesecake is the perfect holiday treat! Made with plant-based ingredients, it's both vegan and delicious. The gingerbread crust is the perfect base for the cheesecake filling, which is made with vegan cream cheese, fresh orange juice, and spices.
Ingredients
Jelly:
1 1/4

cup

orange juice

2

tbsp

orange zest

1 1/2

cup

cranberries

dried

3

tsp

agar agar

powder
Cookies:
2

tbsp

flax seeds

stir into 3 tbsp of water

1/4

cup

coconut oil

solid but soften

1/4

cup

confectioners' sugar

1/2

cup

maple syrup

3

tsp

ginger

ground

2

tsp

cinnamon

ground

1/2

tsp

nutmeg

ground

1

tsp

clove

ground

kosher salt

8

oz.

oat flour

2

oz.

almond flour
Crust:
gingerbread

cookies, crumbled

1/4

cup

coconut oil
Cream:
1 1/3

cups

cashew

soaked

8

oz.

whipped cream

vegan

2

tbsp

maple syrup

2

tbsp

butter

melted, vegan

1 1/2

tsp

vanilla extract

kosher salt
Sauce:
5

tbsp

dates

1/4

cup

applesauce

unsweetened

1/4

cup

water

2

tsp

vanilla extract

1/4

tsp

kosher salt
For Garnish:
orange

supremes

cranberries

fresh or gooseberries
Instructions
Orange Cranberry Jelly:
In a saucepan over medium-low heat, boil the orange juice, orange zest, and dried cranberries. Simmer for 8 minutes or until dried cranberries are soft.

Transfer them into a blender and pulse until smooth; bring back them to the saucepan and boil them again.

In a small mixing bowl, add the water and agar-agar. Mix them well until the agar-agar is dissolved; add them to the saucepan and boil for 2 minutes.

Over the deep tray transfer the mixtures and refrigerate for 55 minutes or for 1 hour.
Gingerbread Cookies:
Preheat the oven to 350°F and line a baking tray with parchment paper.

In a mixing bowl, add the water and flax seeds. Stir them until the flax seeds are dissolved.

Using a hand mixer, beat until fluffy the coconut oil, confectioners' sugar, maple syrup, flax egg mixture, and all the spices in a mixing bowl.

Mix the oat flour and almond flour until everything is incorporated; knead or mix until the dough forms.

Using a rolling pin, roll the dough on prepared parchment paper; bake for 10 minutes. Allow them to cool.
Cheesecake Crust:
In a food processor, add the cooled baked cookies and pulse until it becomes crumbled or sandy; add the coconut oil and mix until combined.

In a springform, transfer the round dough then add the cookie crust and gently press; refrigerate for 25 minutes.
Cheesecake cream:
In a hot water soak the cashews for 5 hours and 30 minutes; rinse and drain.

Pulse until smooth the vegan whipped cream, maple syrup, vegan butter, vanilla extract, and kosher salt in a high-speed blender.
It's time to assemble!
Remove from the fridge the cranberry orange jelly and cheesecake crust.

Using a knife, cut the jelly into a disc of your preferred size; over the cheesecake crust, place the disc jelly into the center

Spread the cheesecake cream over the jelly and refrigerate for at least 2-3 hours.
Caramel sauce:
Using a blender, pulse until smooth the dates, applesauce, water, vanilla extract, and kosher salt. Transfer to a sealed jar and refrigerate.
Serve and enjoy!
Carefully transfer the cooled cheesecake to the plate and drizzle with caramel sauce. Spread the sauce evenly using a spatula.

Garnish with orange, fresh cranberries, or gooseberries. Refrigerate for 15 minutes before serving and enjoy!
Nutrition
Calories:
608
kcal
Carbohydrates:
67
g
Protein:
12
g
Fat:
37
g
Saturated Fat:
18
g
Polyunsaturated Fat:
4
g
Monounsaturated Fat:
9
g
Cholesterol:
22
mg
Sodium:
92
mg
Potassium:
543
mg
Fiber:
6
g
Sugar:
30
g
Vitamin A:
300
IU
Vitamin C:
24
mg
Calcium:
124
mg
Iron:
3
mg
For More Vegan Recipes
I've provided a list of vegan dishes that are all made completely of ingredients from plants. Additionally, they make a wonderful addition to any vegan dish. These are tasty even for meat eaters, and for more vegan recipes subscribe to our newsletter.
Cranberry Orange Bread (Quick & Easy)
Matcha Cheesecake With Blueberries
Try this cheesecake now!
Cranberry gingerbread cheesecake is the perfect holiday dessert. It's festive, delicious, and easy to make. If you're looking for a new holiday recipe to try this year, look no further than cranberry gingerbread cheesecake. Your taste buds will thank you!
Connect With Us
If you tried this cranberry gingerbread cheesecake take a ?  and tag us on our social media: Facebook, Twitter, and Pinterest, and subscribed to our YouTube Channel. I'd be delighted to see it!
To make sure you don't miss any recipes, remember to subscribe to our email newsletter which will be delivered to your inbox every week. ? In addition to this, if you are looking for vegan baking recipes visit Best Baking Tips they also published a lot of healthy baking recipes.
Read More