==================
A Caveat and Affiliates
First off, a little caveat: within my articles you will find affiliate links, meaning if you buy them, I get a small commission. Your cost is not affected. In addition, I am an Amazon Associate and I earn from qualifying purchases on Amazon.
And yes, if I say that I recommend a product here, it means I truly believe it is a good product. I refuse to recommend any product that I have not researched and believe to be a good value. Even better, I provide you with a very clear picture of the product, it's use, and the probable value. Earning your trust is important to me. I run this website myself and the commissions and donations help support the site. Sound reasonable and fair enough? Let's continue to the article.
==================
No Sugar in Cranberry-Orange Relish?
Almost all Cranberry-Orange Relish recipes have sugar, usually lots of it. However, we think this version creates more flavor for your taste buds and better health benefits for you! Even better, this recipe comes together quickly and you may make it a day ahead.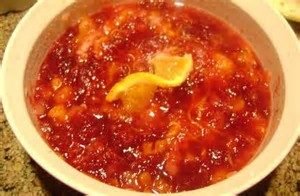 But what about using artificial sweeteners? Many recipes today use these as a substitute for cane sugar. However, you need to understand how these work. In fact, research continues to show the health issues these artificial substitutes create or add to.
The Trouble with Artificial Sweeteners
Mercola on Sugars and Artifical Sweeteners
Ingredients:
Directions:
Grate 1 T of peel from orange. Discard remaining peel and the pith.
Place orange sections, orange zest, cranberries, date or coconut sugar, and cinnamon in a food processor
Pulse until finely chopped. (NOTE: We like to leave some of ours a little chunky. Choose your family's favorite texture)
Put in a glass container and cover.
Refrigerate for at least 2 hours or overnight.
Cranberries, the superfood we often overlook
Most Americans enjoy cranberries around the holidays of Thanksgiving and Christmas. However, with the many health benefits of these delicious little berries, perhaps we should bring them into our meals throughout the year.
We know cranberry sauce as a staple at the holidays, but cranberries are a superfood that you should enjoy all year round.

Cranberries have vitamin C and fiber, and are only 45 calories per cup. In disease-fighting antioxidants, cranberries outrank nearly every fruit and vegetable–including strawberries, spinach, broccoli, red grapes, apples, raspberries, and cherries.

One cup of whole cranberries has 8,983 total antioxidant capacity. Only blueberries can top that: Wild varieties have 13,427; cultivated blueberries have 9,019.
Return to more Vegan Thanksgiving Recipes