==================
A Caveat and Affiliates
First off, a little caveat: within my articles you will find affiliate links, meaning if you buy them, I get a small commission. Your cost is not affected. In addition, I am an Amazon Associate and I earn from qualifying purchases on Amazon.
And yes, if I say that I recommend a product here, it means I truly believe it is a good product. I refuse to recommend any product that I have not researched and believe to be a good value. Even better, I provide you with a very clear picture of the product, it's use, and the probable value. Earning your trust is important to me. I run this website myself and the commissions and donations help support the site. Sound reasonable and fair enough? Let's continue to the article.
==================
Creamy Peppermint Patties offer a vegan version of Grandma's Christmas Peppermint Patties. Her simple recipe came together quickly, and she let us children help her create the little gems. Is it Christmas without the little memories?
Creamy Peppermint Patties from Christmas Memories
In Grandma's Kitchen
Grandma made these little gems each holiday season and we could not wait to sample them! She would carefully mix the batch, divide into two bowls, then combine the food coloring. Younger children found fun in pressing them with a fork. Older ones helped with the mixing and making the little candies. Grandma loved having us help in the kitchen! I'm not sure we helped as much as she raved. In fact, it was probably quicker and easier without us. But Grandma loved having us work with her and I'm so thankful for the memories!
Creamy Peppermint Patties, Vegan-Style
Today, we stay away from some of the ingredients, preferring to embrace vegan foods and healthier options of all food. So it was time to recreate Grandma's holiday favorites, but keep the spirit.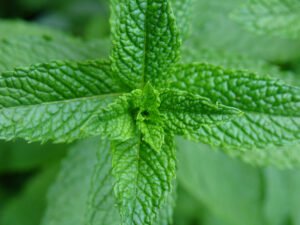 Our Creamy Peppermint Patties began with using a simple substitute: Vegan Cream Cheese in place of dairy cream cheese. But when one son developed a soy allergy, I needed to look further into changes.
Almond butter seemed worth trying. It's creamy, like cream cheese, but a subtle, nutty flavor that just might work with mint. At first, it seemed a bit strong, almost competing with the mint. Substituting some of the almond butter with a soy-free vegan butter was the right answer.
We use both Allulose and Swerve in our cooking and baking, whenever possible. They help keep blood sugars in check and are very safe. 
Swerve comes in 3 versions, granulated, brown, and powdered (confectioners). If you use Allulose, it's easy enough to make your own powdered sugar using granulated sugar and cornstarch.
FAQ's about Allulose
What is Allulose?
It's a natural sugar derived from figs, maple syrup, raisins, molasses, and wheat. We like it as it is not utilized by our digestive systems, so does not impact blood sugar. It also provides zero calories! (source: Cleavelandclinic)
How does it substitute for sugar?
Use it one for one, as you would granulated sugar. So if the recipe calls for 1 cup of sugar, use 1 cup of Allulose.
What does it taste like?
While Allulose does taste like granulated sugar, it varies in the sweetness from one batch to another. If you are not certain how much to use, do a little taste test!
FAQ's about Swerve
What is Swerve?
It's a natural sugar derived from some fruits and starchy root vegetables. Like Allulose, it does not affect the blood sugar and contains sero calories.  (source: SwerveSweet)
How does it substitute for sugar?
Use it one for one, as you would granulated sugar. So if the recipe calls for 1 cup of sugar, use 1 cup of Swerve.
What does it taste like?
Swerve tastes very much like granulated sugar. As a bonus, it is quite functional for cooking, baking, and everyday usage.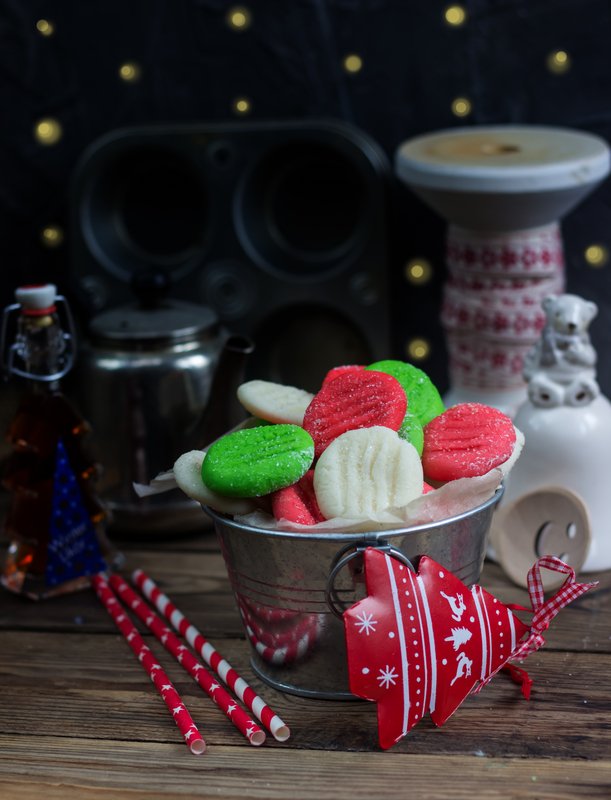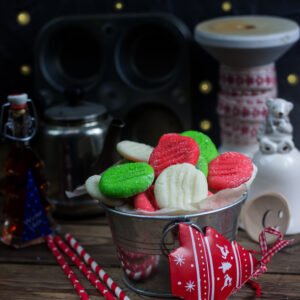 creamy mint candy (vegan cream cheese mints)
Inspired by my Grandma's Christmas mints, this vegan version boasts that sweet dynamic flavor with a bit more healthful focus. We love the almond flavor but you can use silken tofu instead for a more natural flavor. These are quick to make but do take about 3 hours to dry before serving.
Ingredients
½

cup

almond butter

or other nut butter, or use silken tofu

1

tablespoon

vegan butter

or use coconut oil (melted)

4

cups

Swerve sugar

powdered confectioners type

½

teaspoon

peppermint extract

use a little more, if desired

¼

teaspoon

vanilla extract

use a little more, if desired

food coloring and decoratives

if desired
Instructions
Prepare a baking sheet by lining it with wax paper or parchment paper. If using a silicone sheet, you might not need the paper, but it is still useful.

Put the almond butter and vegan butter into the bowl of your stand mixer. Or use a large bowl and your hand electric mixer.

Beat together until smooth and creamy.

Add 2 cups of the Swerve slowly, while mixing on low speed.

Mix in the peppermint and vanilla extracts.

If using just one color of food coloring, add that and mix in. If you plan to make more than one color, skip this step for now.

Add remaining Swerve slowly while mixing on low speed. Continue adding Swerve until the dough resembles play-dough. It should be very stiff and not sticky.

For multiple colors, divide dough into smaller bowls. Add the food coloring to each and mix until well-incorporated.

Roll dough into teaspoon-sized portions using your palms to create a smooth ball. Place each on your baking sheet.

Dip the tines of a fork into powdered Swerve and gently press down on each mint.

If desired, add more decorative sugar crystals or other decor to the mints.

Allow the mints to dry at room temperature for at least 3 hours.

To store until ready to serve, place in an airtight container and store in the refrigerator. Use single layers with a sheet of wax or parchment paper between layers.
Notes
Substitutes
My Grandma's orginal recipe used
Cream Cheese mixed with confectioners sugar and food coloring. She'd add just a drop or two of cream, as needed, for consistency.
Using that same idea, you might use vegan cream cheese (usually made with soy) and a sugar substitute such as Allulose or Swerve. 
Nutrition
Calories:
18
kcal
Carbohydrates:
16
g
Protein:
1
g
Fat:
2
g
Saturated Fat:
0.2
g
Polyunsaturated Fat:
0.4
g
Monounsaturated Fat:
1
g
Trans Fat:
0.001
g
Sodium:
2
mg
Potassium:
20
mg
Fiber:
0.3
g
Sugar:
0.1
g
Vitamin A:
11
IU
Calcium:
9
mg
Iron:
0.1
mg