Vegan Globetrotter is supported by our audience. When you purchase through one of our links, we may earn a small affiliate commission.  As an Amazon Associate I earn from qualifying purchases. Your cost is not affected.
==================
Vegan Garlic Smashed Potatoes are a delightful twist on the classic comfort food. This recipe offers a healthier and cruelty-free alternative to traditional mashed potatoes, without compromising on taste or texture. Bursting with the bold flavors of garlic and herbs, this dish is perfect as a side or even as the star of the show. In this article, we will explore the key ingredients, provide tips for achieving the perfect texture, and offer serving suggestions to elevate your culinary experience.
Garlic Smashed Potatoes: Simple yet Bursting With Flavors!
Garlic Smashed Potatoes are a delightful twist on the classic mashed potatoes. This recipe takes the humble potato and elevates it to a whole new level of flavor and texture. The combination of crispy baked potatoes infused with the bold and aromatic taste of fresh garlic creates a dish that is simply irresistible. Whether served as a side dish or a main course, these Garlic Smashed Potatoes are sure to be a crowd-pleaser. So gather your ingredients, roll up your sleeves, and get ready to savor the deliciousness of this simple yet satisfying recipe!
Ingredient Tips!
Potatoes
Opt for starchy baby potatoes such as Russet or Yukon Gold, as they yield a fluffy texture when cooked. These potatoes are also easier to smash, resulting in a creamier consistency. Remember to scrub the potatoes before boiling.
Garlic
Fresh garlic cloves are essential for infusing the dish with a rich, aromatic flavor. Choose plump and firm cloves for the best taste. If you prefer a milder garlic flavor, roast the cloves before adding them to the potatoes.
Plant-Based Butter
To achieve a creamy, buttery taste without using dairy products, choose a high-quality vegan butter. Look for options made from plant-based oils like coconut or almond, adding a luscious texture to the potatoes.
Fresh Herbs
Adding fresh herbs like parsley, chives, or dill will elevate the flavor profile of the dish. Chop them finely and sprinkle them on top of the smashed potatoes for freshness. Experiment with different herb combinations to find your favorite.
Serving Suggestions
Standalone Side
Vegan Garlic Smashed Potatoes can be enjoyed as a standalone dish, thanks to their rich and savory flavors. Serve them alongside roasted vegetables, grilled tofu, or a refreshing salad for a wholesome and satisfying meal.  
Brunch Delight
Elevate your brunch spread by serving Vegan Garlic Smashed Potatoes alongside plant-based sausages, scrambled tofu, and a medley of roasted vegetables. It's a hearty and nutritious option that will impress your guests.  
Holiday Feast
Vegan Garlic Smashed Potatoes make a fantastic addition to any festive spread. Pair them with roasted seitan, mushroom gravy, and a medley of steamed vegetables for a delightful holiday meal.  
Party Appetizer
Transform this dish into bite-sized delights by scooping small portions of the smashed potatoes onto toasted baguette slices or mini potato skins. Top them with vegan cheese, chopped chives, or crispy tempeh bacon for an irresistible party appetizer.  
Garlic Smashed Potatoes
If you want to try this Vegan Garlic Smashed Potatoes recipe, share your photo and experience. In addition, let us know what you think in the comments below by using #veganglobetrotter and #fgarlicsmashedpotatoes
Garlic Smashed Potatoes
Bursting with the bold flavors of garlic and herbs, these vegan Garlic Smashed Potatoes are perfect as a side or even as the star of the show!
Ingredients
Let's gather the ingredients!
20

baby potatoes

1½ to 2 inches in diameter

4

cups

vegetable broth

½

cup

vegan butter

melted

3

cloves

garlic

finely chopped

½

tsp

kosher salt

1

tbsp

parsley

finely chopped

1

tbsp

chives

finely chopped
Instructions
Let's Begin!
Preheat oven to 450°F. Spray an 18x13-inch rimmed pan with cooking spray.

In a 5-quart Dutch oven, mix the potatoes and broth; heat to boiling over high heat. Reduce heat to low; simmer for 30 to 35 minutes or until potatoes are tender when pierced with a fork. Drain, reserving broth for another use if desired. Shake pan with potatoes over low heat to dry. Remove from heat.

In a small bowl, mix the melted vegan butter and garlic. Pour 1/4 cup of the butter mixture over the potatoes, then toss to coat thoroughly. Place the potatoes in the pan. Use the bottom of a glass or measuring cup to flatten each potato to about 1/2-inch thickness. Drizzle top with remaining butter mixture, then season with salt.

Bake for 35 to 40 minutes, turning once, until browned and crispy. Transfer to a serving platter, then sprinkle with parsley and chives.

Serve and enjoy with family and friends!
Nutrition
Calories:
158
kcal
Carbohydrates:
21
g
Protein:
2
g
Fat:
7
g
Saturated Fat:
2
g
Polyunsaturated Fat:
2
g
Monounsaturated Fat:
3
g
Trans Fat:
0.05
g
Sodium:
572
mg
Potassium:
481
mg
Fiber:
3
g
Sugar:
2
g
Vitamin A:
681
IU
Vitamin C:
23
mg
Calcium:
16
mg
Iron:
1
mg
For More Vegan Recipes
I've provided a list of vegan dishes that are all made entirely of ingredients from plants. Additionally, they make an excellent addition to any vegan dish. These are tasty, even for meat eaters. And for more vegan recipes, subscribe to our newsletter!
Vegan Garlic Smashed Potatoes offer a flavorful and cruelty-free twist on a classic dish. With the right ingredients and techniques, you can achieve a creamy, buttery texture while infusing the potatoes with the bold flavors of garlic and herbs. Whether you serve them as a standalone side dish, a brunch delight, or a holiday feast, these potatoes are sure to impress. Give this recipe a try and experience the simplicity, elegance, and versatility of Vegan Garlic Smashed Potatoes.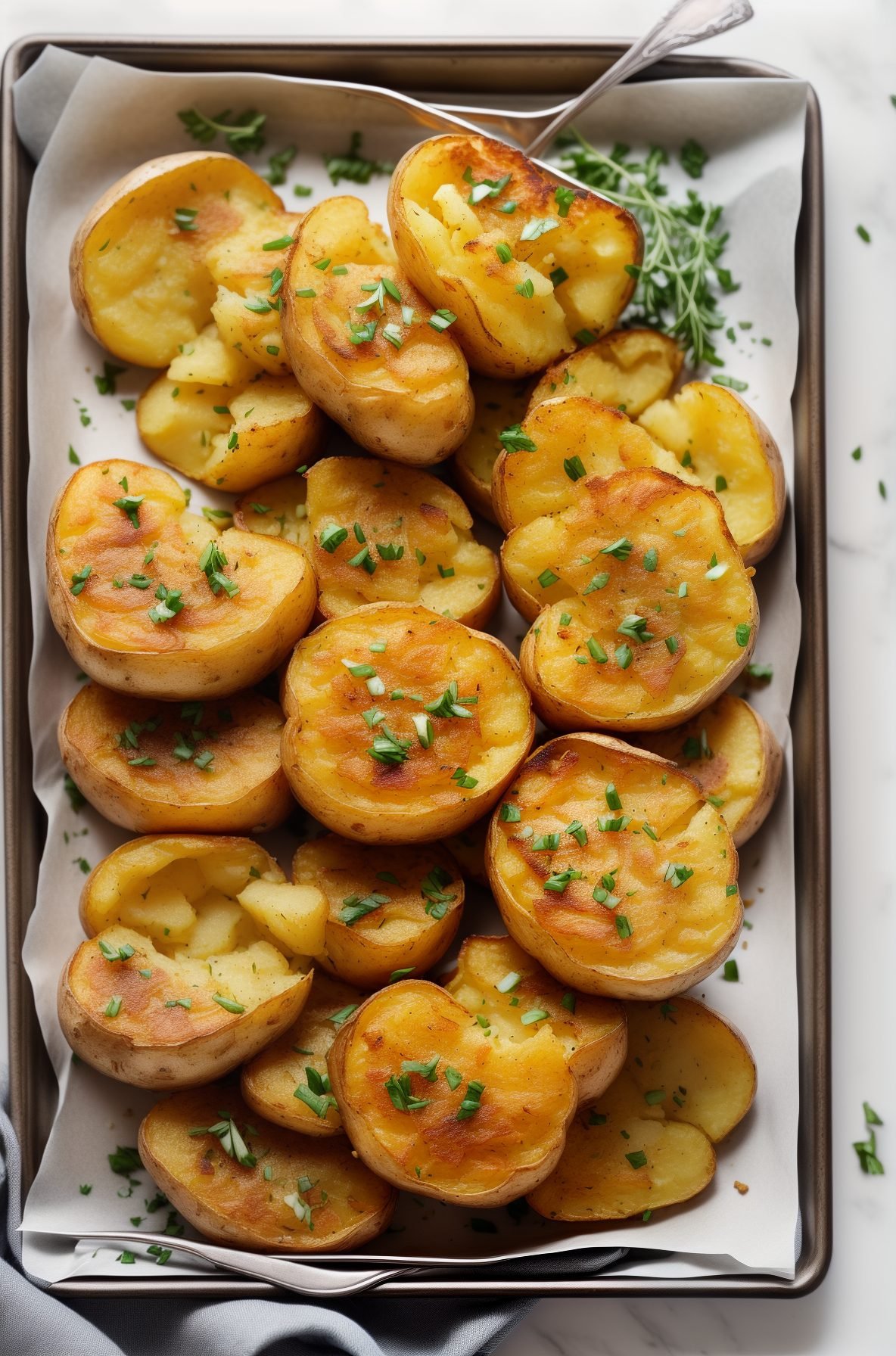 Connect With Us
If you tried this Vegan Garlic Smashed Potatoes recipe, take a picture or video, tag us on our social media: Facebook, Twitter, and Pinterest, and subscribe to our YouTube Channel. I'd be delighted to see it! To ensure you don't miss any recipes, subscribe to our email newsletter, which will be delivered to your inbox every week. In addition, if you are looking for delicious baking recipes, visit Best Baking Tips. They also published a lot of healthy baking recipes!