==================
A Caveat and Affiliates
First off, a little caveat: within my articles you will find affiliate links, meaning if you buy them, I get a small commission. Your cost is not affected. In addition, I am an Amazon Associate and I earn from qualifying purchases on Amazon.
And yes, if I say that I recommend a product here, it means I truly believe it is a good product. I refuse to recommend any product that I have not researched and believe to be a good value. Even better, I provide you with a very clear picture of the product, it's use, and the probable value. Earning your trust is important to me. I run this website myself and the commissions and donations help support the site. Sound reasonable and fair enough? Let's continue to the article.
==================
Turmeric is a wonder spice that has many health benefits. Recently, I started adding it to my pancakes, and the result was delicious! These healthy turmeric pancakes are vegan, gluten-free, and easy to make for a healthy breakfast. Best of all, it is an anti-inflammatory!
These pancakes are made with whole wheat flour and enriched with turmeric, making them perfect for special occasions like Thanksgiving and the fall season.
Thanks to the addition of pumpkin puree, they're also super moist and fluffy. Serve them with a dollop of yogurt and a drizzle of maple syrup, and you'll have a breakfast that's fit for a holiday. Best of all, this recipe is so easy to make that you can whip it up on any busy morning.
So go ahead and try it—your taste buds will thank you!
A delicious and healthy way to start your day: Turmeric Pancakes
For many people, pancakes are a comfort food. They are often seen as unhealthy because they are made with refined flour and eggs. However, there are ways to make pancakes healthier. One way is by using turmeric. Turmeric is a spice that has many health benefits. Some of these benefits include reducing inflammation, boosting brain function, and fighting depression.
Another way to make pancakes healthier is by using whole wheat flour instead of all-purpose flour. Whole wheat flour is more nutritious because it contains more fiber, vitamins, and minerals than all-purpose flour. It also has a lower glycemic index, which means it won't cause your blood sugar to spike as much as all-purpose flour.
You can also add healthy toppings to your pancakes to increase their nutritional value. Some good topping options include fresh fruit, nuts, seeds, maple syrup, shredded coconut, lemon curd, or vegan yogurt.
Now that we've gone over some of the ways you can make pancakes healthier, let's get to the recipe card! This recipe makes 6 small pancakes, or keep reading to learn more about these healthy turmeric pancakes.
Healthy Turmeric Pancakes: FAQS Answered!
Turmeric pancakes sound too good to be true. I mean, come on, how could something that's both delicious and healthy exist? But it does, and I am here to answer any questions you may have about this scrumptious dish. Let's start with the basics:
What even is turmeric?
Turmeric is a type of ginger that is commonly used in Indian cuisine. It has a slightly peppery, mustard-like flavor and is often used as a spice or coloring agent. Curcumin is the main active ingredient in turmeric and is responsible for its distinctive yellow color. Curcumin has been shown to have anti-inflammatory and antioxidant properties.
Now that we know what turmeric is, let's move on to the next question:
Why would I want to put it in my pancakes?
The answer is simple—because it's delicious! Turmeric adds a unique flavor to these pancakes that you just can't get from traditional businesses. But that's not all; curcumin has also been shown to improve brain function, lower the risk of heart disease, and even fight cancer. So not only do these pancakes taste great, but they're also good for you!
Are these pancakes vegan?
Yes! This recipe is completely vegan as long as you use nondairy milk instead of cow's milk.
What if I don't have ground turmeric?
If you don't have ground turmeric on hand, you can use fresh turmeric root instead. Just grate 1-2 teaspoons of fresh turmeric into the pancake batter.
Can I freeze leftover pancakes?
Yes! These pancakes freeze really well. Just place them in a freezer-safe bag or container and store them for up to 3 months. When you're ready to eat them, simply thaw them overnight in the fridge or heat them up in the microwave.
So there you have it—everything you need to know about healthy turmeric pancakes! These delicious treats are easy to make and only require a few simple ingredients that you probably already have in your kitchen. They're also vegan-friendly and can easily be frozen for later.
So what are you waiting for? Give them a try today!
Healthy pancakes make people happy!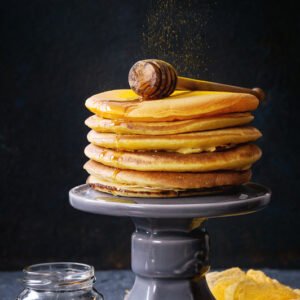 Healthy Turmeric Pancakes
These pancakes are a delicious way to start your day and are the perfect quick breakfast on the go. They are easy to make, and you can customize them with your favorite toppings: lemon curd, maple syrup, pumpkin puree, or shredded coconut. Best of all, it is an anti-inflammatory!
Ingredients
1/2

cup

whole wheat flour

1/2

cup

chickpea flour

1

tsp

baking powder

1/4

tsp

kosher salt

2

tbsp

pumpkin seeds

2

tbsp

flax seeds

4

oz.

almond milk

vanilla flavor; unsweetened

1

inch

turmeric

root

2

large

bananas

mashed

1

ball

ginger

stem; sliced

4

tbsp

lemon curd

or maple syrup, pumpkin puree, shredded coconut; for toppings
Instructions
Instructions
In a large mixing bowl, mix together the whole wheat flour, chickpea flour, baking powder, kosher salt, flax seeds, and hemp seeds.

Blend together until smooth the turmeric root and almond milk using a blender.

Combine together the mashed banana and turmeric mixtures with the whole wheat flour mixtures.

In a non-stick frying pan over medium-high heat, scoop the amount of the batter you desired and cook each side for 5 minutes or until golden brown.

Serve warm with lemon curd or maple syrup and shredded coconut.
Notes
Vegan Globetrotter Tips and Suggestions
Serving Suggestions
Top with fresh fruit, like sliced bananas or berries.
For a savory twist, top with sautéed vegetables.
Serve with a side of vegan yogurt or vegan cottage cheese.
Storing Tips
Pancakes can also be frozen and reheated for a quick and easy breakfast on the go. Just place them in a freezer bag or container and reheat them in the microwave when you're ready to eat!
 Add-ins/Variations
Add shredded coconut, ground ginger, finely chopped kale, maple syrup, lemon curd, and/or canned pumpkin puree.
Nutrition
Calories:
195
kcal
Carbohydrates:
33
g
Protein:
6
g
Fat:
6
g
Saturated Fat:
1
g
Polyunsaturated Fat:
2
g
Monounsaturated Fat:
1
g
Trans Fat:
0.03
g
Sodium:
238
mg
Potassium:
339
mg
Fiber:
5
g
Sugar:
14
g
Vitamin A:
35
IU
Vitamin C:
4
mg
Calcium:
82
mg
Iron:
2
mg
For More Vegan Recipes
I've provided a list of vegan dishes that are all made completely of ingredients from plants. Additionally, they make a wonderful addition to any vegan dish. These are tasty even for meat eaters, and for more vegan recipes subscribe to our newsletter.
Carrot Ginger Turmeric Smoothie
Lemon Curd Recipe- Healthy and Delicious!
To Wrap It All Up
Start your day off right with a delicious and nutritious breakfast of healthy turmeric pancakes. These pancakes are not only good for you but they're also packed with flavor and anti-inflammatory. If you have any questions about making these pancakes, be sure to check out the FAQ section below. And remember, happy pancaking!
Connect With Us
If you tried these healthy turmeric pancakes take a 📸  and tag us on our social media: Facebook, Twitter, and Pinterest, and subscribed to our YouTube Channel. I'd be delighted to see it!
To make sure you don't miss any recipes, remember to subscribe to our email newsletter which will be delivered to your inbox every week. 📩 In addition to this, if you are looking for vegan baking recipes visit Best Baking Tips they also published a lot of healthy baking recipes.
Read More