Vegan Globetrotter is supported by our audience. When you purchase through one of our links, we may earn a small affiliate commission.  As an Amazon Associate I earn from qualifying purchases. Your cost is not affected.
==================
There's nothing like a piping hot bowl of soup on a cold day. This minestrone soup recipe is not only delicious but it's also packed full of nutrients that will help keep you warm all winter long. Plus, it's vegan, so it's perfect for those who are looking for a hearty and nutritious plant-based meal. So what are you waiting for? Give this recipe a try today!
Benefits of Minestrone Soup 
Ah, minestrone soup. Is there anything more comforting on a cold winter day? This hearty soup is packed full of vegetables, beans, and pasta, making it a filling and satisfying meal. Plus, it's easy to make vegan-friendly by simply omitting the Parmesan cheese. Keep reading to learn about all the health benefits of this delicious soup.
1. Boosts immunity.
Minestrone soup is chock-full of vitamins and minerals, which help boost your immune system and fight off sickness. Some of the most notable ingredients in minestrone soup that help improve immunity include Vitamin C-rich tomatoes, iron-rich spinach, and garlic, which contains antioxidants that help ward off infection.
2. Aids digestion.
This soup is also a great way to get your daily dose of fiber. Fiber helps keep you regular and can also alleviate some common digestive issues like constipation and bloating. Fiber is also beneficial in maintaining a healthy weight by making you feel fuller longer and helping to regulate blood sugar levels.
3. May help reduce inflammation.
Some of the ingredients in minestrone soup have anti-inflammatory properties, which can help reduce swelling and pain throughout the body. Tomatoes, for example, contain lycopene, an antioxidant that has been shown to help decrease inflammation. Spinach is another good source of inflammation-fighting antioxidants like Vitamin E and beta-carotene.
As you can see, there are many good reasons to enjoy a bowl of minestrone soup on a regular basis. Not only is it delicious, but it's also packed full of nutrients that are beneficial for your health. So next time you're feeling under the weather or just looking for a cozy meal to warm you up, give minestrone soup a try!
Frequently Asked Questions
Minestrone soup is a delicious, hearty, and healthy soup that is perfect for winter weather. This vegetarian soup is full of vegetables, beans, and pasta. It is also very easy to make vegan. Here are some frequently asked questions about minestrone soup.
What is minestrone soup?
Minestrone soup is a vegetable soup that originates from Italy. It typically contains vegetables, beans, and pasta. Minestrone soup is also very easy to make vegan.
Is minestrone soup healthy?
Yes! They are very healthy options. It is packed with vitamins and minerals from all of the vegetables. The Beans are a good source of protein and fiber. The pasta provides complex carbohydrates for energy.
Is minestrone soup easy to make?
Yes! Minestrone soup is very easy to make. You can find many different recipes online or in cookbooks. Most recipes only require 30 minutes to an hour of active preparation time.
Can I make minestrone soup ahead of time?
Yes! It actually gets better with time as the flavors have a chance to meld together. You can store it in the fridge for up to four days or freeze it for up to three months.
Minestrone soup is a delicious and healthy option for winter weather. It is easy to make vegan and can be made ahead of time. Try out a recipe today!
Give this soup a try today!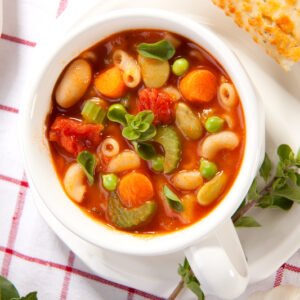 Minestrone Soup
Minestrone soup is a delicious, hearty, and healthy soup that is perfect for winter weather. This vegetarian soup is full of vegetables, beans, and pasta.
Ingredients
Easy-to-find ingredients:
1

tbsp

olive oil

1

small

white onion

chopped

2

cloves

garlic

minced

1

stalk

celery stalk

diced

2

small

carrot

diced

1

tsp

oregano

1

tsp

basil

dried

4

cups

vegetable broth

1

15-ounce can crushed tomatoes

kidney beans

drained and rinsed

1

cup

elbow macaroni

uncooked

2

small

zucchini

diced

1/2

cup

green beans

frozen

2

tbsp

parsley

chopped

1

tbsp

sage

chopped

1

tbsp

thyme

chopped

kosher salt

black pepper

15

oz.

pumpkin puree
Instructions
Heat the oil in a large pot over medium heat. Add the onion, garlic, celery, carrot, oregano, and basil. Cook, stirring occasionally, until the vegetables are tender, about 5 minutes.

Stir in the broth, tomatoes, kidney beans, macaroni, zucchini, green beans, parsley, sage, thyme, salt and pepper. Bring to a boil over high heat. Reduce the heat to low and simmer for 30 minutes.

Stir in the pumpkin puree and cook until heated through. Serve hot. Enjoy!
Nutrition
Calories:
994
kcal
Carbohydrates:
185
g
Protein:
30
g
Fat:
19
g
Saturated Fat:
3
g
Polyunsaturated Fat:
3
g
Monounsaturated Fat:
11
g
Sodium:
3892
mg
Potassium:
2507
mg
Fiber:
27
g
Sugar:
41
g
Vitamin A:
86792
IU
Vitamin C:
102
mg
Calcium:
369
mg
Iron:
13
mg
For More Vegan Recipes
I've provided a list of vegan dishes that are all made completely of ingredients from plants. Additionally, they make a wonderful addition to any vegan dish. These are tasty even for meat eaters, and for more vegan recipes subscribe to our newsletter.
Autumn Carrot-Sweet Potato Soup
Butternut Squash White Bean Kale Stew
Cranberry Orange Bread (Quick & Easy)
To Wrap It All Up
Try minestrone soup today for a filling and healthy meal that the whole family will enjoy. This delicious soup is packed with nutrient-rich vegetables, beans, and pasta – making it not only satisfying but also good for you. What's more, minestrone soup is easy to make at home with just a few simple ingredients. So why not give it a try today?
Connect With Us
If you tried this minestrone soup takes a ?  and tag us on our social media: Facebook, Twitter, and Pinterest, and subscribed to our YouTube Channel. I'd be delighted to see it!
To make sure you don't miss any recipes, remember to subscribe to our email newsletter which will be delivered to your inbox every week. ? In addition to this, if you are looking for vegan baking recipes visit Best Baking Tips they also published a lot of healthy baking recipes.
Read More