Vegan Globetrotter is supported by our audience. When you purchase through one of our links, we may earn a small affiliate commission.  As an Amazon Associate I earn from qualifying purchases. Your cost is not affected.
==================
I get it, you're trying to eat healthier, but you don't want to give up your buttery spreads. Well, have no fear! I've got an oil-free buttery spread recipe that will help you cut down on unhealthy fats while still enjoying your toast and bagels with delicious flavor. Plus, this recipe is really easy to make, so there's no excuse not to try it out!  
Oil-Free Buttery Spread (Butter Substitute)
Keep It Plant-Based and Healthy
We try to keep our home healthy and plant-based at all times. And usually, we do so within our budget. 
But some foods just cost too much! I'm not talking about fresh greens and veggies. We enjoy those every day! No, it's usually the more processed foods that just seem to cost more and more each week. And have you looked at the ingredients?
A while back, I noticed we were going through quite a bit of the butter-flavored spread. We call it vegan butter in our home. Our store carries quite a variety of brands and flavors, so we are able to price shop. But still, when the price rose to almost $7 for a 15-ounce container, I shirked. 
Even before that, I read labels, looking for the healthiest alternatives. Our focus is always on health. And some of the vegan butter alternatives didn't pass the health test at all. Others barely skirted in.
The price increase jump-started my resolve to find a great alternative. I have made the coconut oil and avocado oil versions. They are good, but not my idea of a healthy spread. 
Cashews as a base
We use cashews as a base for many things, including cheese and cheese sauces. When soaked, they blend up to a creamy texture that becomes a good base for so many of our favorite foods. So why not a butter substitute?
Cashews offer a solid nutrient base, too.  Just make sure you use raw cashews, preferably unsalted.Save money by buying the halves or pieces as you are blending them anyway. If you can't find them in your grocery store, they are available at several locations online. The ones we buy at Amazon can be found at the We Got Nuts Store..
With some experimenting, I found the perfect mix of ingredients. While no butter lover will believe this is true butter, it does have enough buttery taste and texture to please most people. 
Other Ingredients
The lemon juice and butter flavoring are optional, but I think they add enough to the recipe to incorporate them. Try without, if you like. You can always add it later.
Use caution when purchasing butter flavoring. Many brands contain actual dairy ingredients to help with the flavor. There are a couple that we have used with good results that are truly vegan. Wilton makes one that is often available at hobby stores that feature baking and candy supplies. The other, which we use, is by a small business named Happy Home. Both do contain some chemical components but we have not had any problems using them.
Storage Suggestions
We suggest you keep your buttery spread in a sealed ceramic or glass container in your refrigerator. A butter dish with a well-fitting lid works well for this. Ours stays fresh to use for 4-5 days. If it thickens too much, stir in a little warm water with a fork.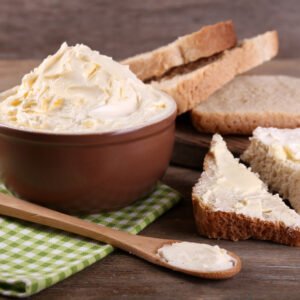 Oil-Free Buttery Spread (Butter substitute)
Many vegan butters feature coconut oil as a base. This one eliminates the oil and uses cashews for a rich flavor.
Equipment
strainer

small sauce pot

Cutting Board

sharp knife

baking sheet

parchment paper

silicone spatula
Ingredients
1

cup

cashews

raw

1

garlic bulb

whole

1/4

tsp

salt

optional

1/2

cup

water

very hot, divided

1

tbsp

lemon juice

optional

1

tsp

butter flavoring

optional
Instructions
Preheat oven to 375°F. Cut the top off the garlic bulb to expose the tops of the cloves.

Wrap garlic bulb loosely in the parchment paper and put onto the baking sheet. Roast in oven for about 35 minutes. The cloves will be soft and golden on the edges when done. Discard skins and any dark spots on the cloves. Set aside to cool.

While roasting the garlic, place the cashews and 4 cups of water into the sauce pan. Bring to a boil. Reduce heat to simmer, cover, and cook over low heat for 45 minutes. The cashews will soften and develop a smooth appearance when done.

Put softened cashews with the water and the garlic cloves in a blender.

Add remaining ingredients and blend until very smooth. It will form thick peaks that stay. If it becomes too thick, add water, a tablespoon at a time, until you have a very smooth consistency. It will be very smooth and sheeny when done.

Store in a sealed glass container in your refrigerator. We find it stays fresh to use for 4-5 days. If it thickens too much, stir in a little warm water with a fork.
Nutrition
Calories:
45
kcal
Carbohydrates:
2
g
Protein:
1
g
Fat:
4
g
Saturated Fat:
1
g
Polyunsaturated Fat:
1
g
Monounsaturated Fat:
2
g
Sodium:
38
mg
Potassium:
54
mg
Fiber:
0.3
g
Sugar:
1
g
Vitamin A:
0.1
IU
Vitamin C:
0.4
mg
Calcium:
3
mg
Iron:
1
mg
Ready to try our oil-free buttery spread?
Our oil-free buttery spread is a great vegan substitute for those who are looking for a healthier option. This recipe is quick and easy to follow, and it yields delicious results. If you have any comments or questions, please share them below. We would love to hear from you!