==================
A Caveat and Affiliates
First off, a little caveat: within my articles you will find affiliate links, meaning if you buy them, I get a small commission. Your cost is not affected. In addition, I am an Amazon Associate and I earn from qualifying purchases on Amazon.
And yes, if I say that I recommend a product here, it means I truly believe it is a good product. I refuse to recommend any product that I have not researched and believe to be a good value. Even better, I provide you with a very clear picture of the product, it's use, and the probable value. Earning your trust is important to me. I run this website myself and the commissions and donations help support the site. Sound reasonable and fair enough? Let's continue to the article.
==================
 aDo you love cornbread, but feel guilty about eating it because of the butter and eggs? Or maybe you're vegan or vegetarian, and can't have those ingredients. Well, have I got a recipe for you! This Healthy Rosemary Cornbread is vegan and gluten-free but doesn't taste like it. It's moist and fluffy, with a delicious crispy crust. Plus, it takes just minutes to make.
Best of all, it's a great way to use up any leftover cornmeal. To make this cornbread vegan, simply substitute the egg for a flax egg. And to make it gluten-free, use a gluten-free flour blend. This rosemary cornbread is the perfect accompaniment to any meal. Serve it with vegan butter or drizzled with maple syrup, and enjoy!
The Surprising Health Benefits of Rosemary
Chances are, you have a rosemary plant sitting on your windowsill right now. This herb is a staple in many kitchens around the world, and for good reason – it has a delicate, yet complex flavor that can enhance any dish. But did you know that rosemary has some pretty impressive health benefits, too? Read on to learn more about this amazing herb and all the ways it can improve your health.
1. Aids in Digestion
It can help to soothe an upset stomach and aid in digestion. This herb stimulates the production of bile, which helps the body to break down fats. It also contains Rosmarinic acid, which has anti-inflammatory properties that can help to reduce bloating and gas. Add a sprig of rosemary to your next meal if you're feeling a little under the weather – your tummy will thank you!
2. Fights Free Radicals
A powerful antioxidant that can help to protect cells from damage caused by free radicals. Free radicals are unstable molecules that can promote inflammation and contribute to various chronic diseases. Antioxidants like Rosemary scavenge these rogue molecules, making them harmless. So go ahead and add some extra rosemary to your next salad – your body will love you for it!
3. Boosts Brainpower
It has long been used as a natural treatment for memory problems and cognitive decline. This herb contains compounds that increase blood flow to the brain, improve cognitive function, and protect neurons from damage. Studies have shown that rosemary can boost memory retention and recall, making it a great tool for students during finals week! Try smelling rosemary essential oil before your next test or exam – you may just be surprised at how well you do.
As you can see, there are many reasons to love rosemary! This delicious herb isn't just good for your taste buds – it's good for your health, too.
A perfect treat,  rosemary cornbread!
This rosemary is a healthy treat for any occasion especially in the fall season and on Thanksgiving day but not just on occasions but for a perfect treat for  everyone! But, why is this rosemary cornbread a perfect treat for everyone? Here's why…
1. Delicious and Nutritious. It is made with whole wheat flour, cornmeal, baking powder, salt, vegan butter, and soy milk. The addition of rosemary gives it a unique flavor that is perfect for any occasion.
2. Easy to Make. Simply combine all of the ingredients in a bowl, mix well, and bake in a preheated oven. It only takes a few minutes to prepare, and you will have a delicious cornbread that everyone will love.
3. Perfect for Any Occasion. Whether you are hosting a party or simply want a tasty side dish, vegan rosemary cornbread is a perfect choice. It can be served with soup or chili or enjoyed on its own.
4. Affordable and Accessible. All of the ingredients can be found at your local grocery store, and it is very budget-friendly.
5. Good for the Environment. By choosing vegan foods, you are helping to reduce your carbon footprint and doing your part to protect the planet
This cornbread is perfect for holiday meals, family gatherings, or anytime you want a delicious and healthy treat. I hope you enjoy it as much as I do!
Healthy plant-based ingredients in a cornbread!
I was looking for a new recipe to try that has a few required ingredients, and I found one that sounded perfect – healthy rosemary cornbread. I gathered all of the healthy plant-based ingredients and got to work.
1. All-purpose flour: You can use any kind of flour but if you want to make this healthier choose wheat flour or look for gluten-free flour.
2. Baking soda & powder: These will be a natural leavening for the butter when baked.
3. Rosemary: Use fresh rather than frozen and thawed for the fresh earthy flavor.
4. Cornmeal: It serves as the base of this healthy recipe so do not try to omit this ingredient also it is naturally vegan.
5. Flax seeds: I highly recommend these flax seeds for eggs as they are easy to find; just stir them into water.
6. Raw sugar & kosher salt: Use to balance the flavor; adjust to taste, if needed.
7. Maple syrup: For drizzling or topped with vegan whipped cream they are optional but a great addition.
8. Vegetable oil: Use for greasing the baking dish to prevent sticking.
9. Almond milk: Feel free to use your favorite plant-based milk.
So, if you're looking for a recipe that has an easy to find ingredients then this recipe is for you! Give it a try today and make a batch of this cornbread!
Make a batch of this healthy treat
Cornbread is one of my favorite things to eat. I love the way it smells, and the way it tastes. I also love preparing recipes, so when I found a recipe for rosemary cornbread, I knew I had to try it out! This was definitely one of the best cornbreads I've ever had. Here's a quick overview of how to make this healthy rosemary cornbread.
1. First, combine cornmeal, flour, baking powder, kosher salt, and Rosemary in a bowl. In another bowl, whisk together the remaining ingredients.
2. Add the wet ingredients to the dry ingredients and stir until everything is well combined. Then, fold in some chopped fresh rosemary.
3. Pour the batter into a greased baking dish and bake at 425°F for about 25 minutes, or until the cornbread is golden brown. Enjoy!
The recipe was easy to follow, and the results were amazing! The bread was fluffy and flavorful, with a nice crunch from the rosemary. I can't wait to make this again – it's going to be a regular on my menu.
Looking for more vegan holiday recipes to add to your vegan diet?
Well, must try these recipes: Autumn Pizza with Vegan Gouda Cheese, Pumpkin Spice Fudge, Delicious Dairy-Free Pumpkin Spice Latte Recipe, Vegan Butternut Squash Curry with Chickpeas,  Teriyaki Tofu-Tempeh Casserole, Butternut Squash White Bean Kale Stew, Vegan Spaghetti Squash with Marinara Sauce, Sweet Potato Shepherd's Pie Casserole, Autumn Carrot-Sweet Potato Soup, Apple Cider Bourbon Cocktail-Alcohol Free, Vegan Pumpkin Cream Cold Brew, Dairy-free Pumpkin Ice Cream, Pumpkin Risotto-Comforting Meal, Autumn Spice Pear Cobbler, Roasted Butternut Squash Burger, Pear, Pumpkin, and Ginger Mocktail, Mini Pumpkins Cream Puffs, Pumpkin Alfredo Pasta Recipe, Vegan Maple Pumpkin Overnight Oats, Vegan Pumpkin Pie Smoothie, Apple Cranberry Crisp, Pumpkin Alfredo Pasta Recipe, Butternut Squash Pancakes, 20-minute Pumpkin Soup, Air fryer Cinnamon Rolls, Delicious Dairy-Free Pumpkin Spice Latte Recipe, Pumpkin Spice Fudge, Sweet Potato Pie Cupcakes with Cinnamon Frosting, Autumn Salad, Apple Cinnamon Waffles, Zucchini and Spinach Casserole, Creamy Butternut Squash Casserole, Black Bean and Zucchini Casserole, and Sweet Potato Mushroom Casserole.
The above are the best treat meal for the fall season, Thanksgiving day, and even in the winter season; they are completely made with plant-based ingredients and a great addition to your vegan meal.
So, next time you're at the grocery store, be sure to pick up a bunch of fresh rosemary, and you won't be disappointed with this healthy rosemary cornbread. Try this now and let me know what you think in a comment section! 🙂
As per rosemary, you will be healthy, try this now!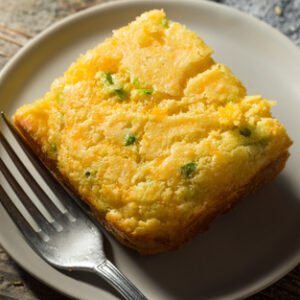 Healthy Rosemary Cornbread Recipe
This cornbread healthy treat is a perfect treat for all occasions and during the holiday season. I love the way it tastes, and I love how easy it is to make. The rosemary gives the cornbread a wonderful flavor, and the olive oil makes it crispy and moist.
Ingredients
Basic plant-based ingredients:
1

cup

all-purpose flour

or alternatively use wheat flour, look for a gluten-free flour

1

cup

cornmeal

½

tsp

baking soda

1

tsp

baking powder

4

tbsp

Rosemary

finely chopped, fresh

½

tsp

kosher salt

adjust if needed

1

tbsp

flax seed

stir into 3 tbsp of water

8

oz.

almond milk

5

tbsp

confectioners' sugar

olive oil

for grease

maple syrup
Instructions
Let us make a healthy and perfect treat!
Preheat the oven to 425°F and grease the baking pan. Set aside.

In a mixing bowl, stir to combine the all-purpose flour, cornmeal, baking soda, baking powder, Rosemary, and kosher salt. Set them aside.

In a separate bowl, combine the almond milk, olive oil, flax seed, and confectioners' sugar, until smooth.

Combine the all-purpose flour mixture and almond mixture using a spatula, do not overmix.

On a greased baking pan, pour the batter and bake for 25 minutes or until golden brown. Allow cooling completely!

Slice and drizzle with maple syrup or top with vegan butter.
Nutrition
Calories:
232
kcal
Carbohydrates:
53
g
Protein:
6
g
Fat:
3
g
Saturated Fat:
0.4
g
Polyunsaturated Fat:
1
g
Monounsaturated Fat:
1
g
Sodium:
936
mg
Potassium:
129
mg
Fiber:
4
g
Sugar:
0.1
g
Vitamin A:
148
IU
Vitamin C:
1
mg
Calcium:
233
mg
Iron:
4
mg
For More Vegan Bread Recipes
The vegan meals listed below are ones you'll want to prepare frequently. They are a great addition to your vegan diet or to your list of must-try vegan recipes. As a result, if you want to stay up to date on our recently released vegan recipes as well as health advice. Therefore, be sure to sign up for our newsletter!
To Wrap It All Up
Make a batch of this healthy treat today and enjoy the surprising health benefits of rosemary! This cornbread is not only delicious but packed with healthy plant-based ingredients that are good for you. Rosemary has been shown to improve cognitive function, memory, and focus – so what are you waiting for? Try it out for yourself and see how this amazing herb can improve your health!
Connect With Us
If you tried this healthy rosemary cornbread, take a 📸  and tag us on our social media: Facebook, Twitter, Pinterest, and Instagram, and subscribed to our YouTube Channel. I'd be delighted to see it! Make sure you don't miss any recipes and remember to subscribe to our email newsletter which will be delivered to your inbox every week. 📩
Read More
Leafy Vegetables For Great Health
Things You Didn't Know: Rosemary