Vegan Globetrotter is supported by our audience. When you purchase through one of our links, we may earn a small affiliate commission.  As an Amazon Associate I earn from qualifying purchases. Your cost is not affected.
==================
Looking for a delicious and hearty vegan dish that will please even the most die-hard meat eaters? Look no further than scalloped potatoes with vegan sausage. This dish is easy to prepare and incredibly indulgent, perfect for a winter feast. Best of all, it's sure to please everyone at the table. Give it a try!
The best thing about this dish is packed with flavor and hearty enough to satisfy any vegan's cravings. To make vegan sausage crumbles add a smoky flavor to the mix, while the vegan cheese and sour cream lend a creamy richness. The potatoes are soft and fluffy, making them the perfect base for this flavorful vegan feast. As a result, it s a rich and hearty dish that will leave you feeling satisfied.
In addition, to make this dish even more flavorful, try adding some chopped fresh rosemary or thyme to the cheese sauce. You can also switch up the vegan sausage for another plant-based protein, such as lentils or tofu. Whether you're vegan, vegetarian, or just looking for a delicious meatless meal, this scalloped potato dish is sure to please.
They are delicious and nutritious meatless alternatives!
Whether you're vegan, vegetarian, or just looking to cut down on your meat consumption, these scalloped potatoes with vegan sausage are the perfect dish for you. They're so easy to make that you'll be able to have them on the table in no time. Keep reading to learn more about why these potatoes are the perfect meatless alternative.
1. Packed With Nutrients: These potatoes are packed with vitamins and minerals like potassium, magnesium, Iron, and vitamin C. They're also a good source of fiber and protein. So not only will they fill you up, but they'll also give you the energy you need to power through your day.
2. Easy to Make: Who has time to cook a complicated meal? Not me! That's why I love these scalloped potatoes. They only require a few simple ingredients and can be made in just 30 minutes. So whether you're short on time or just don't feel like cooking a big meal, these potatoes are the perfect solution.
3. Versatile: Don't like vegan sausage? No problem! These potatoes can be made with any type of sausage (vegan or otherwise), bacon, or even just regular old ham. So no matter what your preference is, you can make these potatoes to suit your taste.
So whether you're vegan, vegetarian, or just trying to eat less meat, give these potatoes a try. You won't be disappointed!
Scalloped Potatoes with Vegan Sausage: FAQS Answered!
Scalloped potatoes with vegan sausage are a dish that is delicious, comforting, and easy to make. This dish is perfect for a winter meal or a holiday dinner. The following are some frequently asked questions about this dish.
What are scalloped potatoes?
Scalloped potatoes are thinly sliced potatoes that are baked in a creamy sauce. They can be made with milk or cream, and sometimes cheese is added to the sauce. This dish is usually topped with bread crumbs or cheese before baking.
What is the vegan sausage?
Vegan sausage is a plant-based sausage made from ingredients such as soy, seitan, or mushrooms. It has the same taste and texture as traditional sausage but does not contain any animal products.
Is vegan sausage healthy?
It has a number of benefits. First, it's a great source of protein. Second, it's cholesterol-free. Third, it's low in saturated fat. And fourth, it's cruelty-free.
This recipe for scalloped potatoes with vegan sausage is easy to follow and yields a delicious and comforting dish that is perfect for a winter meal or holiday dinner. This dish will be enjoyed by vegans and non-vegans alike! Thanks for reading and enjoy!
Have a healthy dinner with scalloped potatoes!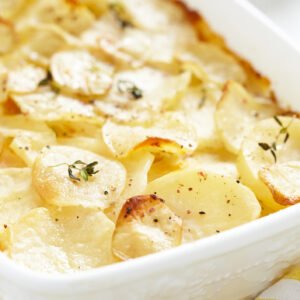 Scalloped Potatoes with Vegan Sausages
It is a hearty and filling dish that is perfect for a winter meal. The vegan sausage adds a flavorful smoky taste to the dish, while vegan sour cream adds a rich and creamy texture.
Ingredients
3

medium

potatoes

3

cups

yogurt

plain, vegan

4

sausage

vegan; homemade or store-bought

3

tbsp

olive oil

1

tbsp

kosher salt

1

tsp

black pepper
Instructions
Make Your Healthy Dinner!
Preheat your oven to 400°F and prepare the glass oven dish.

Slice the potatoes into thin and boil them in salted water for 25 minutes or until tender.

Cut the sausage into slim and set them aside; whisk together the vegan plain yogurt olive oil, kosher salt, and black pepper.

In a prepared glass oven dish, layer the vegan yogurt mixture, followed by boiled potatoes, and vegan sausages. Repeat with the remaining ingredients.

Make sure the last layer is vegan yogurt and drizzle with olive oil.

Bake for 1 hour or until golden brown. Let it cool and serve with pickles if desired.
Nutrition
Calories:
470
kcal
Carbohydrates:
29
g
Protein:
18
g
Fat:
31
g
Saturated Fat:
10
g
Polyunsaturated Fat:
3
g
Monounsaturated Fat:
15
g
Trans Fat:
0.1
g
Cholesterol:
68
mg
Sodium:
1903
mg
Potassium:
940
mg
Fiber:
3
g
Sugar:
8
g
Vitamin A:
201
IU
Vitamin C:
26
mg
Calcium:
202
mg
Iron:
2
mg
For More Vegan Recipes
I've provided a list of vegan dishes that are all made completely of ingredients from plants. Additionally, they make a wonderful addition to any vegan dish. These are tasty even for meat eaters, and for more vegan recipes subscribe to our newsletter.
Meaty Meatless Jackfruit Burgers
Try this healthy dinner at your home!
Can't wait to try out this recipe for scalloped potatoes with vegan sausage? Us too! This dish is not only delicious but also nutritious and a great meatless alternative. Plus, it's easy to make! In case you have any questions, we've answered some FAQs below. So what are you waiting for? Give this recipe a try tonight and enjoy a healthy dinner with your family.
Connect With Us
If you tried these scalloped potatoes with vegan sausages take a ?  and tag us on our social media: Facebook, Twitter, and Pinterest and subscribe to our YouTube Channel. I'd be delighted to see it!
To make sure you don't miss any recipes, remember to subscribe to our email newsletter which will be delivered to your inbox every week. ? In addition to this, if you are looking for vegan baking recipes visit Best Baking Tips they also published a lot of healthy baking recipes.
Read More