Vegan Globetrotter is supported by our audience. When you purchase through one of our links, we may earn a small affiliate commission.  As an Amazon Associate I earn from qualifying purchases. Your cost is not affected.
==================
If you're looking for a healthy, budget-friendly meal option that is filling and delicious, this 7-ingredient Avocado Strawberry Spinach Salad will be the perfect choice! Whether vegan or just looking to reduce your meat consumption for health or environmental sustainability, this salad has everything. Loaded with fresh spinach, juicy strawberries, and creamy avocados, tossed with a light lemon dressing and topped off with nutty walnuts, this salad offers all the flavors and textures that will make your taste buds happy! Plus, it only takes minutes to prepare, so you can enjoy stress-free meal prepping without cutting too deeply into your budget.
Vegan on a Budget: 7-ingredient Avocado Strawberry Spinach Salad
Eating a vegan diet can seem intimidating, especially when trying to do so on a budget. However, with the right ingredients and creativity, you can make delicious and nutritious meals without breaking the bank. One such meal is the 7-ingredient avocado strawberry spinach salad. This salad is not only budget-friendly but also packed with flavor and nutrients. The creamy avocado, sweet strawberries, and fresh spinach combine perfectly to create a refreshing and satisfying meal. Plus, with only seven ingredients, it's easy to make and will only take up a little of your time or energy. So why not try this vegan salad and see just how easy and delicious eating on a budget can be?
7-Ingredient Tips!
Spinach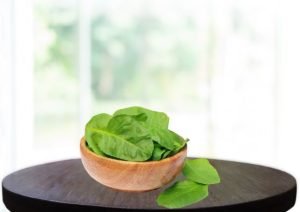 Spinach is an incredibly nutritious and versatile leafy green that should be a staple in any healthy diet. Not only is it low in calories, but spinach is packed with essential vitamins and minerals such as Vitamin A, Vitamin C, Iron, and Calcium. When making a 7-ingredient Avocado Strawberry Spinach Salad, it's important to choose fresh spinach leaves that are crisp and bright green in color.
To prepare the spinach for the salad, rinse the leaves thoroughly under cold water and dry them using a salad spinner or paper towels. Remove any tough stems and tear the leaves into bite-sized pieces for easy eating. You can also opt to use baby spinach leaves for a more delicate texture.
Strawberries
Strawberries are a great source of vitamin C, fiber, and antioxidants. They are low in calories and sugar, making them a healthy choice for anyone looking to maintain a balanced diet. By incorporating fresh strawberries into your avocado spinach salad, you'll enjoy a delicious meal and reap the many health benefits this superfood offers.
When choosing strawberries for this dish, it's important to select ripe, juicy, and sweet ones. Look for bright red berries with a uniform color and a firm, plump texture. Avoid any that are mushy, discolored, or have soft spots.
Avocados
First and foremost, it's important to use ripe avocados. Look for ones that give slightly when you gently press on them, but are not too mushy. If you buy unripe avocados, you can speed up the ripening process by storing them in a paper bag at room temperature for a day or two.   When it's time to prep the avocados, carefully cut them in half lengthwise and remove the pit. Then, using a spoon, scoop out the flesh in one piece or dice it up into bite-size pieces. Be sure to remove any brown spots or stringy bits.
Walnuts
When it comes to preparing the 7-ingredient Avocado Strawberry Spinach Salad, the addition of Walnuts not only adds a crunchy texture but also provides a boost of nutrition to this delicious salad.
Toasting the walnuts brings out their nutty flavor and adds an extra layer of crunchiness. Spread the walnut pieces on a baking sheet and toast them in the oven for 7-10 minutes at 350°F. Chopped walnuts work well in this salad, but you can also try halves or whole walnuts to add a different visual element to the dish.
Extra Virgin Olive Oil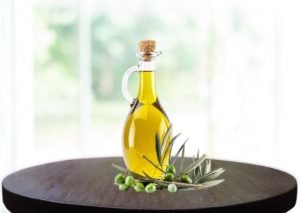 This versatile oil not only adds a rich flavor to salads but is also full of health benefits. When choosing extra virgin olive oil, opt for a high-quality, cold-pressed brand, as it retains more of the oil's antioxidants and nutrients. Before using, give your extra virgin olive oil a good shake, as it can separate over time. Drizzle the oil on top of your salad, and toss everything together to distribute evenly.   Along with its delicious flavor, extra virgin olive oil is packed with healthy monounsaturated fats to help reduce heart disease risk. It's also high in antioxidants that protect against inflammation and oxidative stress.
Salt and Pepper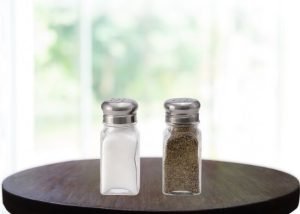 When seasoning your 7-ingredient Avocado Strawberry Spinach Salad, salt, and pepper play a vital role in achieving a balanced and flavorful dish.
Firstly, salt enhances the ingredients' natural flavors and brings out their sweetness, making each bite more enjoyable. It also helps to bring out the moisture in the spinach leaves, thereby keeping them crisp and fresh. When it comes to pepper, freshly ground black pepper has a distinctive aroma and flavor that livens up the other salad components. It also contains piperine, which aids in digestion and can boost the bioavailability of certain nutrients found in the salad.
Lemon Juice
It's always best to use fresh lemons for any recipe for lemon juice. The juice of fresh lemons has a brighter, more vibrant flavor and aroma than bottled juice. To extract the most juice from your lemons, roll them on a hard surface before cutting them in half and squeezing them over a citrus press or strainer.
When adding lemon juice to this salad, it's important to do so sparingly to avoid over-dressing the ingredients. Start with a small amount of juice and taste test as you go. You can always add more later if needed.
Ingredient Variations
When making a 7-ingredient Avocado Strawberry Spinach Salad, you can consider various ingredient variations to elevate the flavors and nutrition. Let's look at each ingredient and how you can experiment with them.
Spinach: While baby spinach is most commonly used for salads, you can also consider using mature spinach leaves for a heartier texture. You can also opt for baby kale or arugula for a peppery kick.
Strawberries: When it comes to strawberries, consider using a mix of fresh and dried strawberries for a textural contrast. You can also macerate the strawberries with sugar and balsamic vinegar to intensify their sweetness and add a tangy note.
Avocado: To make your avocado shine, consider slicing or cubing it instead of mashing it. You can also mix ripe and slightly underripe avocados for various textures.
Walnuts: Walnuts add a crunchy and nutty flavor to the salad. To enhance their flavor, toast the walnuts in a dry skillet on medium heat until fragrant. You can also swap walnuts for other nuts like pecans or almonds.
Extra Virgin Olive Oil: The quality of the olive oil you use can make a big difference in the overall taste of the salad. Look for high-quality extra virgin olive oil that is fruity and peppery. You can also infuse the oil with garlic or herbs for added flavor.
Lemon Juice: Lemon juice adds a tangy and bright note to the salad. You can also use other citrus fruits like lime or grapefruit for a different flavor profile. If you want to make the dressing creamier, you can add a tablespoon of Greek yogurt or tahini.
By experimenting with different ingredient variations, you can create a 7-ingredient Avocado Strawberry Spinach Salad that is unique and delicious. Remember to balance the flavors and textures to create a harmonious, nutritious, and tasty dish.
7-ingredient Avocado Strawberry Spinach Salad
If you want to try this Vegan 7-ingredient Avocado Strawberry Spinach Salad recipe, share your photo and experience with us. In addition, let us know what you think in the comments below by using #veganglobetrotter, #veganonabudget, and #avocadostrawberryspinachsalad
7-ingredient Avocado Strawberry Spinach Salad
This seven-ingredient Vegan Avocado Strawberry Spinach Salad is sure to become a regular in your rotation. Packed with fresh fruits, savory greens, satisfying avocados, and more, it's an exciting mix of flavors and textures.
Ingredients
Let's gather the ingredients!
8

cups

spinach

washed and spun dry

3

cups

strawberries

quartered

2

medium

avocados

cubed

1

cup

walnuts

¼

cup

extra virgin olive oil

salt and pepper

to taste

1

tbsp

lemon juice
Instructions
Let's Begin!
In a large bowl, Toss the spinach, strawberries, avocados, and walnuts together.

Drizzle with extra virgin olive oil and lemon juice. Top with salt and pepper to taste.

Serve and enjoy with family and friends!
Nutrition
Calories:
1041
kcal
Carbohydrates:
47
g
Protein:
18
g
Fat:
96
g
Saturated Fat:
12
g
Polyunsaturated Fat:
35
g
Monounsaturated Fat:
45
g
Sodium:
113
mg
Potassium:
2241
mg
Fiber:
24
g
Sugar:
14
g
Vitamin A:
11584
IU
Vitamin C:
184
mg
Calcium:
236
mg
Iron:
7
mg
Conclusion
This 7-ingredient vegan meal proves that eating plant-based can be cheap and tasty. What's more, it's filled with good-for-you ingredients for the planet. The colors, textures, and flavors of this salad will tantalize your tastebuds and leave you feeling satisfied. And for a bonus – the dish is super easy to prepare. Now that you know how to make a delicious and wallet-friendly vegan meal, what's stopping you from trying it? You come up with other unique variations without sacrificing your health or your bank account! So don't be shy – show us what you've got. Let us know what you think!
Connect With Us
If you tried this Vegan 7-ingredient Avocado Strawberry Spinach Salad recipe, take a ?  and tag us on our social media: Facebook, Twitter, and Pinterest, and subscribe to our YouTube Channel. I'd be delighted to see it!
To make sure you don't miss any recipes, remember to subscribe to our email newsletter which will be delivered to your inbox every week. ? In addition to this, if you are looking for delicious baking recipes visit Best Baking Tips they also published a lot of healthy baking recipes!