Vegan Globetrotter is supported by our audience. When you purchase through one of our links, we may earn a small affiliate commission.  As an Amazon Associate I earn from qualifying purchases. Your cost is not affected.
==================
Are you ready to take your home cooking to the next level? Then it might be time for you to invest in a Ninja Foodi 2-Basket Air Fryer, and let me tell you why. This small kitchen appliance is designed with convenience in mind. It can air frying, roast, bake, dehydrate, and grill from one device without compromising space or flavor. Prepare for delectable meals that dazzle family and friends quicker than ever! In this post, I'll walk you through the features of this innovative product so you can decide if it's worth investing in. So get ready – your kitchen makeover starts now!
As someone who is always on the go, I needed an appliance that could keep up with my fast-paced lifestyle, and the Ninja Foodi delivers. Not only does it fry food perfectly, but it can cook, bake, and roast all in one compact unit. The best part? Its two baskets allow me to cook two different foods simultaneously to quickly whip up a full meal. This air fryer does everything from crispy vegetable fritters to fluffy muffins.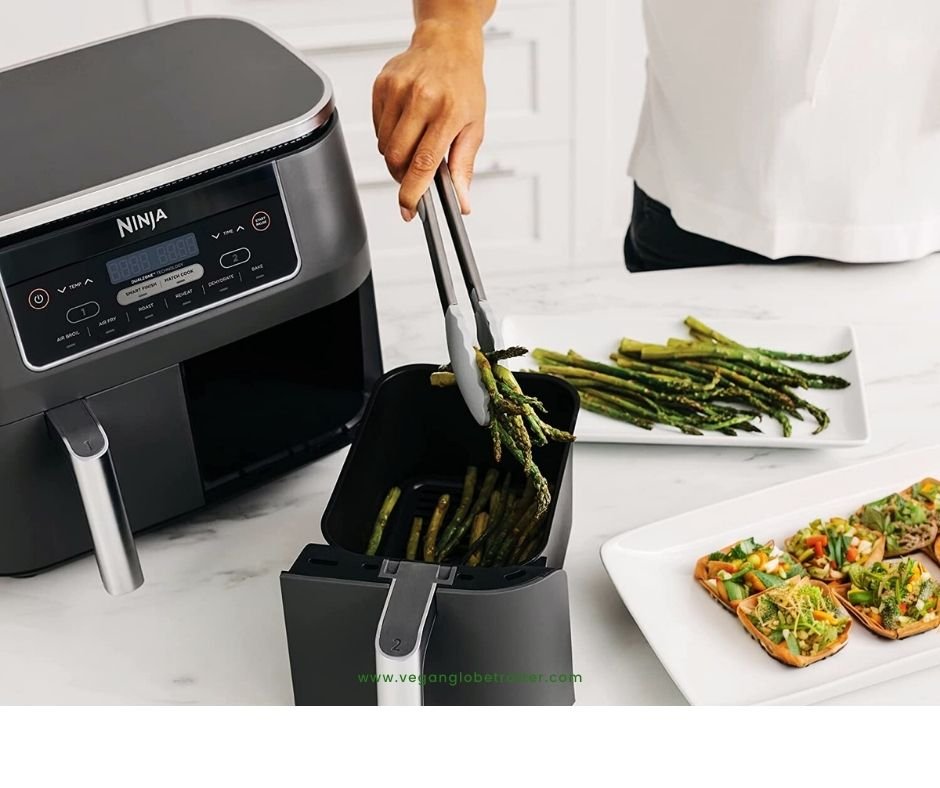 Getting to Know The Ninja Foodi 2-Basket Air Fryer
If you're hunting for a versatile and powerful air fryer, look no further than The Ninja Foodi 2-Basket Air Fryer. This sleek kitchen gadget is a serious game-changer, equipped with not one but two baskets, making it a perfect choice for big families or anyone who loves to cook in large quantities.
One of the most excellent features of this air fryer is its DualZone Technology, which allows you to cook two separate dishes at different times and temperatures. This means you can fry up a batch of crispy chicken wings in one basket while roasting a hearty serving of veggies in the other – all simultaneously! The intuitive touch-screen display makes it super easy to navigate the settings and ensures you get perfect results every time.
The Ninja Foodi 2-Basket Air Fryer also boasts a whopping 6-quart capacity, which means you can cook up to 4 pounds of your favorite foods at once. Whether you're looking to whip up a big batch of fries, roast a whole chicken, or cook juicy burger patties, this air fryer has you covered.
But that's not all. This air fryer is a true kitchen workhorse with six customizable cooking functions, including air fry, air roast, air broil, bake, reheat, and dehydrate. It also comes with various accessories, including two crisper plates and a multi-layer rack, giving you even more options for cooking your favorite meals and snacks.
One aspect of the air fryer that stands out to me is its voltage of 120V. This means it requires less energy, making it an eco-friendly option for those who want to reduce their carbon footprint.
Product Dimension: 13.86″D x 15.63″W x 12.4″H
the dimensions make it the perfect size for my countertop without taking up too much space.
Material: Stainless Steel, Aluminum, Plastic
This unique blend provides the perfect balance of sturdiness and lightness, making it easy to handle and maneuver when cooking.
With a capacity of 8 quarts, this bad boy is perfect for preparing meals for my family of four without having to batch cook or use multiple appliances.
Video Credit: @NinjaKitchenUS
Features Of The Ninja Foodi 2-Basket Air Fryer
Let's take a deeper look at the fantastic features of this excellent air fryer and see why everyone who loves cooking should make it part of their kitchen setup!
2 Independent Baskets
Its two independent baskets set it apart from other air fryers on the market, allowing me to cook two different dishes simultaneously without mixing flavors or worrying about uneven cooking. It's convenient when entertaining or getting dinner on the table in a flash. Plus, the air fryer feature allows me to enjoy crispy, delicious food without added oils or calories.
Bright Finish and Match Cooking
If you're like me, you want kitchen appliances that do more than just one thing. And that's exactly what the Ninja Foodi 2-Basket Air Fryer does with its Smart Finish and Match Cooking feature. What does that mean? It means you can cook multiple dishes perfectly timed to finish simultaneously. Plus, the Smart Finish feature ensures that your food stays hot and ready to eat until you're ready to serve. As someone who loves hosting, this is a game-changer. No more cold dishes and no fussing around with timers – just perfectly cooked food ready when you are.
6-in-1 Functionality
As an avid home cook, I constantly search for kitchen gadgets to streamline my meal prep and serve multiple purposes. With the Ninja Foodi 2-Basket Air Fryer, you can fry, roast, bake, reheat, dehydrate, and even air broil in one unit.
Ninja Foodi 2-Basket Air Fryer Pros and Cons
The Ninja Foodi 2-Basket Air Fryer might be the right product for you if you're looking for an efficient and versatile air fryer. To help you make a more informed decision, here are the pros and cons of this kitchen appliance.
PROS
Dual Basket Design
The Ninja Foodi 2-Basket Air Fryer has two independent baskets that can cook different foods simultaneously. This is an excellent feature for those who want to prepare multiple dishes simultaneously for their family or guests.
Large Capacity
Each basket has a 4-quart capacity, perfect for cooking large batches of food.
6 Cooking Functions
In addition to air frying, the Ninja Foodi 2-Basket Air Fryer offers pressure cooking, baking, roasting, dehydrating, and reheating functions. This means you can cook various foods with just one appliance.
Easy to Use and Clean
The digital control panel is user-friendly, and the baskets are non-stick and dishwasher-safe, making cleaning a breeze.
CONS
Pricey
Compared to other air fryers on the market, the Ninja Foodi 2-Basket Air Fryer is on the higher end of the price spectrum. However, its versatility, large capacity, and multiple functions might still be worth the investment.
Bulky Design
The Ninja Foodi 2-Basket Air Fryer is quite large, so there might be better options for those with limited counter space.   Overall, the Ninja Foodi 2-Basket Air Fryer is an excellent choice for an efficient, versatile, and easy-to-use kitchen appliance. While it may have a bulky design and be a bit pricey, its dual basket function, large capacity, and multiple cooking functions make it an excellent investment for any home cook who wants to save time and effort. So try it, and take your culinary skills to the next level!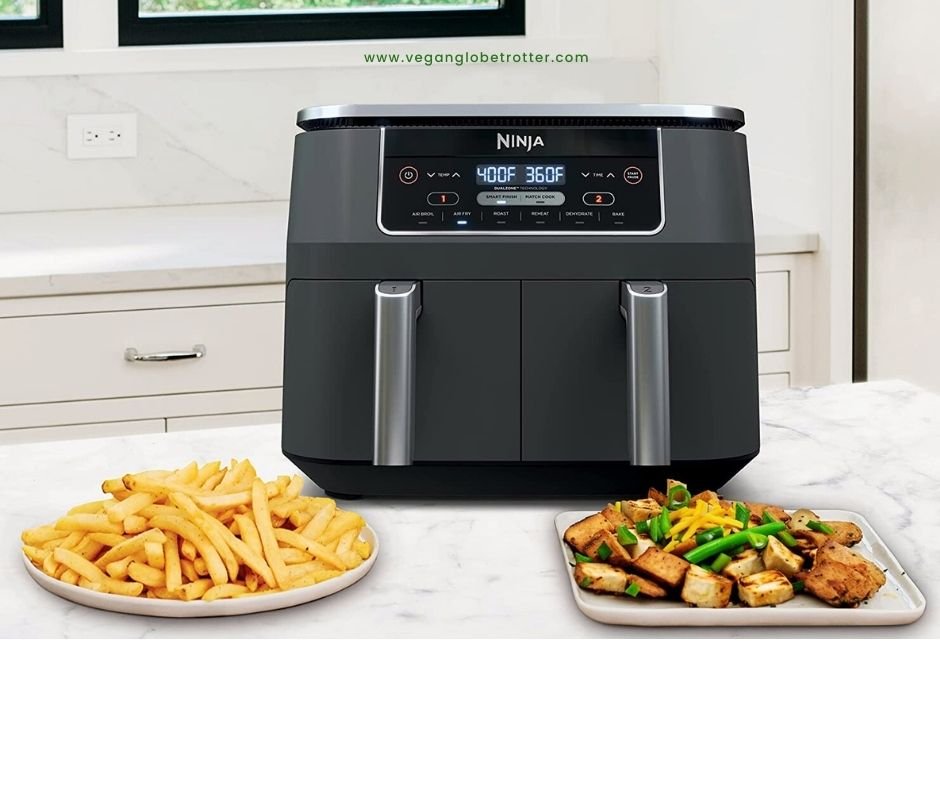 Let's Wrap It Up: Our Ninja Foodi 2-Basket Air Fryer Verdict
We have concluded its effectiveness after using the Ninja Foodi 2-Basket Air Fryer for a while. This air fryer has numerous features that make it stand out. It has been marketed as a kitchen appliance that not only air fries but also roasts, bakes, and dehydrates, all in less time than traditional cooking methods. This innovative machine is perfect for people who are always on the go and do not have enough time to wait for their food to cook.
This Air Fryer's design is sleek, modern, and user-friendly. It is versatile and can cook for a small family of up to four people or larger gatherings. The two baskets allow different types of food to be cooked simultaneously, saving time and energy. The baskets are also non-stick, making them easy to clean after use. The control panel on the front of the machine is easy to understand and use. It has preset buttons for various food types, making cooking with this appliance much more accessible.
Regarding cooking, the Ninja Foodi 2-Basket Air Fryer delivers on its promises. It cooks food evenly and quickly, leaving vegetables juicy and crunchy. We found it very effective in air frying foods like sweet potato fries, potato wedges, and even Brussels sprouts. Roasting vegetables like broccoli and cauliflower was also easy, and they turned out perfectly cooked.
Furthermore, this air fryer is designed with safety in mind. It has an auto shut-off feature that turns the appliance off when the cooking cycle is completed. This feature is handy for people who must remember to turn off their appliances when done cooking.
Can I use the Ninja Foodi 2-Basket Air Fryer to cook frozen foods?
Yes! This Air Fryer is perfect for cooking frozen foods. It has a specially designed setting helps you cook frozen foods to perfection without letting them get soaked in oil.
Is the Ninja Foodi 2-Basket Air Fryer easy to clean?
Yes! The Ninja Foodi 2-Basket Air Fryer has dishwasher-safe parts, making it easy to clean up after cooking a messy meal.
Can I cook two dishes in the Ninja Foodi 2-Basket Air Fryer at different temperatures?
Yes! This Air Fryer has dual-zone technology, allowing you to cook two dishes at two different temperatures. This means you can cook a batch of fries at one temperature and chicken wings at another, all at the same time.
Can I dehydrate foods in the Ninja Foodi 2-Basket Air Fryer?
Yes! The Ninja Foodi 2-Basket Air Fryer has a dehydrated setting, allowing you to make homemade dried fruit and even banana chips!
Explore the World of Vegan Cooking and Lifestyle!
Connect with a vibrant community of food enthusiasts, discover top-notch product reviews, and ignite your passion for cooking appliances, vegan dishes, and a cruelty-free lifestyle. Join us on our social media platforms for an immersive experience that will elevate your culinary journey.
🌍 Facebook: Dive into a global network of Vegan Globetrotters, where we share mouthwatering recipes, cooking hacks, and inspiring stories. Connect with like-minded individuals and exchange ideas that will redefine your vegan experience. Follow us on Facebook today!
📸 Instagram: Immerse yourself in a visual feast of delectable vegan creations. Our stunning photography will transport you to culinary destinations around the world, leaving you inspired and hungry for more. Follow us on Instagram and join the vegan revolution!
📍 Pinterest: Embark on a journey of culinary inspiration with our curated collection of vegan recipes, kitchen tips, and lifestyle ideas. Discover new flavors, techniques, and creative ways to live a plant-based life. Follow us on Pinterest and unlock your full vegan potential!
🐦 Twitter: Stay up-to-date with the latest trends, news, and exciting events in the vegan community. Engage in thought-provoking discussions, find exclusive offers, and connect with fellow vegan enthusiasts. Follow us on Twitter and become part of the vegan movement!
Don't miss out on the opportunity to elevate your vegan cooking game, connect with a passionate community, and explore the wonders of a cruelty-free lifestyle. Join us on Facebook, Instagram, Pinterest, and Twitter today!
#VeganGlobetrotter #VeganCooking #VeganLifestyle