Vegan Globetrotter is supported by our audience. When you purchase through one of our links, we may earn a small affiliate commission.  As an Amazon Associate I earn from qualifying purchases. Your cost is not affected.
==================
We all know how important breakfast is, but it can seem challenging to eat a healthy vegan without breaking the bank. If you're looking for an easy, budget-friendly option that tastes delicious and packs plenty of nutrition into the start of your day – look no further! Today we will show you how to make a mouthwatering 7-Ingredient Breakfast Baked Sweet Potato bursting with flavor and goodness. Perfectly balanced in texture and taste, this dish will satisfy you right through lunchtime! So if you're ready, let's get cooking – our vegan meal prep just got easier!
Vegan on a Budget: 7-ingredient Breakfast Baked Sweet Potato
Veganism is gaining popularity for several reasons, including animal welfare, environmental concerns, and health benefits. While it is a noble and mindful lifestyle, it can come with the stigma of being expensive. Still, veganism can be budget-friendly if you shop and cook smartly. One of the most satisfying meals on a budget is the 7-ingredient Breakfast Baked Sweet Potato. It is a filling and delicious breakfast with just the right amount of sweetness to energize you all day. This plant-based meal includes protein-rich almond butter, vitamin-packed chia seeds, and creamy banana. With just seven ingredients, you can make a healthy and hearty meal that will make a perfect addition to your vegan recipe arsenal.
7-Ingredient Tips!
Sweet Potato
Sweet potatoes are most famously known for their high beta-carotene content, a precursor to vitamin A. This vital nutrient is an important antioxidant that helps to protect the body from oxidative stress and supports overall immune function. But that's not all! Sweet potatoes are also a great source of complex carbs, dietary fiber, and potassium. This makes them an excellent choice for fueling your body with sustained energy and supporting healthy digestion.
To ensure that your Breakfast Baked Sweet Potato is as nutritious and flavorful as possible, choose a sweet potato that is firm, smooth, and preferably organic. Feel free to leave the skin on, as it is packed with fiber and various nutrients. When baked, the skin helps to keep the flesh tender and moist.
Almond Butter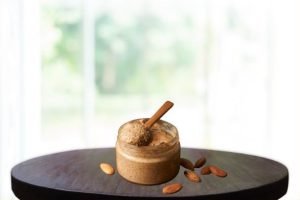 Almond Butter is an excellent source of healthy fats, protein, fiber, and essential vitamins and minerals. It is rich in monounsaturated fats, which are beneficial for heart health and help lower cholesterol levels. It is also packed with vitamin E, which is an antioxidant that helps to protect the body's cells from damage caused by free radicals.
When selecting Almond Butter to use in your recipe, choosing a high-quality product made with only natural ingredients is essential. Please look for a brand that uses organic almonds and avoids added sugars, stabilizers, and other unwanted additives.
Banana
Bananas are a great source of potassium, which helps regulate blood pressure, and vitamin C, which supports a healthy immune system. They also contain fiber, which aids digestion and helps individuals feel fuller for extended periods. In addition, bananas are rich in antioxidants, which protect the body from damaging free radicals.
When selecting bananas for this recipe, it is best to choose ripe but not overly soft ones, as they will be easier to slice and hold their shape during baking. Incorporating bananas into Breakfast Baked Sweet Potato is a great way to add a healthy twist to this delicious and satisfying breakfast dish.
Chia Seeds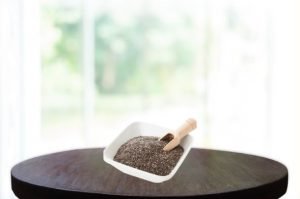 Chia seeds are a powerhouse of nutrients and make a valuable addition to your breakfast baked sweet potato. These tiny black and white seeds contain omega-3 fatty acids, fiber, protein, calcium, and other essential minerals. Not only are chia seeds healthy and delicious, but they are also incredibly versatile. You can sprinkle them on top of your sweet potato for a simple garnish or mix them into your almond butter spread for added flavor and crunch.
Cinnamon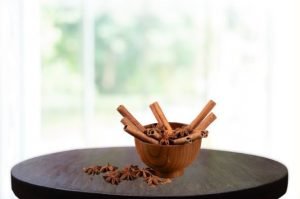 Cinnamon may help regulate blood sugar levels, making it an excellent choice for individuals with diabetes or insulin resistance. Additionally, cinnamon has anti-inflammatory properties that may help reduce the risk of heart disease, cancer, and other chronic illnesses. When using cinnamon in our Breakfast Baked Sweet Potato recipe, be sure to use high-quality cinnamon that is fresh and potent. Ground cinnamon loses its flavor and potency over time, so purchasing small quantities and replacing them regularly is best.
Almond Flakes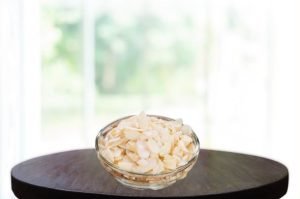 Almonds are a great source of protein and healthy fats essential for maintaining healthy body functions. They are also loaded with vitamins and minerals, including vitamin E, magnesium, and calcium, crucial in maintaining bone health and boosting the immune system. Almond Flakes are a simple way to incorporate almonds into your diet while adding a delightful crunch to your meal. These flakes are made by grating or slicing almonds into paper-thin pieces, making them easy to sprinkle over dishes such as Breakfast Baked Sweet Potatoes.
Sea Salt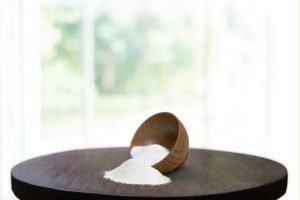 Sea salt is a natural form of salt obtained by evaporating seawater. Unlike table salt, which undergoes a refining process that removes many of its beneficial minerals and trace elements, sea salt is rich in essential minerals such as potassium, magnesium, and calcium. These minerals are necessary for maintaining optimal bodily functions such as regulating blood pressure, balancing fluids, and supporting bone health.
When using sea salt in your Breakfast Baked Sweet Potato recipe, it is essential to use it carefully. Too much salt can cause the dish to become overly salty and overpower the other flavors. A pinch of sea salt should bring out the natural sweetness of the sweet potato and balance the other ingredients.
Ingredient Variations
Baked sweet potato is a fantastic option for a delicious and nutrient-packed breakfast. Here are some ingredient variations to take your morning meal to the next level:
Almond Butter and Blueberries: Swap out the banana for fresh blueberries and drizzle with creamy almond butter for a fruity twist.
Cinnamon and Maple Syrup: Combine cinnamon with a touch of maple syrup for a warm and cozy complement to the sweet potato.
Coconut Yogurt and Hazelnuts: For a dairy-free option, top your baked sweet potato with a dollop of coconut yogurt and chopped hazelnuts for a creamy, nutty flavor.
Granola and Agave: Add a crunchy texture by sprinkling your favorite granola over the top of your sweet potato and drizzling with agave for extra sweetness.
Hemp Hearts and Strawberries: For a nutritious option, sprinkle hemp hearts over your baked sweet potato and top with sliced strawberries for a refreshing flavor.
Peanut Butter and Apples: Swap almond butter for peanut butter and add fresh apple slices for a classic flavor combination that never disappoints.
No matter which ingredients you choose, breakfast baked sweet potato is a great way to start your day with a healthy and flavorful meal.
7-ingredient Breakfast Baked Sweet Potato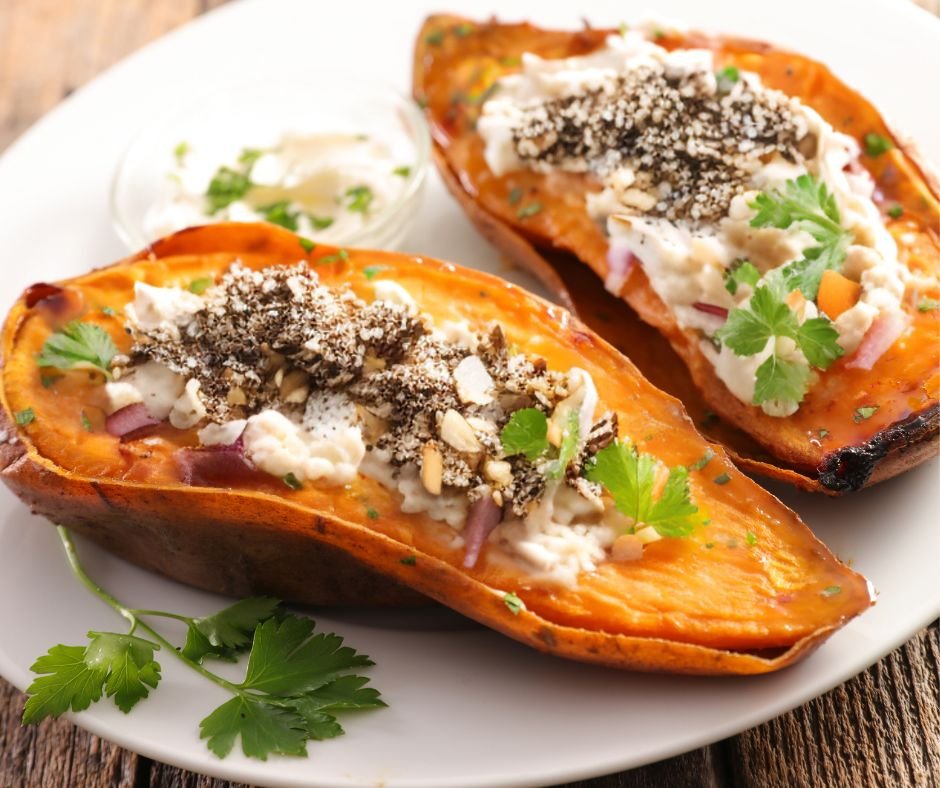 If you want to try this Vegan 7-ingredient Breakfast Baked Sweet Potato recipe, share your photo and experience. In addition, let us know what you think in the comments below by using #veganglobetrotter, #veganonabudget, and #breakfastbakedsweetpotato
7-ingredient Breakfast Baked Sweet Potato
This delicious potato dish is packed with the nutrients to keep you full all morning long plus it's ready within minutes. Best of all, there's hardly any prep work or cleanup required, so it's perfect if you want an easy but tasty meal to get your day started right. Give this healthy start to your mornings a try today–you'll love how simple and satisfying it is!
Ingredients
Let's gather the ingredients!
2

medium

sweet potatoes

washed

2

tbsp

natural almond butter

1

ripe

banana

sliced

2

tsp

chia seeds

1

pinch

cinnamon

ground

2

tbsp

almond flakes

toasted

1

pinch

sea salt
Instructions
Let's Begin!
Preheat oven to 375°F. Line a medium baking sheet with parchment paper or foil.

Use a fork to poke several holes in the sweet potatoes, then place them on the prepared baking sheet and roast sweet potatoes for 45 minutes -1 hour or until fork tender.

Remove the sweet potatoes from the oven and allow them to cool for 5-10 minutes.

Split the warm sweet potatoes open lengthwise with a knife and sprinkle with a tiny bit of sea salt.

Drizzle 1 tablespoon of almond butter, 1 teaspoon of chia, and 1 tablespoon of almond flakes along with banana slices and finally a sprinkle of cinnamon in each sweet potato.

Serve immediately, and enjoy with family and friends!
Nutrition
Calories:
371
kcal
Carbohydrates:
53
g
Protein:
10
g
Fat:
15
g
Saturated Fat:
1
g
Polyunsaturated Fat:
4
g
Monounsaturated Fat:
8
g
Trans Fat:
0.01
g
Sodium:
146
mg
Potassium:
973
mg
Fiber:
11
g
Sugar:
11
g
Vitamin A:
32066
IU
Vitamin C:
6
mg
Calcium:
176
mg
Iron:
3
mg
Conclusion
This 7-ingredient breakfast baked sweet potato recipe is a great way to get something delicious and nutritious on the table. It checks all the necessary nutritional boxes, such as protein, fats, and carbohydrates, and it also gives you some of your five-a-day portions of fruit and vegetable intake. Plus, with its limited cooking time of just 45 minutes, it is easy to fit into any busy morning schedule. Plus, with these seven simple ingredients, you can save money on groceries by cutting down on processed food purchases. Let us know what you think!
Connect With Us
If you tried this Vegan 7-ingredient Breakfast Baked Sweet Potato recipe, take a picture or video and tag us on our social media: Facebook, Twitter, and Pinterest, and subscribe to our YouTube Channel. I'd be delighted to see it!  Remember to subscribe to our email newsletter to ensure you don't miss any recipes, which will be delivered to your inbox every week.
In addition, if you are looking for delicious baking recipes, visit Best Baking Tips. They also published a lot of healthy baking recipes!