Vegan Globetrotter is supported by our audience. When you purchase through one of our links, we may earn a small affiliate commission.  As an Amazon Associate I earn from qualifying purchases. Your cost is not affected.
==================
Eating vegan doesn't have to be expensive! If you're on a budget but still want a delicious and nutritious meal, this 7-ingredient Mushroom Spinach Tofu Wrap is for you. Filled with protein from tofu and healthy vegetables, this hearty wrap will fill you up and leave your taste buds happy. Super simple to make and take just 25 minutes or less of your time – it's the perfect go-to meal when you don't have much time or money to spare. So grab a skillet, assemble the ingredients in less than 5 minutes, and get ready for the most accessible all-veggie wrap that'll indeed become your midweek favorite!
Vegan on a Budget: 7-ingredient Mushroom Spinach Tofu Wrap
Eating a vegan diet doesn't have to break the bank, and this 7-ingredient mushroom spinach tofu wrap perfectly proves that. Packed with protein and flavor, this wrap is satisfying and delicious. The deep umami flavor of the mushrooms complements the combination of protein-packed tofu and savory spinach. The wrap is drizzled with creamy hummus that brings it all together. This recipe is affordable, simple, and quick to make, making it an excellent option for busy weekdays when you want a healthy and flavorful meal. Whether you're a seasoned vegan or want to incorporate more plant-based meals into your diet, this wrap will become a new favorite.
7-Ingredient Tips!
Firm Tofu
One great thing about using firm tofu in this recipe is that it takes on the flavors of the curry and turmeric powders very well. Plus, it's packed with plant-based protein and a great calcium and iron source. So, not only will this Mushroom Spinach Tofu Wrap be delicious, but it will also provide essential nutrients for your body.
When you cook with firm tofu, please press out the excess water before using it in any recipe, including this Mushroom Spinach Tofu Wrap. This can be done by wrapping the block of tofu in paper towels and placing a heavy object on top to squeeze out the liquid.
Cremini Mushrooms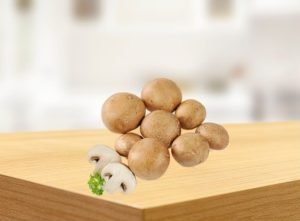 Cremini mushrooms are an excellent source of vitamins and minerals, including potassium, vitamin B2, and copper. They also contain antioxidants and anti-inflammatory compounds that can help promote overall health and well-being.
When selecting Cremini mushrooms for the wrap, look for mushrooms that are firm to the touch and have a smooth, unblemished surface. Avoid mushrooms that are slimy or have a wrinkled appearance, as these are signs of spoilage.
Spinach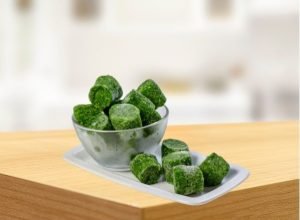 Spinach is an excellent source of vitamins A, C, K, and folate. It is also packed with iron, calcium, and potassium. When it comes to selecting spinach for your Mushroom Spinach Tofu Wrap, it is crucial to choose spinach leaves that are fresh and crisp with vibrant green color. You can use baby spinach or mature spinach leaves; just be sure to wash them thoroughly and pat them dry before use.
Adding spinach to your Mushroom Spinach Tofu Wrap will provide a nutritious boost and a vibrant green color that looks and tastes great. Whether you chop it up finely or leave it whole, spinach is a delicious and healthy addition to this recipe that you won't want to miss.
Turmeric Powder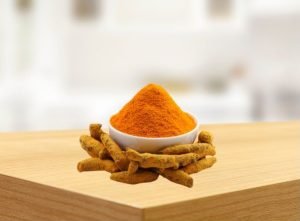 Turmeric contains a powerful compound called curcumin, a potent antioxidant that helps to protect the body against various diseases. Research has also shown that curcumin can help to reduce inflammation and joint pain, enhance brain function and lower the risk of heart disease.
Adding turmeric powder to the Mushroom Spinach Tofu Wrap adds a vibrant yellow color and imparts a unique flavor profile. The warm and slightly bitter notes of turmeric work harmoniously with the other ingredients to create a flavor profile that will explode in your mouth. Turmeric powder also pairs exceptionally well with other spices, like curry powder, also used in this recipe.
Curry Powder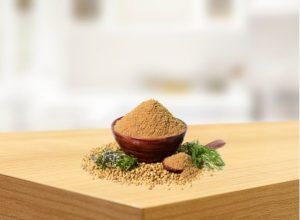 Curry powder is a spice blend that adds depth and complexity to various dishes, including Mushroom Spinach Tofu Wrap. Depending on the specific blend, It typically consists of ground coriander, cumin, turmeric, ginger, and other spices.  You can opt for a "sweet" curry powder blend if you prefer a milder curry flavor. On the other hand, if you enjoy a spicier kick, look for a "hot" curry powder blend or add some cayenne pepper or red pepper flakes to the wrap filling.
Hummus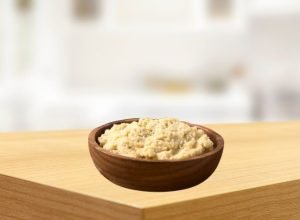 Hummus is an excellent plant-based protein source, a vital macronutrient that helps build and repair body tissues, create enzymes and hormones, and support immune function. Additionally, it contains heart-healthy monounsaturated and polyunsaturated fats that can help lower harmful cholesterol levels and protect against cardiovascular disease.
When making a Mushroom Spinach Tofu Wrap, consider adding a generous dollop of Hummus to add creaminess, moisture, and depth of flavor to the wrap. It will enhance the taste and texture of the dish and provide a nutrient-dense boost that will keep you full and energized for hours.
Whole-Wheat Tortillas
Whole Wheat Tortillas also have a lower glycemic index than white flour tortillas, meaning they won't spike your blood sugar levels as much. This is especially important for people with diabetes or watching their sugar intake.
When selecting Whole Wheat Tortillas, choose brands that use 100% whole wheat flour and minimal additives. It's also important to check the nutrition label and serving size to ensure you get the most nutritional benefits.
Ingredient Variations
When making a Mushroom Spinach Tofu Wrap, there are plenty of options to vary the ingredients for a more personalized and flavorful result. Here are some detailed and informative ideas to take your vegan wrap to the next level:
Tofu: There are multiple types of tofu available in the market, such as silken, soft, firm, extra firm, and super firm. While firm tofu is recommended in the recipe, you can switch to soft tofu for a creamier texture or extra-firm tofu for a chewier consistency.
Mushrooms: Cremini mushrooms are a great option as they are packed with umami flavor, but you can also use shiitake, portobello, or button mushrooms to add variety. Be sure to slice them thinly to avoid overpowering the other flavors.
Greens: Spinach is a delicious ingredient that gives the wrap a fresh and nutritious touch. However, depending on your preference, you can replace it with other greens like kale, arugula, or collard greens.
Spices: Turmeric and curry powder are great spices that add warmth and depth to the dish. You may also experiment with cumin, coriander, ginger, or paprika to give different flavor nuances.
Spread: Hummus is a simple yet tasty spread that complements the wrap ingredients. But if you want to switch things up, try other spreads such as tzatziki, pesto, or guacamole.
Tortillas: Whole-wheat tortillas are a healthier option compared to regular flour tortillas. However, you can use corn tortillas, lettuce wraps, or gluten-free tortillas for dietary or taste preferences.
By following these ingredient variations, you have the power to create a unique, flavorful, and satisfying wrap that will delight your taste buds and nourish your body.
7-Ingredient Mushroom Spinach Tofu Wrap
If you want to try this Vegan 7-ingredient Mushroom Spinach Tofu Wrap recipe, share your photo and experience with us. In addition, let us know what you think in the comments below by using #veganglobetrotter, #veganonabudget, and #mushroomspinachtofuwrap
7-ingredient Mushroom Spinach Tofu Wrap
This vegan wrap is a fantastic way to get your daily dose of vitamins and minerals, while also indulging in some truly scrumptious flavors. Plus, it's incredibly simple to create; it takes less than 30 minutes from start to finish! So what are you waiting for? Let's dive into the ingredients list and whip up this delightful treat together!
Ingredients
Let's gather the ingredients!
1

block

firm tofu

1½

cup

cremini mushrooms

sliced

½

cup

spinach

frozen then thawed

½

tsp

turmeric powder

¼

tsp

curry powder

4

tbsp

hummus

2

whole wheat tortillas
Instructions
Let's Begin!
Heat a tablespoon of olive oil in a large pan, then scramble the tofu with a fork in a bowl before adding it to the pan.

Add turmeric powder and curry powder, then season with salt and pepper. Mix well, so the tofu gets an even yellow color.

Add the sliced cremini mushrooms. Keep it on medium-high heat while stirring for about 10 minutes or until the mushrooms have lost most of their water.

Prepare the thawed spinach by squeezing out most of the water, then add them to the mushrooms. If preferred, add more spices and herbs, to taste. Cook for 2-3 minutes, then remove from heat.

Heat the tortilla in a pan until warm. Spread 1-2 tablespoons of hummus on the tortilla, then top with the tofu, mushrooms, and spinach mixture. Optionally, add quartered cherry tomatoes on top and fold them as you would usually do for a wrap.
Nutrition
Calories:
362
kcal
Carbohydrates:
34
g
Protein:
26
g
Fat:
15
g
Saturated Fat:
2
g
Polyunsaturated Fat:
6
g
Monounsaturated Fat:
4
g
Sodium:
410
mg
Potassium:
364
mg
Fiber:
7
g
Sugar:
4
g
Vitamin A:
714
IU
Vitamin C:
2
mg
Calcium:
359
mg
Iron:
5
mg
Conclusion
Crafting a delicious vegan meal doesn't have to break the bank. This 7-ingredient Mushroom Spinach Tofu Wrap is a prime example of how to stay on budget when living a plant-based lifestyle. This wrap is easy and affordable, but you can tweak the ingredients based on your preferences, such as grilling the mushrooms for an extra crispy finish or adding extra protein with cooked beans.
In addition, you can bulk up this dish by adding potatoes or other vegetables of your choice, as well as altering the seasoning to suit your palate. Whether you whip up this wrap for lunch or dinner, you and your family will enjoy the warm and savory flavors it offers that won't break the bank. So next time you plug limited money into vegan cooking, think outside the box for nutrient-rich meals like the Mushroom Spinach Tofu Wrap! Let us know what you think!
Connect With Us
If you tried this Vegan 7-ingredient Mushroom Spinach Tofu Wrap recipe, take a picture or video, tag us on our social media: Facebook, Twitter, and Pinterest, and subscribe to our YouTube Channel. I'd be delighted to see it!  Remember to subscribe to our email newsletter to ensure you don't miss any recipes, which will be delivered to your inbox every week.
In addition, if you are looking for delicious baking recipes, visit Best Baking Tips. They also published a lot of healthy baking recipes!