Vegan Globetrotter is supported by our audience. When you purchase through one of our links, we may earn a small affiliate commission.  As an Amazon Associate I earn from qualifying purchases. Your cost is not affected.
==================
Vegan Quinoa Summer Salad with Sweet Lime Salad Dressing
Salads on repeat are a must in the summer, but they don't have to be monotonous. I'm talking about delicious salads like this vibrant Vegan Quinoa Summer Salad with Sweet Lime Salad Dressing. It's jam-packed with summer's best ingredients. This salad is simple to cook, and the quinoa core makes it filling enough for lunch or dinner. It's ideal for those hot summer days when you want something mild, fresh, and tasty.
How To Prepare Quinoa
Rinse 1 cup of quinoa under running water. The bitter coating on the outside of the quinoa is cleansed by rinsing it.
Place the quinoa in a pot with 2-3 cups of water and cover. Stir with a pinch of salt to taste.
Boil the quinoa on a medium-high heat, boiled until soft. Once cooked, remove it from the heat.
Allow the quinoa to cool completely before using it in this recipe. I prefer to prepare it a day ahead of time, but one hour in the refrigerator would enough. It's not difficult to make the salad once the quinoa is cooked. Drizzle in the dressing and toss everything together until everything is well coated.
Preparation and Storage
This salad is perfect for meal planning because it can be made ahead of time. The dressing as well as the prepared quinoa can be stored in the refrigerator for up to one week. So that you can finish them and get them out of the way.
Cut the corn off the cob and dice the red onion ahead of time if desired. To keep the ingredients as fresh as possible, Slice and dice the peaches, basil, tomatoes, and avocado just before serving.
This salad is best served fresh, but it can be stored in an airtight container in the refrigerator for up to three days.
You will love this vegan quinoa summer salad. It is so flavorful and healthy,
Vegan Quinoa Summer Salad You'll Love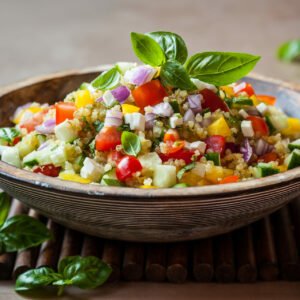 Vegan Summer Quinoa Salad (Dairy-Free)
Fresh fruits, vegetables, sturdy quinoa, and the most delicious homemade sweet lime dressing go into this vegan summer quinoa salad.
Ingredients
1-2

cup

quinoa

uncooked

2-3

cups

water

2

small

peaches

sliced and pitted

1-2

cup

grape tomatoes

halved

1

large

sweet corn

fresh

1

large

avocado

sliced and pitted, ripe

1

small

red onion

diced

8

tbsp

nutritional yeast

8

tbsp

basil

chopped, fresh
Instructions
In a saucepan, boiled the quinoa for at least 14-15 minutes or till the quinoa is soft. Once cooked, place to a big bowl. Allow to cool

Combine the peaches, corn, avocado, tomatoes, parmesan cheese, and basil into the cooled quinoa.

Drizzle with your favorite dressing over the quinoa salad. Serve chilled or at room temperature. (see note)
Nutrition
Calories:
245
kcal
Carbohydrates:
36
g
Protein:
11
g
Fat:
8
g
Saturated Fat:
1
g
Polyunsaturated Fat:
2
g
Monounsaturated Fat:
4
g
Sodium:
16
mg
Potassium:
711
mg
Fiber:
9
g
Sugar:
6
g
Vitamin A:
594
IU
Vitamin C:
11
mg
Calcium:
33
mg
Iron:
3
mg
If you make this Vegan Quinoa Summer Salad share with us your experience and tag us on our social media pages: Facebook, Twitter, Pinterest, Instagram, and subscribed to our YouTube Channel.
READ MORE:
Authentic Mexican Entree Recipes
Homemade Salad Dressing Recipes