Vegan Globetrotter is supported by our audience. When you purchase through one of our links, we may earn a small affiliate commission.  As an Amazon Associate I earn from qualifying purchases. Your cost is not affected.
==================
This Thanksgiving, try a new vegan dish that will have your friends and family asking for seconds. This jackfruit stew-thanksgiving recipe is an easy-to-make recipe that is hearty and flavorful. The combination of spices and vegetables makes this dish perfect for any fall meal. Best of all, it's simple enough to put together on a busy holiday weekend. So, ditch the Tofurky this year and give jackfruit stew a try!
Jackfruit- The newest meat alternative!
If you're a vegan or are considering making the switch to a plant-based diet, you've probably heard of jackfruit. Jackfruit is a tropical fruit that is often used as a meat alternative because of its size, texture, and taste. Let's take a closer look at why jackfruit is becoming the newest trend in meat alternatives.
1. Size and Texture
One of the reasons why jackfruit is becoming a popular meat alternative is because of its size and texture. Jackfruit can grow up to 100 pounds and is usually sold canned or frozen. When cooked, jackfruit has a stringy texture that is similar to pulled pork. This makes it a great option for dishes like pulled pork sandwiches, tacos, and even curries.
2. Taste
Another reason why jackfruit is becoming a popular meat alternative is because of its taste. When raw, jackfruit has a sweet taste that is often compared to pineapple or mango. However, when cooked, jackfruit takes on the flavor of the sauce or spices that it is cooked with. This means that jackfruit is versatile and can be used in a variety of dishes.
3. Nutrition
A jackfruit is also a healthy option because it is high in fiber and nutrients like vitamin C, potassium, and calcium. Jackfruit is also low in calories and fat. This makes it a great option for people who are trying to lose weight or maintain a healthy weight.
If you're looking for a new meat alternative, you should consider trying jackfruit. Jackfruit has a similar texture to pulled pork and can be flavored to taste almost anything. Jackfruit is also healthy because it's high in fiber and nutrients and low in calories and fat. So next time you're at the store, pick up some jackfruit and give it a try!
Plant-based ingredients to make this jackfruit stew
When it comes to making jackfruit stew, the most important step is gathering the right ingredients. Fortunately, most of the ingredients can be easily found at your local grocery store and in your pantry. Below are the plant-based ingredients you will need to make this jackfruit stew.
1. Vegetables: Garlic, onion, jackfruit, potatoes, carrots, white-bottom mushroom, celery, tomatoes, and spinach.
2. Seasoning: Garlic powder, oregano, Sriracha, paprika powder, thyme, bay leaves, cocoa powder, kosher salt, and black pepper.
3. Other ingredients: vegetable broth, olive oil, and corn starch.
Once you have all of the ingredients, the next step is to start cooking. The first thing you need to do is dice the onion and garlic. Then, you need to peel and chop the ginger. After that, it's time to add all of the ingredients into a pot or slow cooker. Once everything is in the pot, it's time to let the stew simmer for a few hours. After a few hours, your delicious jackfruit stew will be ready to enjoy.
Well, if this recipe works for you share your thoughts and photos with us. But then, if you still have any questions feel free to comment below.
Looking for more vegan stews and soups recipes? Well, these recipes I have suggested are great to cozy up your day. You should try this, 20-Minute Pumpkin Soup, Butternut Squash White Bean Kale Stew, and Split Pea Soup with Cauliflower. They are perfect for all occasions best of all they are made with plant-based ingredients.
Vegan Globetrotter Suggestions and Tips
Jackfruit Stew is a unique Thanksgiving dish that is sure to please vegans and meat-eaters alike. This hearty stew is made with jackfruit, a versatile fruit that has a meaty texture and takes on the flavors of whatever it is cooked with. Jackfruit Stew is loaded with vegetables and gets its rich flavor from a blend of spices. Serve this stew over a bed of rice or quinoa for a complete meal. Here are the tips and suggestions that might be helpful to you.
Serving Suggestions
For a traditional Thanksgiving feast, serve Jackfruit Stew alongside mashed potatoes, green beans, and cranberry sauce.
For a lighter meal, serve the stew over a bed of greens. Add some crusty bread on the side for dipping into the rich flavorful broth.
Recipe Tips
For best results, use fresh jackfruit in this recipe. Canned jackfruit can be used, but it may not be as moist and flavorful. Be sure to drain and rinse the canned jackfruit before using it in the recipe.
To save time on Thanksgiving day, prepare the Jackfruit Stew ahead of time and reheat it when ready to serve. The flavors will meld together as the stew sits, so it will taste even better when reheated.
Storing Tips
Leftover Jackfruit stews can be stored in an airtight container in the refrigerator for up to 3 days.
To freeze, place leftovers in a freezer-safe container and store them for up to 3 months. When ready to eat, thaw overnight in the refrigerator then reheat in a pot over low heat until warmed through.
This Thanksgiving, try something new and make Jackfruit Stew! This hearty stew is filled with vegetables and has a rich flavor from a blend of spices. Serve it over rice or quinoa for a complete meal. With just a few simple tips, you can have this unique dish on your table in no time!
Jackfruit Stew-Thanksgiving Recipe FAQs
You've decided to veganize your Thanksgiving this year and have chosen jackfruit stew as your main dish. But you might be wondering how this tropical fruit will fare in a traditional cold-weather dish. Will it be too sweet? What kind of seasonings should you use? We've got all the answers to your questions below so that you can have a delicious and worry-free holiday meal.
What does jackfruit taste like?
Unripe jackfruit has a similar flavor to pulled pork. When ripe, it tastes like a cross between a mango, pineapple, and Juicy Fruit gum. Its versatility makes it a good candidate for savory or sweet dishes.
What is the texture of jackfruit?
The unripe fruit has a stringy, meaty texture that is perfect for dishes like stews, curries, and tacos. Ripe jackfruit is softer and great for desserts such as pies and ice cream.
Where can I buy jackfruit?
You can find canned jackfruit in most Asian markets. Make sure to get the green, unripe variety in water or brine – not syrup! If you can't find canned jackfruit, you can also buy it frozen or dried.
Can I make this recipe ahead of time?
Yes, this dish can be made up to 3 days in advance. Simply store it in an airtight container in the refrigerator until you're ready to serve. Reheat on the stovetop over low heat until warmed through.
Are you ready to make a delicious vegan Thanksgiving feast? With these FAQs answered, you have all the information you need to make a scrumptious jackfruit stew. Be sure to check out our recipe for more tips on making the perfect holiday meal. Happy cooking!
Healthy stew in a pot!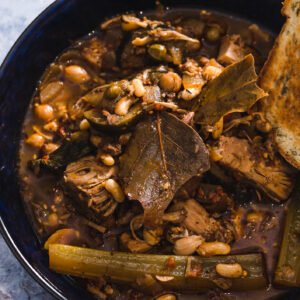 Jackfruit Stew-Thanksgiving Recipe
It has a rich, savory flavor that is perfect for the holiday season, especially on Thanksgiving day. It is also a healthy alternative to traditional meat-based stews.
Ingredients
Veggies:
2

medium

onion

5

cloves

garlic

finely chopped

4

medium

carrots

3

cups

jackfruit

homemade or store-bought; drain and rinsed.

1

stalk

celery

2

cups

sweet potatoes

diced

3/4

cup

tomatoes

chopped

4

oz.

mushroom

bottom, chopped

2 1/2

oz.

spinach

leaves, fresh
Seasonings:
3

tsp

oregano

2

tsp

garlic powder

1

tsp

Sriracha

or any prefer chili paste

3

cups

cocoa powder

or dark chocolate

2 1/2

tsp

paprika

powder

3

bay leaves

10

sprig

thyme

fresh

kosher salt

to taste

black pepper

to taste

2

tbsp

nutritional yeast

use to thicken the stew
Instructions
Prepare the veggies:
Wash and peel the veggies; chop and slice them if needed. If using canned jackfruit remove the excess liquid.
Let's get cooking!
In a large pot over medium-high heat, heat the oil then saute the onion and garlic until golden brown or for a few seconds.

Add the sliced carrots; continue to cook for 5 minutes. Then add the chopped jackfruit and season with kosher salt, black pepper, garlic powder, and oregano.

Combine the Sriracha and cocoa powder. Stir well until the cocoa powder is dissolved and everything is incorporated; add the paprika powder and stir well until combined.

Pour the vegetable broth until the veggies are wilted, and add the Bay leaves and thyme. Cook for 50 minutes with cover.

Add the sweet potatoes, celery, and the remaining vegetable broth. Continue to cook for 15 minutes.

Stir to combine the mushrooms and tomatoes. Continue to cook for 8 minutes.

To thicken the stew add the nutritional yeast. Stir until thickens.
Serve and enjoy!
Discard the Bay leaves and thyme; then garnish with spinach leaves. Stir until te the spinach is wilted. Serve right away and enjoy!
Nutrition
Calories:
1681
kcal
Carbohydrates:
399
g
Protein:
85
g
Fat:
42
g
Saturated Fat:
22
g
Polyunsaturated Fat:
3
g
Monounsaturated Fat:
13
g
Sodium:
620
mg
Potassium:
9970
mg
Fiber:
137
g
Sugar:
137
g
Vitamin A:
87795
IU
Vitamin C:
181
mg
Calcium:
978
mg
Iron:
62
mg
For More Vegan Recipes
I've provided a list of vegan dishes that are all made completely of ingredients from plants. Additionally, they make a wonderful addition to any vegan dish. These are tasty even for meat eaters, and for more vegan recipes subscribe to our newsletter.
1. Butternut Squash White Bean Kale Stew
2. Autumn Wild Rice Comfort Soup
3. Hearty Chickpea Veggie Stew Recipe
To Wrap It All Up
Jackfruit is a great meat alternative for those looking for something different this Thanksgiving day. This jackfruit stew recipe is packed with plant-based ingredients and is sure to be a hit with your vegan and vegetarian friends and family members. For more tips on including Jackfruit in your Thanksgiving feast, check out the Vegan Globetrotter blog. And if you have any questions about making this delicious dish, don't hesitate to ask in the comments section below!
Connect With Us
If you tried this jackfruit stew takes a ?  and tag us on our social media: Facebook, Twitter, and Pinterest, and subscribed to our YouTube Channel. I'd be delighted to see it!
To make sure you don't miss any recipes, remember to subscribe to our email newsletter which will be delivered to your inbox every week. ? In addition to this, if you are looking for vegan baking recipes visit Best Baking Tips they also published a lot of healthy baking recipes.
Read More
9 Best Vegan Meat Alternatives