Vegan Globetrotter is supported by our audience. When you purchase through one of our links, we may earn a small affiliate commission.  As an Amazon Associate I earn from qualifying purchases. Your cost is not affected.
==================
Easy-To-Make Summer Breakfast Taco With Veggies
Are you on a tight budget but want to satisfy your vegan cravings? No problem! The Vegan Globetrotter will help you. We have rounded up breakfast recipes that are plant-based and budget-friendly. These summer breakfast taco with veggies are also extremely adaptable. Change up the vegetables and garnishes according to what you have on hand and what's in season. But in this recipe, they are packed with zucchini, cherry tomatoes, onions, black beans, and corn to get your day started smoothly. Vegan cheese, cilantro, and salsa are served on top. If desired. Even meat-eaters will love this!
Substitution Tips
Corn Tortillas: Homemade flour tortillas would also work.
Vegetables: Diced zucchini, and corn are used in these veggie tacos. You can use frozen or canned.
Spices: A simple flavor blend of garlic powder, onion powder, cumin, and chili powder is required for this veggie taco filling. Season with kosher salt and pepper to taste. Alternatively, if you like, you can use store-bought taco seasoning.
Salsa: You may also use normal red salsa, Tomatillo Salsa Verde, Mexican Green Salsa, homemade Pico de Gallo, or other salsas like 5-minute fresh summer salsa. Fore more salsa check out here: Fresh Mexican Salsa Recipes
Garnish: If you don't want  cilantro. You may use parsley or other herbs.
Add-ins and Variations for the Veggie Taco Filling
Other Veggies: You can use a variety of vegetables to these summer breakfast tacos with veggies. You may also include heartier vegetables like mushroom, squash, or sweet potato. However, the baking time for the latter may need to be increased by 5-10 minutes.
Avocado: Serve this recipe with basic guacamole and sliced avocado.
You can roast the corn tortillas for the crunchiest results.
I suggest you to use Homemade Coleslaw Salad Dressing it gives more flavor.
How to Prepare and Store Ahead of Time
Summer breakfast tacos with veggie are quick and easy to make, but they can be made even faster if the veggie taco filling is prepared ahead of time.
To avoid the mixed veggie tacos becoming "soggy," serve them as soon as possible after they've been cooked. However, the vegetable filling can be refrigerated and warmed for the next day. Even better, they can be used for more than tacos.
Serve this tacos to your friends, family, and kids. I'm sure they will love these summer breakfast taco with veggies.
Summer Breakfast Taco with Veggies You'll Love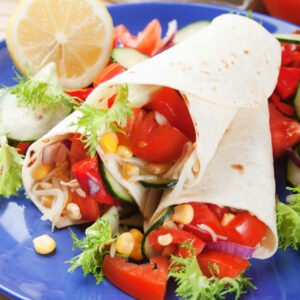 Summer Breakfast Taco with Veggies
Summer Breakfast Taco with Veggies are a weekly breakfast must-have. This budget-friendly plant-based meal is simple to prepare, crowd-pleasing, and savory.
Ingredients
2-3

cups

corn

canned, frozen

3-4

small

zucchini

diced

1

small

cherry tomatoes

diced

½

tsp

onion

minced

8

tbsp

black beans

16

tbsp

vegan cheese

6

corn tortillas

salsa

vegan, optional, for garnish

cilantro

optional, for garnish
Instructions
Preheat the oven to 400°F

In a corn tortillas, put the zucchini and corn. Bake for 9-10 minutes. Once cooked, set them aside.

In a large bowl, mix the cherry tomatoes, onion, and black beans.

On a cooked tortilla, put all the veggie mixture, then fold the tortilla. (Just like in the picture.) 

Topped with cheese, cilantro, and salsa. (If desired.)
Nutrition
Calories:
211
kcal
Carbohydrates:
34
g
Protein:
6
g
Fat:
6
g
Saturated Fat:
2
g
Polyunsaturated Fat:
1
g
Monounsaturated Fat:
1
g
Sodium:
231
mg
Potassium:
391
mg
Fiber:
6
g
Sugar:
4
g
Vitamin A:
269
IU
Vitamin C:
14
mg
Calcium:
53
mg
Iron:
1
mg
If you make this Summer Breakfast Taco with Veggies share with us your experience and tag us on our social media pages: Facebook, Twitter, Pinterest, Instagram, and subscribed to our YouTube Channel.
READ MORE:
Traditional Mexican Taco Recipe
Vegan Quinoa Summer Salad—Dairy-Free

Tomatillo Salsa Verde, Mexican Green Salsa
Health Benefits of Eating Veggies