Vegan Globetrotter is supported by our audience. When you purchase through one of our links, we may earn a small affiliate commission.  As an Amazon Associate I earn from qualifying purchases. Your cost is not affected.
==================
I don't know about you, but I love coming home to a warm and hearty stew after a long day. This vegan crock pot split pea stew is the perfect meal for chilly winter days. It's packed full of flavor and nutrients, and it's really easy to make. Plus, it reheats well so you can enjoy it multiple times throughout the week. So if you're looking for a cozy and satisfying dinner option, this vegan crock pot recipe is definitely worth trying!
Crock Pot Split Pea Stew
Crock Pot Split Pea Stew vs Soup
Soup or stew, is there a difference?  Technically, they both usually contain the same ingredients, although when we say soup, we mean a thinner consistency broth. But with a stew, we expect a thicker, chunky consistency. 
Can one recipe be both? Yes, it is possible and quite simple. For a soup, simply add more broth to reach the desired consistency. For a stew, you have choices. We usually opt to reduce the liquid a bit. When the stew is completely cooked, we blend about 1/3 to 1/2 of the contents, then remix it back into the remainder. It's easy to do and does not change the flavors.
Another option to thicken is to add a starch such as cornstarch (mixed with cold water first) and allow it to cook with the stew to thicken. 
Whichever you choose, adjust to the desired thickness. A thicker stew creates a hearty meal by itself. Alternatively, you might serve it over potato, rice, or noodles. In fact, our leftover stew usually finds it's way to one of the topping choices. 
Do I have to use a Crock Pot or Slow Cooker for this recipe?
No, like most soups and stews, this recipe comes together on your stove top in the same way as your slow cooker. The difference is the amount of time you need to spend stirring and watching over your food as it cooks. The slow cooker does it all for you!
And with the programmable styles, you might enjoy programming it overnight for your breakfast, then make dinner with another programmed recipe for night time! We find our slow cooker gets quite a workout in the winter. In fact, we have 3 different sizes in our home!
But don't just use this amazing appliance during the cold months. We find they also help keep our kitchen cooler (and save on air conditioning as a result) during the warmer months, too. 
FAQ's
Are Split Peas the same as green peas?
Split peas are a variety of peas known as field peas. When harvested, split peas are hulled, split, and dried.
Why are they called split peas?
As mentioned above, split peas are split along their natural seam after the hulls are removed. This ensures proper drying.
Do I need to soak split peas before cooking?
 Beans need to be soaked first, but peas do not.  Peas and lentils cook quickly without soaking. However, you should rinse them thoroughly to remove any dirt and debris before cooking. Also, check for grit particles.
Can I use split peas instead of lentils?
Yes, split peas and lentils, both legumes with similar cooking times, may be interchanged equally in recipes. Keep in mind that the taste will be slightly different, though.
Which is healthier, lentils or split peas?
Nutritionally, lentils provide a bit more fiber, protein, and folate. When considering vitamins, split peas come out ahead with vitamins A, C, K, and some of the B vitamins.
Yes, it's true that split peas may cause gas, especially if you eat a large quantity. Added to stews and soups, however, they easily balance with other foods to avoid over-eating.
Are split peas hard to digest?
Legumes, including split peas, contain resistant starch. This is the part of starch that the small intestine cannot break down, thus it goes to the colon to be digested by bacteria there by fermentation. Research shows that resistant starch provides many health benefits, including helping to prevent colon cancer.
Are split peas good for managing inflammation?
Yes, split peas are known to be anti-inflammatory. They help reduce cholesterol, reduce blood pressure, and help prevent diabetes. As studies continue, we expect to see other significant anti-inflammatory benefits to split peas.
Do split peas promote gut health?
The high fiber content in split peas and other legumes helps improve bowel movements, thus preventing constipation. An additional benefit to the fiber in split peas is that it feeds the beneficial bacteria in the gut, thus helping to prevent the overgrowth of bad bacteria.
Do split peas affect blood sugar?
Peas rank at a low 22 on the glycemic index, making them a good choice for controlling blood sugar levels. The fiber and protein in peas help to slow digestion which helps keep blood sugar levels from spiking, too.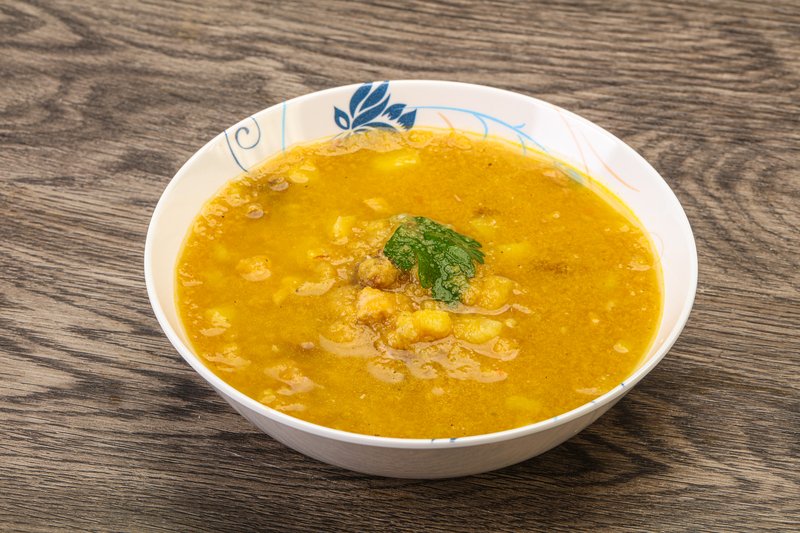 Crock Pot Split Pea Stew
Warm and comforting, our split pea stew cooks slowly through the day. Make a loaf of fresh whole wheat bread to serve alongside!
Ingredients
3

cups

split peas

green

10

cups

vegetable broth

2

tbsp

olive oil

2

cups

onion

diced

4

cloves

garlic

chopped

2

cups

carrots

diced

4

large

stalks of celery

diced, about 2 cups

2

cups

potatoes

diced

1

tsp

marjoram

2

tsp

thyme

2

tsp

paprika

1-2

bay leaves
Instructions
In your crock pot, heat the olive oil on the high setting.

Add the onion, garlic, and onion. Cook until soft.

Stir in the thyme, marjoram, paprika, and bay leaves.

Add the remaining ingredients and cook on high setting for 5 to 6 hours or on low for 8 to 9 hours.

For a thicker stew, blend ⅓ to ½ of the ingredients in a high powered blender. Add back into the stew and stir to mix.

If the stew is too thick, add a little extra water or vegetable broth.
Nutrition
Calories:
458
kcal
Carbohydrates:
83
g
Protein:
17
g
Fat:
8
g
Saturated Fat:
1
g
Polyunsaturated Fat:
1
g
Monounsaturated Fat:
3
g
Sodium:
1605
mg
Potassium:
532
mg
Fiber:
26
g
Sugar:
10
g
Vitamin A:
8062
IU
Vitamin C:
24
mg
Calcium:
203
mg
Iron:
5
mg