Vegan Globetrotter is supported by our audience. When you purchase through one of our links, we may earn a small affiliate commission.  As an Amazon Associate I earn from qualifying purchases. Your cost is not affected.
==================
Dairy-Free: Best Grilled Peach Basil and Vegan Goat Cheese Pizza
This summer vegan goat cheese pizza with grilled peaches and basil is incredible. Fruit pizzas are vastly underrated. The grilled peaches give the pizza a meaty texture and a mild peach flavor that is intensified by the grilling. The vegan goat cheese gives the pizza crust a delicately tangy flavor and a wonderful creaminess. The basil is very amazing, and I'd make a pesto with it using this pesto recipe and spread it with vegan goat cheese next time. You can also try Spinach Tomato Pizza and Broccoli Veggie Pizza. 
And there's the balsamic sauce, sprinkle, glaze… call it whatever you want.   You are free to use as much or as little as you choose. I'd recommend keeping some on hand while you're eating it because you'll probably discover you can't get enough.
Is vegan goat cheese truly vegan? That is a frequently asked question. ..
Is Vegan Goat Cheese Really Vegan?
Yes, it is! Cashews are used to make vegan goat cheese, which is easy to make. It's simple to make a flavorful, sour, and crumbly dairy-free cheese with the addition of agar! This dish isn't fermented, so it's simple to create and doesn't require any complicated processes or ingredients! You can make homemade vegan goat cheese and it is also available in the supermarket. Make sure to check the label when buying.
This vegan goat cheese adds a lot of classic flavor to this vegan pizza and gives credit to the balsamic sauce!
Of course, if you're a vegan pizza lover who wants to make it even healthier, you should think about the carefully selected plant-based ingredients you'll use. The right selection of peaches and basil leaves is included below.
Picking The Right Peaches and Basil
Peaches are ready to harvest when ripe when the ground color of the fruit changes from green to completely yellow. The riper the peach, the sweeter the scent. When purchasing peaches from the wholesale rack at the shop, look for solid, bruise-free fruits. To enjoy picking peaches to try these recipes: Delicious Peach Breakfast Bread-3 Favorites and Vegan Pasta Salad With Grilled Peaches.
Adding peaches into your dish makes you healthier. Still in doubt? Read this: Peach Health Benefits and Nutrition
Harvest the basil when it has six sets of leaves. Following that, gather basil as needed. Harvest basil first thing in the morning, when the natural oils are at their most potent. But when buying basil leaves, choose the unbruised leaves with bright green leaves that have a fresh herb smell.
In fact, this recipe's versatility is that you may use any herbs you have growing in your yard to make it. Use your favorite veggies in this grilled peaches-basil pizza with vegan goat cheese.
Vegan Globetrotter Tips
If you don't have a grill pan or grill, you may skip this step and just put the peach slices on the pizza. When you do this, make careful to dry the slices on a paper towel before topping the pizza to reduce as much moisture as possible.
A 14-inch round pizza pan can be used to bake the dough. A round pan that is larger or smaller can work just as well. You can also make it in any shape you like.
This pizza is so delicious that it's worth putting up with the heat of a grill pan on a hot summer day. It's also just sweet enough to make a nice breakfast the next day.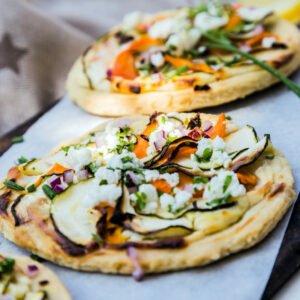 Grilled Peach Basil and Vegan Goat Cheese Pizza
This Pizza with Grilled Peaches, Basil, and Vegan Goat Cheese is a hit! Soft grilled peaches, gooey vegan "goat" cheese, and a zesty balsamic glaze finish the dish.
Ingredients
Vegan Pizza:
1 1/2

medium

peaches

sliced and pitted: roasted or grilled.

1/4

cup

basil

chopped

1

medium

pizza dough

gluten-free store-bought or homemade

5

oz

goat cheese

vegan
Balsamic Sauce:
1/3

cup

balsamic vinegar

2

tbsp

coconut sugar

1/2

tsp

kosher salt

1/2

tsp

black pepper

freshly ground
Pizza Dough:
8

oz

water

warm

1

tbsp

coconut sugar

2

tsp

nutritional yeast

2

cups

all-purpose flour

1/2

tsp

kosher salt

1

tbsp

oil

extra-virgin
Instructions
Pizza Dough:
In a mixing bowl, combine warm water, coconut sugar, and nutritional yeast. Mix well or till has a bubble form. Gently add olive oil.

Add the all-purpose flour and kosher salt. Mix well. Knead the dough and roll the dough into your desired shape. Set them aside.
Tasty Balsamic Sauce:
On a medium high heat, stir all the balsamic sauce ingredients for 4-5 minutes or till your desired thickness.
For The Grilled Peach Basil and Vegan Goat Cheese Pizza:
On a grill pan or coal pan, grill the peaches for 4-5 minutes or until the grill marks appear on the peaches. Set them aside.

Brush the grill with olive oil on both sides before placing on the prepared pizza dough. Cook for 3-5 minutes, or until the pizza crust has grill markings before flipping.

After flipping, place all the vegan pizza ingredients on top of the grilled pizza dough. Allow 5 minutes to cook. See note.

Sprinkle balsamic sauce on top. Allow it to cool slightly before slicing. Enjoy!
Notes
Make sure that the entire crust does not burn. If it starts to burn, transfer it to an indirect portion of the grill to prevent it from burning. Check to see if the dough is fully cooked before removing and slicing.
Nutrition
Calories:
2680
kcal
Carbohydrates:
450
g
Protein:
87
g
Fat:
59
g
Saturated Fat:
25
g
Polyunsaturated Fat:
9
g
Monounsaturated Fat:
16
g
Trans Fat:
1
g
Cholesterol:
65
mg
Sodium:
5813
mg
Potassium:
786
mg
Fiber:
17
g
Sugar:
82
g
Vitamin A:
2520
IU
Vitamin C:
10
mg
Calcium:
291
mg
Iron:
27
mg
For More Related Recipes
To Wrap It All Up
Do-It-Yourself pizza is something everyone should try at least once (or twelve times) in their lives because it always tastes better when you make it yourself. You can top any of your favorite veggies and vegan sauce. But this homemade grilled peach basil and vegan goat cheese pizza is the best pizza you will have!
Connect With Us
Try this vegan Grilled Peach Basil and Vegan Goat Cheese Pizza! Take a photo and tag us on our social media: Facebook, Twitter, Pinterest, Instagram, and subscribed to our YouTube Channel.  I'd be delighted to see it!
READ MORE:
Peach Health Benefits and Nutrition
Delicious Peach Breakfast Bread-3 Favorites