Vegan Globetrotter is supported by our audience. When you purchase through one of our links, we may earn a small affiliate commission.  As an Amazon Associate I earn from qualifying purchases. Your cost is not affected.
==================
Parmesan cheese seems essential on many dishes from pizza to casseroles, pasta to salad. But finding a good vegan alternative? Not easy! We have the answer and it comes with added benefits. Our plant-based parmesan cheese vegan – style, is not only plant-based and delicious.. Because you make it fresh and at home, it is quite cost-effective (read: less expensive) and fresh!
Parmesan Cheese,  Vegan Recipe – Delicious and Healthy!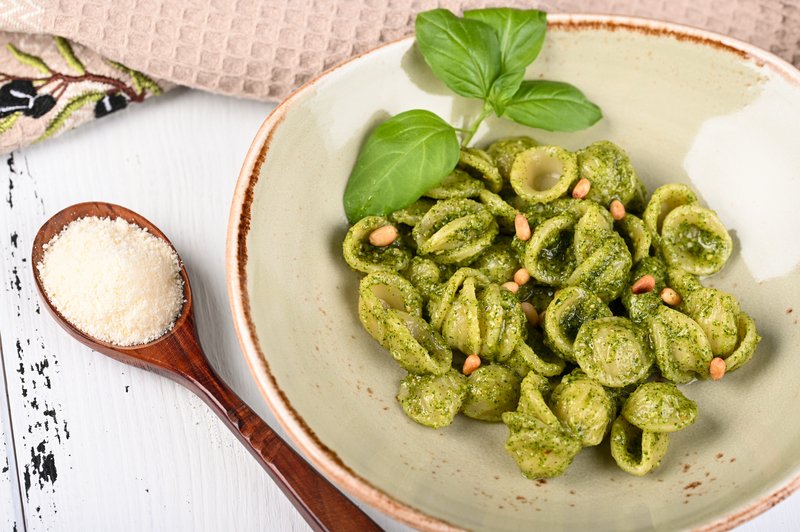 What Can You Use Parmesan Cheese Vegan-Style on?
Truthfully, the question is more, what can't it be used on. We find that it adds a bit to:
casseroles
pizza
salads
appetizers
and yes, Pasta!
Ok, I would not use it on a chocolate cream pie. But then, maybe someone else would!
With a texture and flavor that comes close to the dairy variety, our Parmesan Cheese substitutes for anything you'd use that grated cheese on. Try it!
Variations to our Parmesan Cheese, Vegan Recipe
Cashews or Almonds? Or maybe neither?
We typically use cashews in this and many other cheese-substitute recipes. You'll see cashews featured in our cheese sauce, too.
However, sometimes we change it up a bit. For those times, we substitute almonds for the cashews. They bring out an even nuttier flavor which some feel is more like dairy Parmesan Cheese.
In fact, we encourage you to try this recipe both ways. See which you prefer. And leave us a comment when you decide.
When it's about the cheese flavor, not the texture
Another option that we sometimes use is to just sprinkle on the Nutritional Yeast. Yes, just the yeast flakes. They bring a cheesy flavor profile by themselves.
So, why add the cashews or almonds?
The nuts increase the nutty flavors that the yeast brings, too. But truthfully, we find that the cashews or the almonds helps create more of a true parmesan texture. Parmesan cheese is a hard cheese, aged over a year. With the addition of the nuts, our Parmesan Cheese vegan recipe comes very close to that hard cheese texture.
Cashew Nutrition Benefits (food.ndtv)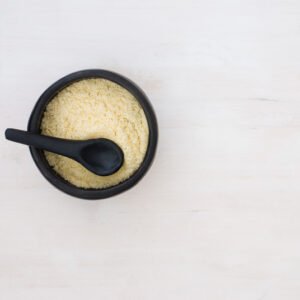 Vegan Parmesan Cheese
I love Parmesan flavor, but staying plant-based means finding a good substitute. This recipe provides incredible flavor without the dairy component.
Ingredients
1

cup

cashews

raw, unsalted

½

cup

nutritional yeast

1

tsp

garlic powder

½

tsp

salt
Instructions
Place all ingredients in your food processor.

Process until it reaches a fine consistency.

Use on pasta, pizza, casserole, salad, or anywhere you would use parmesan cheese.

Store in a tightly sealed container in your refrigerator.
Nutrition
Calories:
34
kcal
Carbohydrates:
2
g
Protein:
1
g
Fat:
2
g
Saturated Fat:
0.4
g
Polyunsaturated Fat:
0.4
g
Monounsaturated Fat:
1
g
Sodium:
49
mg
Potassium:
55
mg
Fiber:
0.4
g
Sugar:
0.3
g
Vitamin C:
0.03
mg
Calcium:
2
mg
Iron:
0.4
mg