Vegan Globetrotter is supported by our audience. When you purchase through one of our links, we may earn a small affiliate commission.  As an Amazon Associate I earn from qualifying purchases. Your cost is not affected.
==================
Smoothies are an excellent way to add some healthy and deliciousness to your day, and who doesn't enjoy a good smoothie? But let's face it – not all blenders can deliver on our promise of creating that ideal consistency. That's why we're here to help you with our top blenders for smoothies in 2023. We know the importance of having the right tools for the job when making that ideal smoothie. So please sit back, relax, and guide us through today's latest and best budget blender options. We've got you covered! Get ready to whip up some tasty and nutritious smoothies in no time.
Our Two Best Blenders Choice
If you want to take your smoothie game to the next level, you've come to the right place. So, after conducting extensive research and testing. We've narrowed the options down to two top contenders. It is Vitamix 5200 Blender Professional and NutriBullet Pro. These high-performance blenders have proven themselves in power, durability, and performance. Even if you're a smoothie lover or starting, these blenders deliver the perfect blend. So, let's dive into its features, pros, and cons to help you decide which will add to your kitchen.
Vitamix Blender 5200 Professional
The Vitamix 5200 is a powerhouse blender that can handle anything you throw. Also, with its 64-ounce jar, you can easily blend up a storm and create delicious smoothies. The speed dial offers various settings to find the ideal speed for your recipe without fuss. Plus, this blender can handle hot blending so that you can whip up some hot soups or sauces without fuss. But it's worth noting that it doesn't have a dedicated pulse mode or any fancy blending programs. Also, it's not dishwasher-safe, but it's still easy to clean by hand, so no big deal.
Features
This blender is ideal for multi-purpose use. This sleek blender can handle fibrous ingredients like smoothies or pureed soups. As well as make smooth nut butter and crush ice well. Plus, its range of speed settings allows you to adjust it according to different recipes. On the downside, it's loud but can't disturb much.
Pros and Cons
Pros
The Vitamix 5200 is an elite blender that boasts the best build quality. Its sturdy design ensures it can withstand any blending tasks with ease. Also, it is easy for fibrous ingredients like spinach or kale in smoothies and soups. Furthermore, this blender excels at crushing ice into snow-like chunks for frozen desserts. Plus, with its large 64-ounce main jar capacity, users will have enough servings. Also, this is a good choice for anyone seeking a reliable, versatile, and efficient blender.
Cons
This item can be loud when operating at its limit speed. So prepare yourself for the noise level that comes with it at full power. Furthermore, remember that this item is not dishwasher-safe, so you must hand wash it to clean it a whole. Taking these factors before buying can help you determine if it meets your needs.
Sizes and Variants
The Vitamix 5200 blender comes in three stylish colors: Red, White, and Black. We were lucky to get the Black model, but we are sure other colors are impressive too.
Plus, this blender is compatible with other containers from its line of products. You can buy a 48-ounce container, other sizes, and a separate scraper attachment. It's essential to note that its blender containers come in various sizes. So the blender performance may be a bit different. If you encounter another variant of the Vitamix 5200, let us know in the discussion section below. With that, we can update our review on it.
NutriBullet Pro 900 Personal Blenders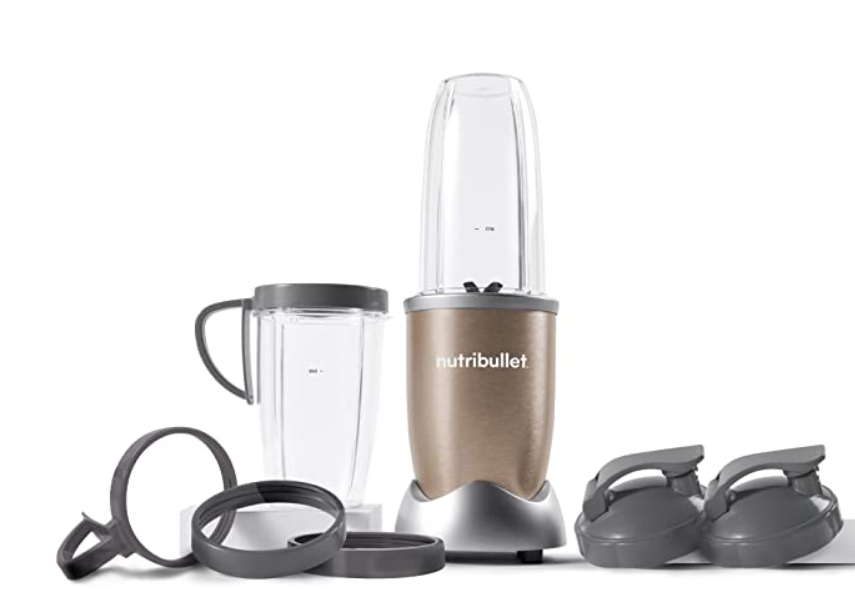 Are you searching for personal blenders for smoothies on the go? Look no further than the NutriBullet Pro 900. This blender comes with two 32-ounce jars to blend a tasty smoothie and take it wherever life takes you. Its stylish bullet design makes it simple, dock the jar on its base and blend away! All jars and lids are dishwasher-safe for easy cleanup. But we recommend hand-washing the blades to maintain their sharpness.
Features
The NutriBullet Pro 900 is ideal if you need to make smoothies for yourself or others. But its 32-ounce jars may not be the biggest. This may not be the most practical choice if you need to make many servings at once. But, it's easy and fast to use when creating smoothies, even if filled all the way up with fruits and veggies. Also, it was well-built and easy to clean.
Pros and Cons
Pros
The NutriBullet is good for fibrous ingredients like apples and berries in smoothies. It breaks down tough fibers for a smooth consistency that's easy to drink. Also, its easy cleaning makes it ideal for busy individuals. Moreover, with a few minutes of work, the NutriBullet can make nut butter faster than others. An invaluable tool that lets you whip up healthy snacks and meals in a quick and convenient way.
Cons
It's essential to be aware of the limitations of this blender, such as it can't crush large chunks of ice. So it would help to use smaller pieces or crush the ice beforehand. Furthermore, it is not for hot blending, so if you want to make soups or hot beverages using this, don't try it. Moreover, it has a small capacity means it works best with smaller amounts. Yet, with some creativity, you can still create delicious blends using this blender.
Sizes and Variants
The NutriBullet Pro 900 has several fun and vibrant colors to fit your kitchen style. You can choose between a 9-piece or 13-piece set based on your needs. Be mindful that some vendors may not include a recipe book or even an extra small jar with their 9-piece set.
Some models also feature a matte finish, the 'NutriBullet Pro Exclusive.' NutriBullet sells its products on its website, though you may also buy from its retailer. We tested the 13-piece model and were quite pleased with its performance. If you try out a different variant, let us know in the discussions, and we'll update our review.
Now You Know!
In conclusion, both blenders are excellent choices. Yet, they serve different purposes in making smoothies. The Vitamix 5200 is an advanced blender capable of handling any blending task you throw at it. This blender is ideal for creating large batches of smoothies, soups, and sauces. The NutriBullet Pro is a cheaper blender that can make smoothies for one person. It's also great for fibrous ingredients like apples and berries into smooth drinks. Your decision between these two blenders will depend on your needs and budget. If you need a powerful, versatile blender that can handle anything, Vitamix 5200 is for you. But, if affordability and convenient, NutriBullet Pro is the one.
---
Read More About Smoothies
Purple Cabbage and Berry Smoothie
Blueberry and Chia Seed Smoothie
---
FAQs
What is the capacity of Vitamix 5200 Blender Professional?
With its 64-ounce jar and handy tamper, you can blend up a storm and create delicious smoothies, soups, sauces, and more with ease.
What is the downside of Vitamiz 5200 Blender Professional?
On the downside, it's a bit loud but can't make too much disturbance. Still, it is the best blender in the market.
What is the capacity of Nutribullet Pro 900?
This blender comes with two 32-ounce jars and their handy to-go lids to blend up a tasty smoothie and take it with you wherever life takes you. Also, it is still the best blender for smoothy in the market.