==================
A Caveat and Affiliates
First off, a little caveat: within my articles you will find affiliate links, meaning if you buy them, I get a small commission. Your cost is not affected. In addition, I am an Amazon Associate and I earn from qualifying purchases on Amazon.
And yes, if I say that I recommend a product here, it means I truly believe it is a good product. I refuse to recommend any product that I have not researched and believe to be a good value. Even better, I provide you with a very clear picture of the product, it's use, and the probable value. Earning your trust is important to me. I run this website myself and the commissions and donations help support the site. Sound reasonable and fair enough? Let's continue to the article.
==================
Vegan Macaroni Salad
(Dairy-Free, Gluten-Free, and Plant-Based)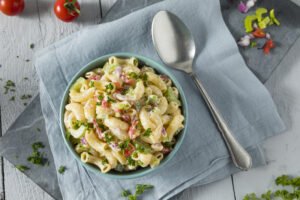 Looking for a vegan pasta salad that is perfect for summer? The search is over! This vegan macaroni salad is perfect summer comfort food. It is vegan, dairy-free, gluten-free, tangy, creamy, and healthy. This summer salad is made with plant-based ingredients. It's also incredibly simple to make in just 22 minutes, or good for make-ahead. This is the cooked-chopped-assemble method. See? This is indeed simple to make!
This vegan macaroni salad is full of colorful veggies such as carrots, celery, bell pepper, red onion, peas, and parsley. The good thing about this recipe is that you can adjust the taste to your preferred liking. Don't be afraid to experiment! You can substitute your favorite veggies.
For your information, macaroni salad is not often vegan. It's commonly made with hard cheese, boiled eggs, and occasionally chicken. But, to satisfy your vegan desires, I've rounded up this vegan macaroni salad, which is a healthier version of a family dish. This recipe eliminates the dairy, eggs, and meat while still maintaining a traditional flavor. This summer recipe will be a big hit  for your summer potlucks or parties.
Vegan Globetrotter Tips
Your Vegan Globetrotter tips will make your salad look and taste like it came from a restaurant. I hope these suggestions, which include:
Make small cuts in your vegetables as the same size of your elbow pasta.
This recipe can be made gluten-free. Gluten-free pasta is becoming more popular. If the physical store has no gluten0free pasta you can purchase them at online shopping store.
This vegan macaroni pasta salad is best served within 3-48 hours of preparation. It will taste even better and allows the flavors to penetrate the pasta and the salad to cool completely.
Substitution Tips
Yes, you can alter any ingredient to suit your personal preferences. The following are some ideas:
Vegetables: If preferred, you can substitute other veggies, choose mild-flavored vegetables such as radishes, cauliflower, and broccoli.
Apple Cider Vinegar: If you don't have apple cider vinegar, white wine vinegar or white vinegar would suffice.
Kosher Salt and Black Pepper: Cayenne, kosher salt, and black pepper are all necessary. If you don't like spicy ingredients, leave out the cayenne.
Vegan Mayo: any vegan mayo would suffice or homemade vegan mayonnaise.
Storing and Serving Tips
Storing: Leftover can be kept in the refrigerator for up to 3-4 days in a sealed container.
Serving: Serve this salad cold. It's ideal if you let it chill for at least 3-4 hours prior serving. Season to taste once they are ready to serve.
More Salad Recipes
For more recipes, just browse through Vegan Globetrotter-Home.
So, without any hesitation, let's get started on making something delicious that you will want to eat again and again!
Vegan Macaroni Salad You'll Love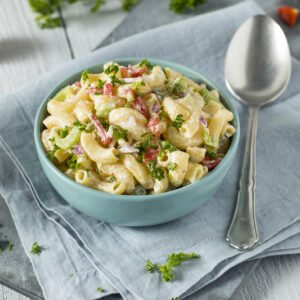 Vegan Macaroni Salad
This vegan macaroni salad will taste exactly how you remember it. It's made with elbow macaroni, celery, carrots, peas, and bell pepper, then mixed in a garlicky cream sauce to make it taste exactly like the original!
Ingredients
For The Vegan Macaroni Salad:
2-3

cups

macaroni pasta

elbow

2

small

carrots

diced

2

stalks

celery

chopped

1

small

red bell pepper

chopped

1

small

red onion

diced

⅓

cup

peas

thawed, frozen

4

tbsp

fresh parsley

diced

3-4

tbsp

vegan mayonnaise

1-2

tbsp

Dijon mustard

1-2

tbsp

apple cider vinegar

2-3

cloves

garlic

minced

kosher salt

to taste

black pepper

freshly ground, to taste

cayenne

optional
Instructions
For The Vegan Macaroni Salad:
Cooked the pasta according to the package instructions. Once cooked, strain it in a strainer and rinse it with cold water until it has cooled and transfer it to a large bowl.

Minced and chopped all the ingredients. Set them aside.

In a mixing bowl, mix the Dijon mustard, vegan mayonnaise, apple cider vinegar, cayenne, and garlic. Mix until everything is well combined.

Toss the cooled pasta with the herbs and vegetables, then toss with the dressing till everything is well combined.

Serve right away or place in the fridge till ready to serve.
Nutrition
Calories:
1220
kcal
Carbohydrates:
195
g
Protein:
34
g
Fat:
32
g
Saturated Fat:
4
g
Polyunsaturated Fat:
2
g
Monounsaturated Fat:
1
g
Sodium:
509
mg
Potassium:
1374
mg
Fiber:
17
g
Sugar:
21
g
Vitamin A:
20763
IU
Vitamin C:
151
mg
Calcium:
164
mg
Iron:
6
mg
If you make this Vegan Macaroni Salad share with us your experience and tag us on our social media pages: Facebook, Twitter, Pinterest, Instagram, and subscribed to our YouTube Channel.
READ MORE:
Is Whole Grain Pasta Healthier?
Culinary Tips, Vegan Cooking Tips
Classic Macaroni Salad-Non Vegan
Tips For Restaurant-Quality Salad At Home