Vegan Globetrotter is supported by our audience. When you purchase through one of our links, we may earn a small affiliate commission.  As an Amazon Associate I earn from qualifying purchases. Your cost is not affected.
==================
Here's an exciting opportunity to put your unique spin on vegan cuisine! These vegan Charcuterie board ideas are the perfect solution to impress family and guests. Not only are they beautiful, but the combinations are endless. Charcuterie boards have a little bit of everything. They have savory spreads, almonds, sweet fruit, and surprises.
So don't let all the different kinds of ingredients scare you away. Our favorite vegan charcuterie boards will leave everyone wanting more.
Read on – let's discuss how to make these beautiful boards!
Favorite Vegan Charcuterie Board Ideas
When to Serve a Vegan Charcuterie Board
Is there a time not to create an epic vegan charcuterie board? Our family enjoys them at gatherings with family and friends. But we also want a vegan snack board for family game night or relaxing by the pool.
It seems like the perfect time when people bring out that vegan charcuterie board with fresh fruit and vegetables. It makes an excellent vegan grazing board for those light meals we sometimes crave.
Interesting note:

Charcuterie means "deli" in French. Deli meats and cheeses make up charcuterie boards.
Creating Your Own Vegan Charcuterie Board
Traditional charcuterie boards are wooden boards with slices of cured meats, cheeses, spreads, and dips. But we are choosing plant-based ingredients to make a vegan snack board.
Whether as an appetizer, a snack, a vegan snack, or a light dinner, our charcuterie boards have plenty to offer. They have fresh fruits, vegan cheeses, and other plant-based foods.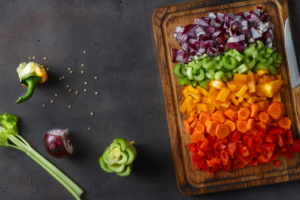 The Best Charcuterie Board to Use
Browse the internet, and you'll find various charcuterie boards. For your first, let's keep it simple. You can use a cutting board or even a serving platter. Whatever you choose, it should fit the theme of your event and be attractive. It also needs to be food-safe.
Some of our favorite boards are those we might not use to cut foods. Teak wood, for instance, makes a beautiful display board. And you can use it as a cutting board. But there is a better wood for that.
Yet, a beautiful teak cutting board filled with delicious vegan foods is stunning. Even better than this wood's beauty is that it is pretty water-resistant. That's why it's prized for marine uses such as boats.
For our vegan charcuterie board, teak provides a safe and sanitary surface easily cleaned after use. Properly cared for, your teak board may last for generations.
Things to Consider When Selecting a Charcuterie Board
size of the board
type of material
number of guests
Size of Board
The saying that bigger is better does not apply to your vegan charcuterie board. The idea of the board is to make it seem complete and bountiful. It will seem scarce if your gathering is small and you put a few items on the board.
But, too small a board will seem messy. Scale your board and the food you put onto it to the size of the gathering. And remember, you can always add more fresh fruit and vegan cheeses throughout the event.
For large gatherings, I usually use more than one charcuterie board. This also allows me to have special foods on individual boards. For instance, one board might be soy-free while another is gluten-free. Or I might arrange by food types, such as one that is a bit spicier than some might prefer.
Material
As mentioned, the vegan charcuterie board material must be food-safe, easy to clean, and attractive. I use cutting boards as they fit all those requirements, and always have them handy for a snack board or a gathering.
Years ago, I used a large ceramic platter. It looked nice and was easy to maintain. I chose to start using wooden cutting boards as I preferred the look of the wooden board. But using them showed me another benefit. The food tends to stay in place better rather than sliding around. If you use a platter, consider lining it with a doily or other food-safe material to help prevent that movement.
Making a Vegan Charcuterie Board Whole Foods Plant-Based (WFPB)
What do you need to make a vegan charcuterie board? Once you have the board, begin gathering your ingredients.
The 5 S's, What to Use on Your Vegan Charcuterie Board
Follow Our 5 S's Rule of Thumb – Include at Least One Item From Each Category:
Salty
olives- black, green, or specialty
pickles- dill, sweet, garlic, or other favorites
tapenade (recipe here)
quick pickled veggies (recipe here)

Sweet
candied nuts
fresh fruit (our personal favorite!)
dates
jam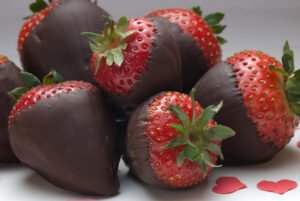 Savory
vegan cheese or cheese dip
hummus
roasted chickpeas
vegan meats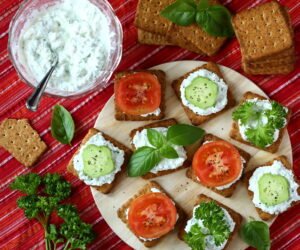 Spicy
vegan pepperoni
escabeche bites
spicy dip

Sauces for Dipping
vegan cheese sauces such as cheddar, cashew, tofu
salsa
tahini
other sauces to match the other foods you display

Choices for Dippers
We like to include a variety of foods to dip or spread toppings on. Consider:
whole-grain crackers
tortilla chips
whole-grain bread cut into small pieces
whole-grain pita bread pieces
selection of veggies, cut into wedges, slices, or sticks
Tips for Arranging a Vegan Charcuterie Board
Consider the Size of Your Gathering
Is this a small group of family or friends? Or are you entertaining a larger group? For a small family gathering, your charcuterie board might serve as a starter for appetizer cuisine. You could also serve it as a light meal.
But a larger gathering may need more food and more variety. Will a large board suffice? Or should you opt for more than one board?
Consider the Preferences of Your Gathering
Are some of your guests allergic to soy or other ingredients? Ensure your vegan charcuterie board contains plenty of options for those who need to avoid certain foods.
How Should I Start Arranging Stuff on a Vegan Charcuterie Board?
I like to start with cups of sauces and spreads. Arrange them around the board rather than all next to one another.
After the dips and spreads are in place, I add cheeses and vegan meats if I use them. I add fruit, vegetables, crackers, bread, and other dippers.
Continue adding the food until the charcuterie board appears nicely filled. If you are putting it together in the kitchen and need to move it to your serving area, stop before it is too full. Do it to ensure no spills to your guests.
Special note:
As you look at your finished charcuterie board, note any remaining gaps that need filling. I usually use a colorful berry to fill these. But, when I have edible flowers available, they take the stage to fill in those remaining gaps!
Themed Vegan Charcuterie Board Ideas
Are you looking for an idea for unique vegan charcuterie boards? Try setting a theme!
Consider using one cuisine or country as the theme. For instance, an Asian board might feature appetizer-sized eggrolls and tiny donuts. When we add vegan sushi rolls, they always go quickly. Seaweed salad makes a colorful choice. People also like tofu bites with a sweet and sour sauce on our vegan charcuterie boards with an Asian theme.
Italian cuisine offers a wide array of food choices to add. You might even emulate an antipasto tray! Mexican foods work into the food theme quite quickly, as does Indian cuisine.
Or, for a fun gathering, make up several trays, each featuring a different country. We call this the "Around the World" Charcuterie board party. It's not only a lot of fun. It also invites people to try just a few foods they have never sampled.
Holiday Sharing, Too
Other vegan charcuterie board ideas include building your board around the holiday. A board of green and red fruit, veggies, and other accompaniments makes Christmas more appetizing. Some people even assemble their food in the shape of a Christmas tree. You can also decorate the tree with berries.
For the 4th of July, try to bring the reds, whites, and blues to the charcuterie board. St. Patrick's Day calls for many green foods, but not all need to be green. Just ensure that the green stands out above the rest.
And with other holidays, you might feature the preferences of the person of honor. For Mother's Day, make the board special for your Mom. If you are gathering for a birthday, use that person's interest for the theme.
Even children's birthdays can feature their favorite colors, foods, or attractions. With some thought, the children might head toward the fruit and vegan charcuterie board before the cake!
Vegan Cheese Board as One of the Charcuterie Boards
When I assemble more than one board, I make one of the boards a vegan cheese board. I might fill this with dishes of cheese spreads and add cheese slices. Sometimes I add one of my vegan cheese blocks for a unique effect.
Remember the vegan cream cheese! And remember that not all cream cheese needs to be plain. Try herbed vegan cream cheese or stir a fruit flavor into yours. It makes it quite delicious!
Of course, cheese boards need crackers or bread served with cheese. I add an excellent selection of these to each cheese board. I may add apple slices and cherry tomatoes for a colorful effect.
Does a Vegan Charcuterie Board Always Have to Be Fruit and Veggies?
We don't think so! One of our family's favorite vegan charcuterie board ideas is dessert. That's right, a dessert-themed charcuterie board. Little vegan cake or cookies appear between the fruit and cheese selections. We don't usually have vegetables on this one, though you could. But we do include apple slices, pineapple chunks, and berries. Our berry selection usually contains blueberries, raspberries, blackberries, and strawberries.
All these go well with the vegan cheeses, including cream cheese and the freshly made coconut cream we include on the tray.
Look for other in-season fruit, too. Like watermelon, cantaloupe, and honeydew, Kiwi makes a beautiful display. Indeed, most fresh fruit shines brightly on our dessert tray. And desserts create the most fantastic charcuterie boards imaginably!
What Are Other Tips for Building a Vegan Charcuterie Board?
Most of our vegan charcuterie board ideas develop as we build our boards. We learn from each one, and the next event benefits from our new skills. If you are a beginner, we suggest considering these ideas:
Choose a board that is food-safe and easy to clean. Yes, you can cover the board with parchment paper or another covering. But that special cutting board makes the presentation so much more beautiful.

For your first attempt at a vegan charcuterie board,

we suggest

you create a simple design for your family to enjoy

. This allows you to experiment and see how you design and build.

Use fresh fruit and vegetables. Dried fruit does work for some types. But fresh fruits bring out flavors and freshness that elevate your board.
Make your dips and sauces ahead of time. Most are easy to keep in the refrigerator for a day or two. This saves time and frustration as you are building your board.
If you need more time to make everything, look for healthy, vegan dips and sauces.

Consider buying vegan cheese slices and vegan cheese blocks if you will be offering them unless you are adept at making them at home

. While they are not difficult to make, they add one more task.

You might buy your vegan meats, too, although we do prefer to make our vegan cheeses and vegan meats.

I like to use some of our leftovers from the past day or two for our mini-meal vegan charcuterie boards. I even plan these into my recipes.

Tofu cubes, swiss steak pieces, and marinated veggies fit into these appetizer boards and are easy to add at the last minute.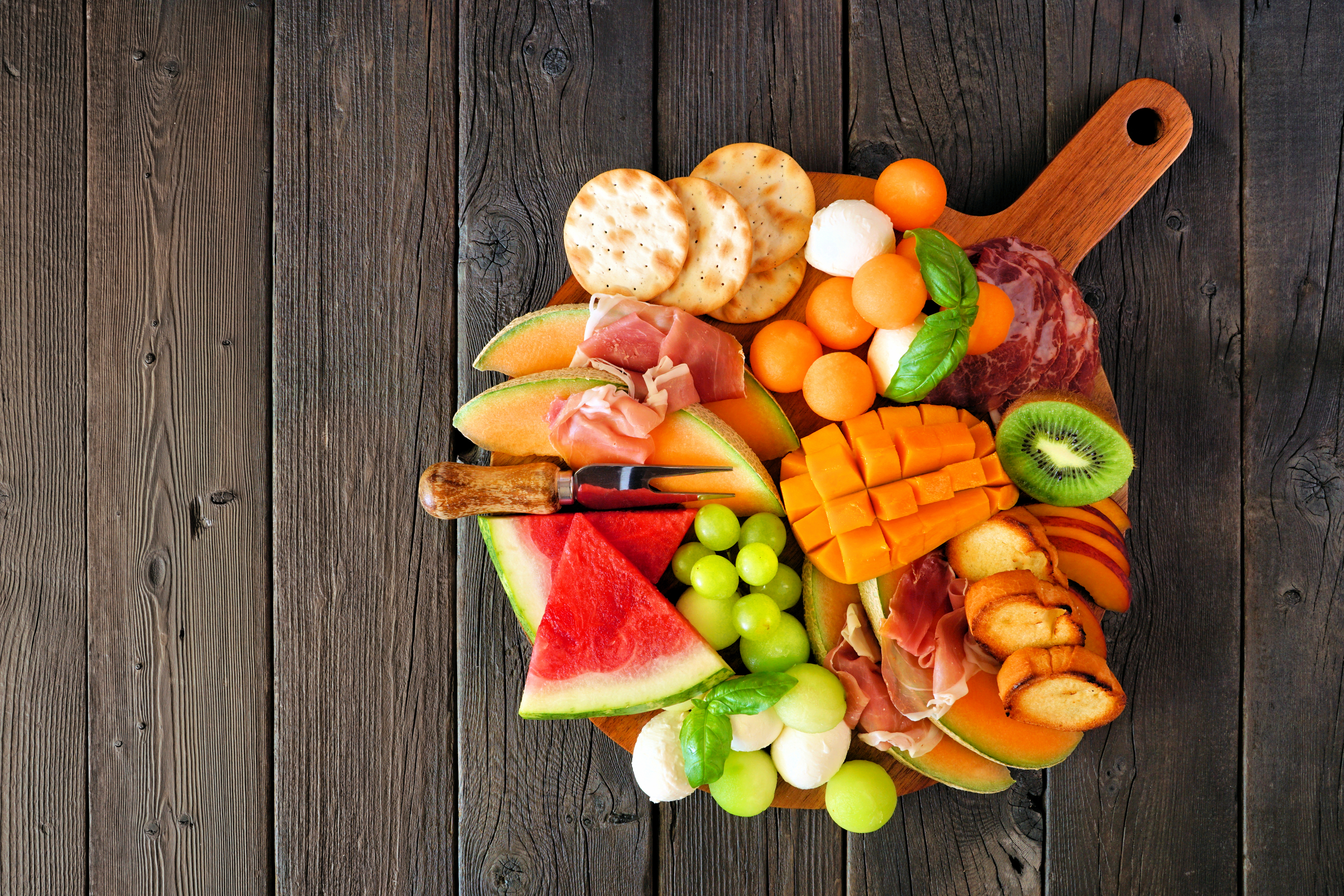 Ready to Create Your Own Vegan Charcuterie Board?
A vegan charcuterie board combines your favorite flavors, textures, and colors into one delicious feast. With our simple instructions and helpful tips, your vegan charcuterie board will succeed wildly!
What are your favorite finger foods and fun appetizer foods that elevate a good charcuterie board to great? Please leave us a comment below.
---
More Good Reads
---
FAQs
What is a vegan charcuterie board?
A vegan charcuterie board is a platter of plant-based snacks and appetizers arranged in a visually appealing way. It typically includes items like fruits, vegetables, nuts, seeds, crackers, breads, dips and spreads.
Why choose a vegan charcuterie board?
What kind of items can I include on my vegan charcuterie board?
You can include a variety of items such as fresh fruits and vegetables like berries, grapes, carrots and cucumber slices. Nuts like almonds and cashews are also great options. You can also add dips such as hummus or guacamole plus crackers and breads.
Can I make my own vegan charcuterie board at home?
Absolutely! Making your own vegan charcuterie board at home is easy and fun. Simply choose your favorite plant-based snacks and arrange them on a large platter or wooden cutting board.
How do I make my vegan charcuterie board look

visually

appealing?
To make your vegan charcuterie board look visually appealing, try to mix colors and textures. You can do that by including different types of fruits, vegetables and nuts. Use small bowls to hold dips or spreads and vary the height of the items by using small pedestals or plates.
Are there any tips for hosting a vegan party with a charcuterie board?