Vegan Globetrotter is supported by our audience. When you purchase through one of our links, we may earn a small affiliate commission.  As an Amazon Associate I earn from qualifying purchases. Your cost is not affected.
==================
I've always been a big fan of quick bread, and when I discovered persimmon bread, I was hooked. This autumn-inspired bread is sweet and moist, with a slight tinge of spice. It's perfect for enjoying during the colder months, or any time you're craving something cozy and comforting.
This persimmon bread is a vegan, plant-based alternative to traditional quick bread. It is made with ripe persimmons, this bread is moist and flavorful. You'll need to remove the skin and seeds before pureeing the fruit. The persimmon puree is then combined with flour, baking soda, salt, and spices. The batter should be thick but pourable. Bake the bread for about an hour, or until a toothpick inserted into the center comes out clean. Allow the bread to cool slightly before slicing and enjoy!
Best of all, it's easy to make. Simply combine all of the ingredients in a bowl, mix well, and bake in a loaf pan. For a special treat, try serving persimmon bread with vegan butter or cream cheese. Either way, you'll be sure to enjoy its delicious taste.
The Hidden Health Benefits of Persimmon
Persimmon may not be a fruit you're familiar with, but it's one that packs a nutritional punch. Often called the "Sharon fruit," persimmon is native to China but can also be found in parts of Africa, Europe, and North America. This orange-colored fruit has a slightly sweet taste and a firm texture. You can eat it raw or cooked, and it can be used in a variety of dishes.
Persimmons are an excellent source of fiber, vitamins A and C, potassium, and carotenoids. They also contain phytonutrients that have powerful antioxidant and anti-inflammatory effects. These health benefits make persimmon a great addition to any diet. Let's take a closer look at some of the ways this underappreciated fruit can improve your health.
1. Weight Loss Aid
If you're trying to lose weight, persimmon can help. This fruit is low in calories but high in fiber, which makes it filling and satisfying. Fiber also helps regulate your digestive system and keeps you feeling full longer. Adding persimmon to your diet can help you reach your weight loss goals by curbing hunger and preventing overeating.
Persimmons are also a good source of polyphenols, which are plant compounds that have been shown to boost metabolism and promote fat loss. One study showed that rats fed a polyphenol-rich diet had increased levels of helpful fat-burning enzymes and reduced levels of harmful enzymes that promote fat storage (1). While more research is needed to confirm these effects in humans, eating persimmon as part of a healthy diet may help you shed unwanted pounds.
2. Blood Sugar Regulation
Persimmons are high in fiber and low on the glycemic index (GI), making them a good choice for people with diabetes or prediabetes. The GI is a measure of how quickly blood sugar levels rise after eating a particular food. Foods with a low GI score cause gradual increases in blood sugar, while those with high GI scores cause more dramatic spikes. Because persimmons have a low GI score, they won't cause blood sugar levels to fluctuate too much after eating them. This makes them an ideal food for people with diabetes who need to control their blood sugar levels.
In addition to having a low GI score, persimmons are also rich in phenolic compounds that have been shown to improve insulin sensitivity and reduce inflammation (2). These effects can help keep blood sugar levels under control and protect against type 2 diabetes. If you have diabetes or prediabetes, adding persimmons to your diet may help improve your condition.
3. Lower Cancer Risk
The antioxidants in persimmons may help protect against cancer by reducing free radical damage, according to animal studies (3). Free radicals are unstable molecules that can damage cells and lead to inflammation. This damage can contribute to the development of cancerous tumors. While more research is needed to confirm these effects in humans, adding persimmons to your diet may help lower your cancer risk.
Persimmons are often overlooked but they pack quite the nutritional punch! This lesser-known fruit boasts many hidden health benefits including weight loss aid, blood sugar regulation & lower cancer risk – just to list a few! So next time you're at the grocery store, don't hesitate to pick up this delicious fruit & enjoy all the benefits it has to offer!
Persimmon Bread: Easy to make with easy-to-find ingredients!
Persimmon bread is the perfect treat for the fall season. This bread is perfect for Thanksgiving Day, or any other day when you want to enjoy the flavors of the season. The first step in making this bread is to gather the ingredients. And this bread has easy-to-find ingredients.
1. Persimmon puree & applesauce: You can make a homemade or store-bought.
2. Kosher salt & maple syrup: Use to balance the taste.
3. Baking ingredients: All you need is all-purpose flour, baking powder, and baking soda.
4. Fall spices: To feel more the fall season you will need ground cinnamon, nutmeg, and cloves. Sont omit these spices as they will add more of a taste.
Once you have all of your ingredients, you are ready to begin baking. This persimmon bread is easy to make. So, if I were you I will stock more ingredients of this bread in the pantry.
To make the bread, start by preheating the oven to 375F. Next, in a large bowl, combine the dry ingredients and in a separate bowl the wet ingredients; then stir together until fully combined. Finally, pour the batter into a loaf pan and bake for 55 minutes or for 1 hour or until a toothpick inserted into the center comes out clean. Enjoy!
If you try this persimmon bread share your thoughts and experience or if you have any questions about this recipe just comment below.
Looking for more bread recipes? You should try Healthy Rosemary Cornbread, Vegan Apple Pie Bread, and White Wheat Bread in Bread Machine. This bread is also perfect for thanksgiving day and the fall season. Don't hesitate to try them as they are delicious yet healthy!
You should know this too, Tips and Suggestions
Fall is in the air, and that means it's time for one of our favorite seasonal fruits: the persimmon! We love persimmons around here, and we especially love them in bread form.  Here are some tips for making the best persimmon bread, as well as some ideas for how to serve it. Enjoy!
Serving Suggestions
Slice and serve as is, or toast for a warm and cozy treat
Spread with your favorite vegan butter or jam.
Serve with vegan yogurt or ice cream for a decadent dessert
Enjoy a slice with a cup of tea or coffee in the afternoon
Storing tips
Store in an airtight container at room temperature for up to 5 days.
For longer storage, freeze in an airtight container for up to 3 months
Recipe tips
Use ripe persimmons for the best flavor – they should be soft and slightly squishy when ready to use
If you can't find ripe persimmons, you can use canned persimmon puree – just be sure to drain off any excess liquid before using.
Be sure to use gluten-free flour if you want to keep this recipe gluten-free!
We hope these tips help you get the most out of your persimmon bread-baking experience! If you try out this recipe, be sure to let us know how it turned out by leaving a comment below or tagging us on social media @veganglobetrotter. Enjoy!
Try this healthy alternative bread!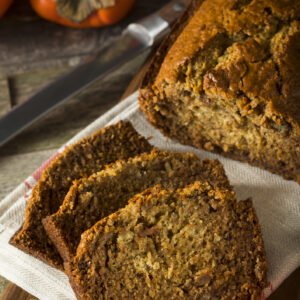 Persimmon Bread
Persimmon bread is perfect for the fall season and Thanksgiving Day. This bread is made with persimmon pulp, which gives it a unique flavor. The ingredients are simple, and the bread is easy to make. Perfect for breakfast or as a snack. It is also a good choice for dessert. Persimmon bread is a healthy alternative to other types of bread.
Ingredients
Wet ingredients:
3/4

cup

maple syrup

or coconut sugar

3/4

cup

olive oil

8

oz.

applesauce

unsweetened

8

oz.

persimmon

puree
Dry ingredients:
1

cup

all-purpose flour

1/2

tsp

baking powder

1

tsp

baking soda

1/2

tsp

kosher salt

1/2

tsp

nutmeg

ground

2

tsp

cinnamon

ground

1/2

tsp

cloves

ground
Instructions
Persimmon Bread:
Preheat the oven to 350°F and lightly grease the loaf pan.

Mix the wet ingredients; maple syrup and olive oil then add the applesauce and persimmon puree in a large mixing bowl.

Mix the dry ingredients; all-purpose flour, baking powder, baking soda, kosher salt, nutmeg, cinnamon, and cloves in a separate bowl.

Stir together the wet and dry ingredients until fully combined; pour them into a greased loaf pan.

Bake for 55 minutes or until 1 hour or until the inserted toothpick comes out clean. Allow cooling before serving.
Nutrition
Calories:
281
kcal
Carbohydrates:
33
g
Protein:
1
g
Fat:
16
g
Saturated Fat:
2
g
Polyunsaturated Fat:
2
g
Monounsaturated Fat:
12
g
Sodium:
251
mg
Potassium:
124
mg
Fiber:
2
g
Sugar:
20
g
Vitamin A:
377
IU
Vitamin C:
2
mg
Calcium:
47
mg
Iron:
1
mg
For More Vegan Fall Recipes
I've provided a list of vegan dishes that are all made completely of ingredients from plants. Additionally, they make a wonderful addition to any vegan dish. These are tasty even for meat eaters, and for more vegan recipes subscribe to our newsletter.
2. Crock Pot Orange Chicken, Vegan
3. Sweet Potato Shepherd's Pie Casserole
4. Delicious Peach Breakfast Bread; 3 Favorites
To Wrap It All Up
While persimmon bread is a healthier alternative to other types of bread, it is also easy to make and can be tailored to your personal preferences. With a few tips and suggestions, you can easily incorporate this delicious bread into your diet. So what are you waiting for? Try making some persimmon bread today!
Connect With Us
If you tried this persimmon bread take a ?  and tag us on our social media: Facebook, Twitter, and Pinterest, and subscribed to our YouTube Channel. I'd be delighted to see it!
To make sure you don't miss any recipes, remember to subscribe to our email newsletter which will be delivered to your inbox every week. ? In addition to this, if you are looking for vegan baking recipes visit Best Baking Tips they also published a lot of healthy baking recipes.
Read More
Vegan Diet for Diabetes: Prevent or Reverse
The Best Plant-Based Protein Foods
Holiday Bread, Plant-Based Delicious
Thanksgiving Day-Fun Things To Do