==================
A Caveat and Affiliates
First off, a little caveat: within my articles you will find affiliate links, meaning if you buy them, I get a small commission. Your cost is not affected. In addition, I am an Amazon Associate and I earn from qualifying purchases on Amazon.
And yes, if I say that I recommend a product here, it means I truly believe it is a good product. I refuse to recommend any product that I have not researched and believe to be a good value. Even better, I provide you with a very clear picture of the product, it's use, and the probable value. Earning your trust is important to me. I run this website myself and the commissions and donations help support the site. Sound reasonable and fair enough? Let's continue to the article.
==================
Best Sugar Substitutes to Use
If you want to embark on a healthier lifestyle, a great way to do that is by reducing your refined sugar intake. Too much sugar in our bodies can cause various health problems, one common risk is having higher blood pressure. Lowering your intake of sugar might be a difficult thing to do, but have no fear, there are a lot of natural sugar substitutes you can take – especially for those that have a sweet tooth. If you want to know the best sugar substitutes to use that are low in calories but still taste very sweet, then read on.
Definition of Sugar:
According to the Institute of Food Technologists, sugars are a type of carbohydrate, and as with other carbohydrates they contain carbon, hydrogen, and oxygen molecules. Sugars are caloric, sweet-tasting compounds that occur widely in nature, including fruits, vegetables, honey, and human and dairy milk.  Humans are born with the desire or preference for sweet taste.  The presence of lactose (a type of naturally occurring sugar in milk) in breast milk helps ensure that this primary source of nutrition for infants is palatable and acceptable. Chemically and concerning foods, sugars are monosaccharide or disaccharide carbohydrates, which impart a sweet taste. Most foods contain some of each.
Uses of Sugar:
1. Sweeten Food
One of the most common uses of sugar is to sweeten our food. Sugar can be added to almost anything you want to make it sweeter making it a staple in every household.
2. Preserve Food
Did you know that sugar is also used to preserve food? Well if you did not know this fact, sugar is a great way to preserve the taste, texture, and color of our foods. A great example is in jams, sugars inhibit bacteria growth making our jams last longer.
3. Stops Hiccups
Taking a spoonful of sugar helps an individual stop his hiccups. The science behind this according to the Sugar Association, the graininess of the sugar slightly irritates the esophagus, causing it to reset and forget the hiccups altogether.
Side effects of too much Sugar:
Although sugar has some benefits, especially the unrefined form of sugar, taking this carbohydrate in large amounts for an extended period can lead to various complications.
The following are some of the side effects of consuming too much sugar:
1. Increase the risk of Heart Disease
Research shows that individuals with high-sugar diets are more prone to getting heart diseases. In a study conducted by the JAMA Internal Medicine cited by Harvard Health Publishing, during the 15-year study, participants who took in more than 25% of their daily calories as sugar were more than twice as likely to die from heart disease as those whose diets included less than 10% added sugar. Overall, the odds of dying from heart disease rose in tandem with the percentage of sugar in the diet—and that was true regardless of a person's age, sex, physical activity level, and body-mass index (a measure of weight).
2. Weight Gain
Obesity is one of the major concerns around the world and especially in the United States. According to the CDC 2017, the obesity prevalence in the United States was 41.9 in 2017. A major contributor to obesity on a global scale is sugar-sweetened beverages. Beverages like fruit juices, sodas, and energy drinks contain high fructose corn syrup, a sugar substitute responsible for weight gain in a lot of cases. For example, a 12-ounce can of soda contains a whopping, 9.3 teaspoons of sugar!
3. Skin Aging
According to research, sugar can damage the skin through a process called glycation. The study entitled, "The role of glycation in the pathogenesis of aging and its prevention through herbal products and physical exercise" defined glycation as a spontaneous non-enzymatic reaction of free reducing sugars with free amino groups of proteins, DNA, and lipids that forms Amadori products. The Amadori products undergo a variety of irreversible dehydration and rearrangement reactions that lead to the formation of advanced glycation end products (AGEs). Simply put, glycation is the process where sugar attaches to proteins in your body, causing harmful new molecules.
4. Prone to Fatty Liver Diseases
When our body intakes excess glucose, what happens is that this excess glucose is turned into fat cells. When this happens, the liver as one of the major repositories of fat cells is the one hit by the damage. In an article published by British Liver Trust, Non-Alcohol-related Fatty Liver Disease (NAFLD) is likely to overtake alcohol as the leading cause of liver disease in the upcoming years. Research suggests that for a person with a 2000 daily calorie diet, the sugar that should be taken daily is at most 6 teaspoons of sugar which is equivalent to 100 calories for women, and 9 teaspoons which is equivalent to 150 calories for men.
5. Prone to Getting Acne
Studies show that people who have a higher sugar level in their diet are more prone to getting acne and suffer hormonal imbalances. Research shows that when a person consumes sugary foods, these can cause a spike in blood sugar and insulin levels that can cause a spike in blood sugar and insulin levels, which leads to overproduction of oil, androgen secretion and inflammation.
Now that we know some of the negative effects of sugar in our system, cutting off sugar immediately is simply a difficult thing to do.
Because of this reason, an alternative way to slowly reduce the intake of processed sugar is by replacing it with alternative sugar substitutes to use.
Natural Sugar Substitutes to Use – to avoid sugar cravings
1. Honey
Honey is the most common natural sugar sweetener in the market. When purchasing honey, what I can recommend is to buy the honey labeled as "Raw Honey." Most honey sold in the market today contains added sugar to make it sweeter more easily and cheaply. That is why reading the information label is important. A simple rule of thumb to remember is the fewer ingredients the better.
There are many reasons why honey is one of the best sugar substitutes to use, and listed below is a comparison between Raw Honey vs. Regular Honey.
Raw Honey
Regular Honey
More antioxidants and more nutritious
May contain added sugar and preservatives
Contains Pollen

– Pollen has numerous benefits that include the ability to reduce inflammation, increase immunity, and the like.

Does not contain pollen
Unprocessed
Processed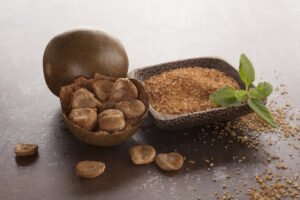 2. Monk Fruit
Native to Southern China, this small-round fruit is a no-calorie sweetener, which is attributed to lowering sugar levels in the body. Compared to sugar, monk fruits are sweeter by 150-200 times more. Monk Fruit has many benefits one of which is that it promotes weight loss. Because monk fruit has no calories, fat, or carbs, it is a great sugar substitute to use for those who are trying to lose weight but are still craving something sweet.
3. Maple Syrup
Maple syrup is a syrup made from the sap of Maple trees. The first ever recorded maple syrup made was by the Indigenous peoples of North America. Most of the maple syrups you see in the market are produced in the United States and Canada. When purchasing maple syrup, it is essential to know that the best maple syrup out there is pure. Most store-bought maple syrups contain added preservatives and sugar, and a great way to check if your maple syrup is pure is by checking the label. When you have pure maple syrup, the ingredient listed includes only pure maple sap. Purchasing pure maple syrup is essential to get the most nutritional benefits and to avoid unnecessary additives. Some of the benefits of maple syrup versus refined sugar is that
4. Date Syrup
Date syrup is a natural sweetener made from boiling dates and squeezing out the liquid to get the rich, thick paste. Because date syrup is just the fruit itself in liquefied form, date syrup contains all the health benefits that the fruit boasts. One of which is that date syrup contains an abundance of antioxidants. Other benefits of date syrups include having a low glycemic index and being high in fiber.
If you are already convinced and want to try making your date syrup at home, here is an easy recipe to follow.
Date Syrup at Home
Ingredients:
Instructions:
Cut your dates into smaller pieces
Place your dates in a pan with water and let it simmer on medium to high heat for thirty to forty-five minutes.
Afterward, let the mixture cool down for about two hours.
Once sufficiently cool, place the mixture in a food processor or blender.
After blending, strain the liquid using a muslin cloth to get rid of the pulp.
After getting the juice, you may choose to thicken your syrup by boiling it again and getting the right consistency for you.
Coconut Sugar
Coconut sugar is made from the sap of a coconut tree. The reason why coconut sugar is a good substitute for regular white sugar is that it can help raise blood glucose levels.
6. Frozen Fruits
A fantastic way to sweeten up your meals is by adding frozen fruits. What I love to do is add some of my favorite berries to my breakfast oatmeal to sweeten them up. Frozen fruits are perfect as a dessert on its own or added to any meal of your liking. What's good about using frozen fruits is that it does not contain any added preservatives
One of my favorite easy breakfast recipes is some good old overnight oats.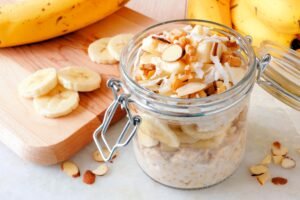 Easy Overnight Oats Recipe
Ingredients:
Rolled Oats
Soy Milk or any milk of your preference
Plain yogurt
Frozen Fruits
Honey or Maple Syrup
Instructions:
Once you have all the ingredients that you want, the first and only step is to mix them all together. My preferred ratio is 1:1 meaning 1 cup of rolled oats and 1 cup of either milk or yogurt.
Mix in your frozen fruits and add in honey or maple syrup to taste
Leave inside your refrigerator overnight and, voila an easy breakfast the following day.
Whenever I make overnight oats for myself, I always choose 1 cup of rolled oats and 1 cup of my favorite non-dairy milk. I then forego using yogurt and syrup and instead include more frozen fruits to make my overnight oats sweeter without using too many ingredients.
Caveat:
Although the above-listed sugar substitutes to use are healthier than refined sugar, it is vital to remember that you should intake these sugar substitutes in moderation.