Vegan Globetrotter is supported by our audience. When you purchase through one of our links, we may earn a small affiliate commission.  As an Amazon Associate I earn from qualifying purchases. Your cost is not affected.
==================
Do you love pumpkin spice everything? Then you'll love this easy vegan pumpkin dump cake recipe! The best part is that it's really quick and simple to make, so you can enjoy a delicious Fall dessert without spending hours in the kitchen. Plus, it's vegan so everyone can enjoy it! Whether you're hosting a Fall party or just want something sweet and comforting to eat at home, this pumpkin dump cake is sure to hit the spot. Enjoy!
This fall dessert is believed to have originated in the American South, and it gets its name from the fact that it is made by dumping all of the ingredients into a pan before baking. The key ingredients in an apple dump cake are pumpkins, of course, along with butter, sugar, cinnamon, and a boxed yellow cake mix. Some recipes also call for the use of a can of pie filling, but this is not strictly necessary. Pumpkin dump cake is typically served warm and topped with ice cream or whipped cream, making it the perfect comfort food for a chilly autumn evening.
The dessert will satisfy your sweet tooth!
Fall is in the air and that means pumpkin everything! From pumpkin spice lattes to pumpkin bread, there's no shortage of pumpkin-flavored treats to enjoy this time of year. One of our favorite pumpkin desserts is pumpkin dump cake. Here are 5 reasons why this dessert is sure to satisfy your sweet tooth.
1. Super easy to make
One of the best things about pumpkin dump cake is that it's super easy to make. All you need is a can of pumpkin puree, a box of yellow cake mix, some spices, and vegan butter. That's it! Just mix everything together and bake—no need for fancy baking skills or tools.
2. Perfect for fall gatherings
Whether you're hosting a Halloween party or just getting together with friends for a fall bonfire, this dessert is the perfect treat to bring along. It's festive, seasonal, and most importantly, delicious!
3. You can dress it up or keep it simple
This dessert is just as good with a scoop of vegan ice cream on top as it is plain. Or, if you want to get really creative, try topping it with vegan whipped cream and some chopped nuts. The possibilities are endless!
4. It travels well
This dessert only requires a few ingredients that are all easily portable, it's the perfect dish to bring along to potlucks or picnics. Just mix everything up before you leave and bake it when you get there. Easy peasy!
5. Did we mention it's delicious?
Yes, we know we already mentioned this but it bears repeating because it's true! This dessert is simply irresistible and will have you coming back for more, again and again.
So what are you waiting for? Give this easy recipe a try and we guarantee you'll be hooked!
Plant-based ingredients you will need to dump in a baking dish
There really isn't much to this recipe at all. In fact, the main ingredients are probably already in your pantry! Best of all they can easily be found in the supermarket. So if you are looking for a dessert that has easy-to-find ingredients look no further than this recipe. All you need in this recipe are…
1. Cake Mix: It's either homemade batter or store-bough-bought; if using a store-bought look for the Duncan Hine brand as they sell an organic cake mix. But if you are in the mood and wanted to make your own cake mix feel free to combine the all-purpose flour, sugar, baking powder, kosher salt, and vegan butter.
2. Pumpkin: Use fresh pumpkins rather than frozen ones to have a fresh taste and flavor. But if you want to omit pumpkins feel free to substitute apples.
3.  Pecans: Chopped them before adding them into a batter to have a  nutty texture.
4. Kosher salt & sugar: Use to balance the flavors.
5. Vanilla extract & cinnamon: Adds an aroma flavor.
Once you have all the ingredients, simply dump all ingredients into a baking dish. When it's time to bake, pop it in the oven and let the magic happen. In less than an hour, you'll have a warm and cozy dessert that's perfect for fall weather. So go ahead and give this easy recipe a try – you won't be disappointed!
Dump all the plant-based ingredients in a baking dish!
Fall is the perfect time to cozy up with a warm slice of pumpkin dump cake. This easy-to-make dessert is packed with all the best flavors of the season. To make it, simply dump all the plant-based ingredients into a baking dish and bake. The result is a moist and fragrant cake that is sure to please any crowd. So, below is a quick overview of how to make this pumpkin dump cake.
1. Preheat the oven to 350°F and lightly grease the baking dish.
2. Combine all the ingredients in a large bowl, except for the cake mix.
3. Pour the combined ingredients into a baking dish and top the cake mix.
4. Bake for 1 hour or until golden brown.
5. Serve with a dollop of vegan whipped cream or Pumpkin ice cream.
What did you say about making this pumpkin dump cake? They are easy to make right? So, don't hesitate to try this vegan fall dessert and sure this will be a blockbuster on your table.
If you are addicted to pumpkin recipes and wanted a perfect one for the fall season try this Pumpkin Spice Fudge, Mini Pumpkins Cream Puffs, and Pumpkin Pie Pudding. Try them now and share your experience with us using #veganpumpkindumpcake on our social media pages.
Dump Cake 101: Everything you need to know!
The tips below will help you with what you should do with pumpkin dump cake. If you have still questions feel free to comment below we were happy to help you, guys. So keep in your mind these tips!
Serving Suggestions: Pumpkin dump cake is best served warm, with a scoop of vanilla ice cream or whipped cream on top. If you're looking to really impress your guests, try serving it with a caramel sauce or a dusting of cinnamon sugar.
Storing Tips: Leftover pumpkin dump cake can be stored in an airtight container at room temperature for up to 3 days. If you want to keep it fresh for longer, you can store it in the refrigerator for up to 1 week.
Recipe Tips
Make sure your spices are fresh for the most flavor.
For best results, use a fresh, canned pumpkin puree rather than pumpkin pie filling.
If you want to use a homemade cake mix just combine all-purpose flour, sugar, baking powder, kosher salt, and vegan butter.
Variations: If you're looking to change up the recipe, try adding a layer of pecans or walnuts between the cake mix and the pumpkin puree. You can also top the cake with a layer of marshmallows before baking, it for a gooey and delicious treat.
Make-Ahead Instructions: To save time on the day of serving, you can prepare the pumpkin dump cake ahead of time and store it in the refrigerator for up to 24 hours. Simply bake the cake as directed, then allow it to cool completely before covering and refrigerating.
So, what are you waiting for? Preheat your oven and just dump all the ingredients to make this healthy and delicious pumpkin dump cake at your home! Below is the recipe card you can pin it to save if you want to make them again. Happy Baking!
Pumpkin dump cake: Your fall dessert favorite!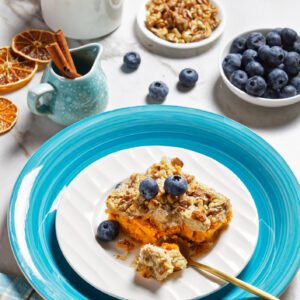 Pumpkin Dump Cake
This fall dessert favorite is easy to make and always delicious. The basic ingredients are a can of pumpkin, a box of vegan yellow cake mix, and some spices. Top it with vegan whipped cream or ice cream for an extra special treat.
Ingredients
Ingredients you will need to dump:
1

box

yellow cake mix

or use homemade cake mix.

2

cups

pumpkin

or 1 can pumpkin puree, or apple; peeled, cored, and thinly sliced.

1

cup

pecans

chopped

5

tbsp

sugar

2

tsp

cinnamon

ground

2

tsp

nutmeg

ground

1

tsp

vanilla extract

kosher salt

pinch
Instructions
Let us dump all the ingredients!
Preheat oven to 350°F and lightly grease the baking dish.

In a mixing bowl, bowl, combine the pumpkins, pecans, sugars, cinnamon, nutmeg, vanilla extract, and kosher salt. Mix them well.

In a prepared baking dish, pour the pumpkin mixture and top the cake mix with vegan butter on top.

Bake in a preheated oven for 1 hour or until golden brown.

Serve with vegan whipped cream or ice cream and dust with cinnamon.
Nutrition
Calories:
358
kcal
Carbohydrates:
52
g
Protein:
7
g
Fat:
15
g
Saturated Fat:
3
g
Polyunsaturated Fat:
5
g
Monounsaturated Fat:
6
g
Trans Fat:
0.1
g
Sodium:
377
mg
Potassium:
172
mg
Fiber:
3
g
Sugar:
29
g
Vitamin A:
9
IU
Vitamin C:
0.4
mg
Calcium:
127
mg
Iron:
3
mg
For More Vegan Fall Desserts Recipes
I've provided a list of vegan dishes that are all made completely of ingredients from plants. Additionally, they make a wonderful addition to any vegan dish. These are tasty even for meat eaters, and for more vegan recipes subscribe to our newsletter.
1. Apple Crumble- A Vegan Treat!
4. Vegan Carrot Cake Overnight Oats
To Wrap It All Up
Connect With Us
If you tried this pumpkin dump cake take a ?  and tag us on our social media: Facebook, Twitter, Pinterest, and Instagram, and subscribed to our YouTube Channel. I'd be delighted to see it!
To make sure you don't miss any recipes, remember to subscribe to our email newsletter which will be delivered to your inbox every week. ? In addition to this, if you are looking for vegan baking recipes visit Best Baking Tips they also published a lot of healthy baking recipes.
Read More