Vegan Globetrotter is supported by our audience. When you purchase through one of our links, we may earn a small affiliate commission.  As an Amazon Associate I earn from qualifying purchases. Your cost is not affected.
==================
Vegan Asparagus Pasta Salad with Balsamic Vinaigrette
Summer and Spring Recipe You'll Love!
Spring has arrived! Vegan asparagus pasta salad with balsamic vinaigrette is calling you all! This vegan asparagus pasta salad would be a wonderful side dish or meal to serve during the summer and spring months. One of the reasons you'll enjoy this pasta salad is that it's so simple and adaptable. They're easy to make ahead of time and go with almost any meal, especially for special occasions like barbeque parties, potlucks, or picnics.
Yes, this pasta salad is dre nched in balsamic vinaigrette, which really is likely my all-time favorite vinaigrette! It's fantastic. The plant-based ingredients for this pasta salad are basic: asparagus, strawberries, penne or rotini pasta, arugula or baby spinach, and a drizzle of olive oil.
Of course, feel free to adjust the recipe based on what you have on hand and your favorite plant-based ingredients. To make it even more spring-like, add some arugula or baby spinach, peas, and a pinch of lemon zest!
You can't go wrong with this!

Vegan Globetrotter Tips
You can easily swap the penne pasta with rotini pasta to make a gluten-free version.
Don't like to use arugula? Instead, use baby spinach.
You can add peas, and a pinch of lemon zest to make it more spring vibes.
You can drizzle balsamic vinaigrette over the vegan asparagus pasta salad to add even more flavor. I recommend making your own balsamic vinaigrette because the store-bought one has a lot of oil and is usually not vegan.
This pasta salad might also be made with a mix of white and green asparagus.
This salad tastes best when served freshly. By keeping it in the fridge for 2-3 hours, the strawberries will absorb the dressing quickly and go stale.
For More Salad Recipe
When it comes to salad recipes, we have to include salad dressing. For more salad dressing recipe ideas, see Homemade Salad Dressing Recipes.
Vegan Asparagus Pasta Salad You'll Love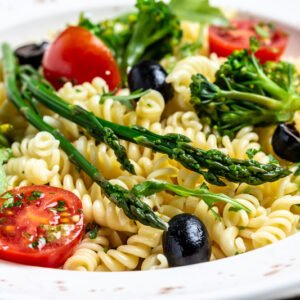 Vegan Asparagus Pasta Salad
This vegan asparagus pasta salad with balsamic vinaigrette is a delicious spring and summer dish! It's one of my favorite dishes to bring to picnics, BBQS, and potlucks. It's healthful, vegan, and takes only 15 minutes to prepare.
Ingredients
14-15

oz

asparagus

green

13-14

oz

strawberries

fresh

9-10

oz

penne pasta

or rotini, gluten-free pasta

3

small

baby arugula

or spinach

1

tbsp

oil

extra virgin
Instructions
Using a knife, cut the wooden part of asparagus and slice the strawberries according to your desired size.

Boiled the pasta as per the package instructions. When finished, strain and rinse with cold water.

In a small pan, cook the asparagus with a little oil for at least 8–9 minutes.

In a large bowl, mix the strawberries, pasta, cooked asparagus, and baby spinach or arugula.

Topped with Balsamic Vinaigrette. (see note)
Notes
Balsamic Vinaigrette is the perfect dressing for this vegan balsamic vinaigrette. It gives more flavor and is more nutritious. Check the link for the recipe card. It is easy to make and only takes 15 minutes with a few ingredients. 
Nutrition
Calories:
1269
kcal
Carbohydrates:
234
g
Protein:
45
g
Fat:
19
g
Saturated Fat:
2
g
Polyunsaturated Fat:
6
g
Monounsaturated Fat:
9
g
Trans Fat:
1
g
Sodium:
29
mg
Potassium:
1957
mg
Fiber:
24
g
Sugar:
32
g
Vitamin A:
3187
IU
Vitamin C:
240
mg
Calcium:
217
mg
Iron:
13
mg
If you make this Vegan Asparagus Pasta Salad share with us your experience and tag us on our social media pages: Facebook, Twitter, Pinterest, Instagram, and subscribed to our YouTube Channel.
READ MORE: