Vegan Globetrotter is supported by our audience. When you purchase through one of our links, we may earn a small affiliate commission.  As an Amazon Associate I earn from qualifying purchases. Your cost is not affected.
==================
Vegan Lemon Overnight Oats
These vegan lemon overnight oats are both healthy and delicious to start your morning right. This simple dish can be made in just a few minutes, and it's perfect for on-the-go mornings. Plus, the lemon flavor makes it instantly refreshing and satisfying.
Do you like to have a quick and easy breakfast that is both nutritious and delicious? If so, then you will love Lemon Overnight Oats! This recipe is simple to make, and it can be personalized to your liking. Plus, it is perfect for those mornings when you don't have time to cook.
Many of us are looking for what recipe can be made with lemon. The solution has been made! These lemon overnight oats are perfect for everyone. Even non-vegetarians will love these zesty and lemony overnight oats.
It pairs well with blueberries fresh from the farm. So harvest them both and make these lemon overnight oats.
So, let's get started!
Let's start making lemon overnight oats at all costs! Aside from they are easy to prepare, they are also:
Refreshing and loaded with fiber and protein.
Adaptable serve with your favorite seeds, nuts, fruits, and shredded coconut on top.
Vegan, gluten-free, and dairy-free that is made with a handful of plant-based ingredients.
The best breakfast option for busy mornings.
Plant-based ingredients and their substitution
These lemon overnight oats compose of healthy ingredients. I'm sure these ingredients required will already have in your kitchen. So, what you will need?
1. Old-fashioned oats
All certified gluten-free brands feel free to use these lemon overnight oats.
2. Lemon Juice and zest
Use fresh for a better result. Please note that, use untreated lemon to prevent additives.
3. Plant-based milk
Use unsweetened milk such as soy milk, almond milk, oat milk, or non-dairy milk you prefer.
4. Maple syrup
If you don't have maple syrup substitute granulated sugar (sugar-free erythritol), agave syrup, or swerve.
5. Plant-based yogurt
They are available in the supermarket and can be made at home.
6. Chia seeds
If you don't like chia seeds substitute hemp seeds, sunflower seeds, psyllium seeds, and sesame seeds.
7. Vanilla extract
It is an emulsifier and gives a pleasant flavor.
Fear not, play around with the ingredients!
Don't be afraid to do an experiment according to your liking. I suggest adding the following below on top of these lemon overnight oats.
Add 1/3 of fresh or frozen blueberries on top. (Serve them for the next day.)
Combine with two tablespoons of poppy seeds.
These additional ingredients I have suggested are the best combination of lemon overnight oats. Try them and devour the flavor!
Optional but it tastes better!
The ingredients below listed are optional top layer ingredients. In a mason jar or bowl, mix them all. I recommended adding:
1. Protein powder: It gives a lot of flavor to this recipe. White chocolate berry protein or lemon protein powder are commonly used in this recipe.
2. Vegan greek yogurt: Any yogurt works well but coconut yogurt is the best. Make sure that they are vegan. It can be homemade or store-bought.
3. Coconut milk: Add this if you want to change desired consistency.
4. Lemon juice: To add more zesty and vibrant flavor.
Start your day right, and learn how to make it!
These lemon overnight oats are easy to make there no is required cooking or baking. It takes 10 minutes to prepare. Easy-peasy right? Happy mixing!
In a mason jar or bowl, mix all the ingredients.
Top or layered with your desired fruits, nuts, and seeds.
Refrigerate overnight!
Storing Tips
They can be kept in the refrigerator for at least 3-4 days. And for the leftover, you can freeze them before serving.
A recipe hack: Lemon overnight oats
As I mentioned these lemon overnight oats are adaptable. It can be served or pairs well with:
Shortbread biscuits
Extra lemon zest.
Fresh blueberries.
Shredded coconut.
Enjoy them in the morning with these ingredients I have suggested. They are optional but it's enjoyable when it is fulfilling.
Lemon overnight oats: FAQS
Just like the others, comment below if you have any questions or share with us your thought about these lemon overnight oats.
1. Can I add protein?
Yes, you can! Use any of your protein likings. But if you are adding protein powder the texture will be thickened that's why you will need to add almond milk. In addition, add a plain protein powder to still have a lemon flavor.
2. Is Lemon overnight oats gluten-free?
Overnight oats are naturally gluten-free, and of course, you can use certified gluten-free oats in this recipe.
Recipe Suggestions
Want some overnight oats? Well, you should try these: Vegan Maple Pumpkin Overnight Oats, Peach Overnight Oats, Vegan Carrot Cake Overnight Oats, Vegan Oreo Overnight Oats, Strawberry Chocolate Brownie Overnight Oats, and Vegan Almond Joy Overnight Oats, and Cherry Overnight Oats. Simply combine all the ingredients and chill overnight to make them. Additionally, the food is prepared using basic plant-based components and is vegan, gluten-free, and dairy-free.
These lemon overnight oats are a must-try! Morning breakfast will become your favorite meal time after making these healthy, zesty, lemony overnight oats recipes. What are you waiting for? Wash your mason jar and combine all the ingredients.
Have a zesty breakfast!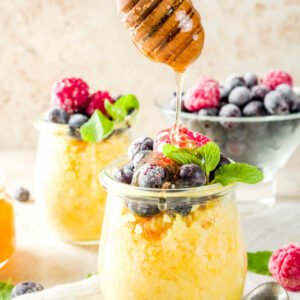 Lemon Overnight Oats
These lemon overnight oats are both healthy and delicious to start your morning right. This simple dish can be made in just a few minutes, and it's perfect for on-the-go mornings. Plus, the lemon flavor makes it instantly refreshing and satisfying.
Ingredients
¾

cup

almond milk

1/2

lemon juice

1

tsp

maple syrup

¾

cup

old-fashioned oats

any certified gluten-free oats

pinch

kosher salt

to taste

1-2

tbsp

chia seeds

1

tbsp

lemon zest
Instructions
In a mason jar or bowl, mix all the ingredients. 
Nutrition
Calories:
234
kcal
Carbohydrates:
34
g
Protein:
8
g
Fat:
9
g
Saturated Fat:
1
g
Polyunsaturated Fat:
5
g
Monounsaturated Fat:
2
g
Trans Fat:
0.02
g
Sodium:
254
mg
Potassium:
212
mg
Fiber:
8
g
Sugar:
5
g
Vitamin A:
10
IU
Vitamin C:
14
mg
Calcium:
333
mg
Iron:
3
mg
For More Vegan Lemon Recipe
The vegan lemons recipes below I've suggested are completely vegan and 100% made with plant-based ingredients. They are also a great addition to your vegan meal.
Lemon Curd Recipe- Healthy and Delicious!: It is made with flavorful pudding or pie filling. And it is a healthy vegan version.
Lemon Garlic Pasta Shells Supreme: Made in a whole-grain pasta shell with mixed vegetables, drizzled with full flavor sauce, and topped with sauteed seitan nuggets.
Vegan Almond Cake with Lemon: It is moist, nutty, lemony, and light with the perfect blend of sweet and citrus.
To Wrap It All Up
If you are looking for a quick, easy, and healthy breakfast option that can be tailored to your dietary needs, look no further than this delicious lemon overnight oats recipe. With just a few simple ingredients, you can enjoy a nutritious meal that will keep you feeling energized all morning long. Thanks for reading, and we hope you give this recipe a try!
Connect With Us!
Try these refreshing lemon overnight oats! Take a ?  and tag us on our social media: Facebook, Twitter, Pinterest, Instagram, and subscribed to our YouTube Channel.  I'd be delighted to see it!
To make sure you don't miss any recipes, remember to subscribe to our email newsletter that will be delivered to your inbox every week. ?
Learn More
Vegan Butternut Squash Curry with Chickpeas
Good Foods For Healthy Skin For Vegans
The truth about overnight oats