Vegan Globetrotter is supported by our audience. When you purchase through one of our links, we may earn a small affiliate commission.  As an Amazon Associate I earn from qualifying purchases. Your cost is not affected.
==================
Vegan Southwestern Pasta Salad with Sweet Lime Salad Dressing
(Gluten-Free and Plant-Based)
Do you have any pasta in your pantry? Or are you considering another pasta-based recipe that are vegan or gluten-free and made with plant-based ingredients? If so, I've prepared this vegan southwestern pasta salad for you! You will love this summer salad as your side dish and main dish. In addition, this vegan southwestern pasta salad is great addition for barbecue and potluck recipes. This vegan southwest pasta salad is bursting with flavor from the Southwest. A sweet lime salad dressing is poured over corn, green onion, tomatoes, black beans, bell pepper, and cilantro. These flavors make me want to be in the summer!
But is so nice to make more salad  for your summer time like; Farro Spinach Salad-Air Fried Beets, Grilled Tunisian Salad, Tunisian Boiled Salad Recipe, and Pesto Potato Salad.
One of the best parts about this southwest pasta salad is that it can be modified to your liking. You can use whatever vegetables you have on your pantry, or just the ones you enjoy. This vegan Southwestern pasta salad will really be served more frequently now. It's just so easy and delicious!

Vegan Globetrotter Tips
You can use gluten-free or vegan pasta you want. It's also good with fusilli.
If you don't like cilantro, you can replace it with parsley or leave it out entirely.
If you don't want to use cilantro, add one or two more green onions.
Allowing the salad to remain in the fridge for a few hours improves the flavor.
Storing Tips
This southwest pasta salad is ideal for making ahead because the flavors intensify as it sits in the fridge. It will keep in the fridge for 3 to 4 days if kept covered.
Serving Suggestion 
Use your favorite salad dressing to dress up this vegan southwestern pasta salad. However, for a better flavor, I recommend Sweet Lime Salad Dressing. This dressing is simple to make for only five minutes and uses fresh lime juice or zest with 5 plant-based ingredients.
Check out the link of the recipe to get extra information and tips along with the recipe card.
More Salad Dressing Recipe
For more delectable and adaptable salad dressing recipes check out: Homemade Salad Dressing Recipes.
For More Salad Recipe
This dressing is a must-try that will quickly become your favorite salad for the summer. Ready to get started? As always, below I've prepared the recipe card for you!
Vegan Southwestern Pasta Salad You'll Love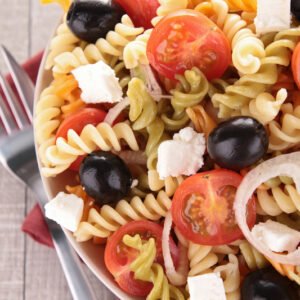 Vegan Southwestern Pasta Salad
This vegan southwestern pasta salad with black beans, avocado, and sweet lime dressing is not only quick and easy to prepare, but it's also nutritious. This is the perfect touch for any potluck or barbecue recipe.
Ingredients
12-13

oz

farfalle pasta

or gluten-free pasta

1

cup

black beans

canned

1-2

cups

corn

2-3

cups

cherry tomatoes

sliced into halves

1

medium

orange bell pepper

sliced into stripes

1

medium

avocado

sliced into medium-sized chunks

3

small

green onions

cut into circle

1/3

cup

fresh cilantro

chopped (optional)
Instructions
Cook the pasta as per the package directions. Remove them from the pan once they've fully cooked and pour the water out.

In a large bowl, mix all the ingredients then add your favorite salad dressing. Allow the salad to refrigerator for a few hours. (See note)
Nutrition
Calories:
410
kcal
Carbohydrates:
73
g
Protein:
15
g
Fat:
8
g
Saturated Fat:
1
g
Polyunsaturated Fat:
1
g
Monounsaturated Fat:
4
g
Sodium:
16
mg
Potassium:
730
mg
Fiber:
10
g
Sugar:
6
g
Vitamin A:
1280
IU
Vitamin C:
51
mg
Calcium:
40
mg
Iron:
3
mg
If you make this Vegan Southwestern Pasta Salad  share with us your experience and tag us on our social media pages: Facebook, Twitter, Pinterest, Instagram, and subscribed to our YouTube Channel.
READ MORE:
Is Whole Grain Pasta Healthier?