==================
A Caveat and Affiliates
First off, a little caveat: within my articles you will find affiliate links, meaning if you buy them, I get a small commission. Your cost is not affected. In addition, I am an Amazon Associate and I earn from qualifying purchases on Amazon.
And yes, if I say that I recommend a product here, it means I truly believe it is a good product. I refuse to recommend any product that I have not researched and believe to be a good value. Even better, I provide you with a very clear picture of the product, it's use, and the probable value. Earning your trust is important to me. I run this website myself and the commissions and donations help support the site. Sound reasonable and fair enough? Let's continue to the article.
==================
As the weather begins to cool down, it's the perfect time to cozy up with a warm drink. This vegan chai latte is perfect for autumn, with warming spices like cardamom and ginger. Plus, it's dairy-free and sweetened with maple syrup, A vegan chai latte is a delicious and creamy alternative to the traditional cafe beverage. Made with dairy-free milk and autumn spices, this drink is perfect for vegans and non-vegans alike. Enjoy it hot or cold, with or without caffeine – it's up to you!
I was so excited to have found a healthy alternative to my beloved coffee, that I started making vegan chai lattes all the time. The best part was that they were just as addictive and cozy as regular lattes but without all of the negative health effects. I quickly became known as the "chai lady" at work, and everyone always wanted to know where they could get one of my delicious drinks.
So it's perfect for those looking for a healthy drink option. Looking for a healthy drink option? Well, must try our Delicious Dairy-Free Pumpkin Spice Latte Recipe, Vegan Pumpkin Cream Cold Brew, Pear, Pumpkin, and Ginger Mocktail. As they are, perfect for the fall season and thanksgiving day!
All You Need to Know About Chai
You might think that you know all there is to know about chai. After all, it's just a type of tea, right? Wrong! Chai is so much more than that. In fact, once you learn all there is to know about this delicious drink, you might just find yourself becoming a bit of a chai connoisseur. So, keep reading to learn everything there is to know about chai!
1. What Is Chai?
At its core, chai is a type of tea made by brewing black tea with spices and herbs. The specific spices and herbs can vary depending on the region where the chai is made, but typically, they include things like cinnamon, cloves, ginger, and cardamom. Chai originated in India but has since become popular all over the world.
2. How Is Chai Made?
There are two main ways to make chai: with milk or without milk. If you're making chai with milk, the first step is to simmer whole milk and water on the stove until it comes to a boil. Then, add your choice of sweetener (more on that later!), black tea leaves, and spices. Allow the mixture to simmer for another few minutes before strainings the tea leaves and serving.
If you're making chai without milk, the process is largely the same with a few key differences. First, rather than using whole milk, you'll use water. Second, you'll need to steep your tea leaves for longer since they won't have the fat from the milk to help them release their flavor. Other than that, just sweeten and spice to taste and enjoy!
3. What Does Chai Taste Like?
Chai has a rich, complex flavor that is at once earthy, sweet, spicy, and slightly bitter. The combination of spices lends itself well to both sweet and savory dishes alike; in fact, many people enjoy using leftover chai as a marinade for meat or vegetables. Trust us when we say that there's nothing quite like homemade chai!
We hope this article has given you a better understanding of what chai is and why it's so delicious. Whether you enjoy it with milk or without, sweet or savory, we think you'll agree that there's nothing quite like a cup of homemade chai. A perfect way to use this homemade chai to brew a vegan chai latte at your home too! So what are you waiting for? Get brewing!
Brew the ingredients and make them at home!
Look no further than this recipe as they are easy to make at home with easy-to-find ingredients. This latte is made with a blend of spices, tea, and milk, this drink is sure to warm you up on a cold day. Plus, it's vegan and can easily be made dairy-free. Here's what you'll need and what you will do:
For the chai mixture, you will need, ground cinnamon, ginger, allspice, cardamom, cloves, black pepper, and nutmeg. And for the latte, you will need is almond milk, black tea, and maple syrup.
1. Combine chai ingredients until incorporated and transfer them into a sealed jar.
2. Simmer the almond milk over medium-high heat for at least 3-4 minutes, then remove.
4. Soak the tea bags in heated milk for 8 minutes. Set aside the tea bags.
3. In a mug, add chai mixture followed by warm milk, then season to taste with maple syrup–and now you can enjoy your favorite mug with this vegan chai latte!
Serve this vegan chai latte with a vegan cookie or piece of fruit for a perfect fall treat. Also, they can be stored in the fridge for up to 3 days. Just reheat it on the stove or in the microwave when you're ready to enjoy it!
As you can see, making a vegan chai latte at home is easy and only requires a few simple ingredients. Plus, it's a great way to enjoy all the flavors of fall in a cup! So why not give it a try today? We think you'll be glad you did.
Looking for more vegan fall recipes to add to your vegan diet?
Well, satisfy your tastebuds with our healthy and delicious: Mini Pumpkins Cream Puffs, Pumpkin Alfredo Pasta Recipe, Vegan Maple Pumpkin Overnight Oats, Vegan Pumpkin Pie Smoothie, Apple Cranberry Crisp, Pumpkin Alfredo Pasta Recipe, Butternut Squash Pancakes, 20-minute Pumpkin Soup, Air fryer Cinnamon Rolls, Delicious Dairy-Free Pumpkin Spice Latte Recipe, Pumpkin Spice Fudge, Sweet Potato Pie Cupcakes with Cinnamon Frosting, Autumn Salad, Apple Cinnamon Waffles, Autumn Pizza with Vegan Gouda Cheese, Pumpkin Spice Fudge, Delicious Dairy-Free Pumpkin Spice Latte Recipe, Vegan Butternut Squash Curry with Chickpeas,  Teriyaki Tofu-Tempeh Casserole, Butternut Squash White Bean Kale Stew, Vegan Spaghetti Squash with Marinara Sauce, Sweet Potato Shepherd's Pie Casserole, Autumn Carrot-Sweet Potato Soup, Apple Cider Bourbon Cocktail-Alcohol Free, Vegan Pumpkin Cream Cold Brew, Dairy-free Pumpkin Ice Cream, Pumpkin Risotto-Comforting Meal, Autumn Spice Pear Cobbler, Roasted Butternut Squash Burger, and Pear, Pumpkin, and Ginger Mocktail.
The dishes I've suggested are ideal for Thanksgiving Day, the fall season, and even the winter months. They are absolutely delicious and composed entirely of plant-based components. They are a wonderful addition to your vegan diet and, best of all, will appeal to both vegetarians and non-vegetarians, so put them on your vegan recipes bucket list.
Fill your cup with a fall flavor to feel more of the autumn vibes in the comfort of your home! Enjoy the recipe card below!
Fall flavored in a cup!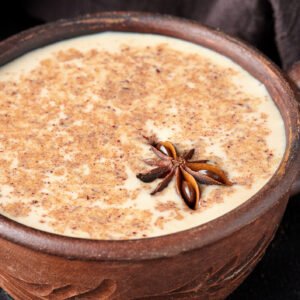 Vegan Chai Latte
It is cozy and a warm drink for the fall season and is full of fall flavors!
Ingredients  
Dry ingredients:
1 1/2

tsp

allspice

ground

2

tbsp

ginger

ground

3

tbsp

cinnamon

ground

1

tsp

cloves

ground

2

tsp

cardamom

ground

2

tsp

nutmeg

grated

¼

tsp

black pepper

freshly ground
Wet ingredients:
3

cups

almond milk

or any plant-based milk

1-2

tbsp

maple syrup

adjust to taste, if needed.

2

bags

black tea
Instructions 
Chai spice; dry ingredients:
Combine the ingredients from allspice to black pepper, in a mixing bowl. Transfer them into a sealed jar.
Latte; wet ingredients:
Over medium-high heat, let simmer the almond milk for 5 minutes. Remove from the heat, then soak the tea bags for 5 minutes. Set aside the tea bags.

In a cup, add a tablespoon of chai spice then pour the almond milk mixture and season with maple syrup. Adjust to taste, if needed.

Serve and topped with vegan whipped cream and sprinkle with chai spice.
Nutrition
Calories:
275
kcal
Carbohydrates:
46
g
Protein:
6
g
Fat:
12
g
Saturated Fat:
1
g
Polyunsaturated Fat:
5
g
Monounsaturated Fat:
5
g
Sodium:
988
mg
Potassium:
314
mg
Fiber:
18
g
Sugar:
15
g
Vitamin A:
95
IU
Vitamin C:
4
mg
Calcium:
1216
mg
Iron:
3
mg
For More Vegan Recipes
Looking for more vegan baking recipes? If so, try the recipes below are perfect for all occasions and a great addition to your vegan diet.
To Wrap It All Up
A vegan chai latte is a delicious fall beverage that can easily be made at home with just a few ingredients. By brewing the spices and tea together, you can create a rich and flavorful cup of chai that will warm you up on even the chilliest of days. So next time you're craving something sweet and cozy, give this vegan chai latte recipe a try.
Connect With Us
If you tried this vegan chai latte, take a 📸  and tag us on our social media: Facebook, Twitter, Pinterest, and Instagram, and subscribed to our YouTube Channel.  I'd be delighted to see it! To make sure you don't miss any recipes, remember to subscribe to our email newsletter which will be delivered to your inbox every week. 📩
Read More