Vegan Globetrotter is supported by our audience. When you purchase through one of our links, we may earn a small affiliate commission.  As an Amazon Associate I earn from qualifying purchases. Your cost is not affected.
==================
Are you a vegan who misses eating tuna casserole? Do you worry that you won't be able to find a tasty and satisfying replacement? Look no further than this vegan creamy tuna casserole that will fulfill all your cravings. It's made with creamy cashews, mushrooms, and nutritious veggies. It is not only a fulfilling recipe but also a flavorful and hearty dish that will please vegans and non-vegans alike. It can be made ahead of time, so you can relax and enjoy your holiday guests. You won't even miss the tuna!
A special vegan creamy tuna casserole
Ah, vegan tuna casserole. Is there anything more comforting? This dish has it all: protein-packed mushroom, creamy "cheesy" sauce, and plenty of veggies. Plus, it's easy to make and can be easily customized to your liking. So, let's take a closer look at what makes vegan tuna casserole so special.
1. The Mushroom "Tuna"
First things first: the mushroom "tuna." Mushroom is a versatile ingredient that can be used in place of meat in many dishes. In this casserole, it takes on the role of tuna fish. Tofu is high in protein and low in calories, making it an excellent choice for those looking to cut back on meat without sacrificing flavor or nutrition. Plus, it's packed with vitamins and minerals like calcium and iron.
2. Cheesy Sauce
What would a casserole be without a creamy, cheesy sauce? This recipe calls for plant-based milk and vegan cheese to create a sauce that is every bit as rich and flavorful as the traditional dairy version. The best part? It's completely dairy-free and contains no cholesterol. So go ahead and indulge!
3. Veggies
This casserole is also loaded with healthy veggies like broccoli, carrots, and peas. Not only do they add color and texture, but they also boost the nutrient content of the dish. Feel free to mix things up and use your favorite veggies in this recipe. After all, variety is the spice of life!
Vegan tuna casserole is a delicious, hearty dish that is perfect for vegans and non-vegans alike. It's easy to make and can be customized to your liking. So why not give it a try today? Your taste buds (and your waistline) will thank you!
Kelp powder "umami seasoning"
It is an interesting and unique type of food. It is made from seaweed, which grows in the ocean but they are vegan. The powder can be used in a variety of dishes, both sweet and savory. It has a number of health benefits, making it a great choice for anyone looking to improve their diet. In this recipe, kelp powder is used as a seafood flavor that adds more flavor to this vegan creamy tuna casserole.
Ingredients we needed and how to make them!
You are in luck! This recipe is made of easy-to-find plant-based ingredients that can be found at your local grocery store and in your pantry. In this blog post, we will highlight the ingredients we needed and provide instructions on how to make this vegan tuna casserole. Below are the ingredients and a quick overview of how to make this healthy vegan casserole.
To make the creamy cashew sauce, you will need to pulse using a blender the; cashews, almond milk, kelp powder, onion powder, and black pepper until the cashews are mashed and crumbled.
To prepare the tuna filling; first, you will need pasta; cook them according to the package instructions. Second, mash the garbanzo beans using a blender. Lastly, sautee the onions, mushroom, and green beans over medium-high heat for 5-6 minutes. In a large mixing bowl, combine all the prepared ingredients and mix them well until fully combined.
Yay! It's baking time! In a prepared casserole dish, pour the mixture and bake for 45 minutes or until golden brown at  375°F. Yes, you can have this for 45 minutes only and it took 30 minutes to prepare. So easy to make right? And yes in this recipe we will use a mushroom as a tuna, as they are a great replacement for fish.
Please note that you can use any of your favorite plant-based milk and variations of mushrooms. In addition, you can add leafy greens such as spinach, kale, arugula, etc.
Best of all, this vegan tuna casserole is perfect for Thanksgiving day and any holiday season. If you are looking for more vegan recipes and to keep you updated you should subscribe to our newsletter.
Looking for more vegan fall recipes to add to your vegan diet?
Well, must try these recipes: Autumn Pizza with Vegan Gouda Cheese, Pumpkin Spice Fudge, Delicious Dairy-Free Pumpkin Spice Latte Recipe, Vegan Butternut Squash Curry with Chickpeas,  Teriyaki Tofu-Tempeh Casserole, Butternut Squash White Bean Kale Stew, Vegan Spaghetti Squash with Marinara Sauce, Sweet Potato Shepherd's Pie Casserole, Autumn Carrot-Sweet Potato Soup, Apple Cider Bourbon Cocktail-Alcohol Free, Vegan Pumpkin Cream Cold Brew, Dairy-free Pumpkin Ice Cream, Pumpkin Risotto-Comforting Meal, Autumn Spice Pear Cobbler, Roasted Butternut Squash Burger, Pear, Pumpkin, and Ginger Mocktail, Mini Pumpkins Cream Puffs, Pumpkin Alfredo Pasta Recipe, Vegan Maple Pumpkin Overnight Oats, Vegan Pumpkin Pie Smoothie, Apple Cranberry Crisp, Pumpkin Alfredo Pasta Recipe, Butternut Squash Pancakes, 20-minute Pumpkin Soup, Air fryer Cinnamon Rolls, Delicious Dairy-Free Pumpkin Spice Latte Recipe, Pumpkin Spice Fudge, Sweet Potato Pie Cupcakes with Cinnamon Frosting, Autumn Salad, Apple Cinnamon Waffles, Zucchini and Spinach Casserole, Creamy Butternut Squash Casserole, Black Bean and Zucchini Casserole, and Sweet Potato Mushroom Casserole.
The above are the best treat meal for the fall season, Thanksgiving day, and even in the winter season; they are completely made with plant-based ingredients and a great addition to your vegan meal.
Well, if you are missing seafood vibes when you are on a vegan diet. Well, thank us later. ? Try this vegan tuna casserole and share them with your family and friends.
Vegan Version; tuna casserole!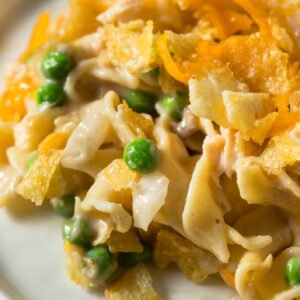 Vegan Tuna Casserole
If you are missing eating tuna, well this vegan version of tuna casserole is a fulfilling and satisfying casserole you will want to make again and again; it is filled with mushrooms, Garbanzo beans, and green peas with creamy cashew sauce.
Ingredients
Cream Cashew Sauce:
3

oz.

cashew

unsalted

2-3

cups

almond milk

unsweetened, or any unsweetened plant-based milk

1 1/2

tbsp

Kelp

powder or granules, optional; for a seafood flavor

1

tsp

onion powder

½

tsp

black pepper

freshly ground
Mushroom "Tuna" Filling:
8

oz.

mushroom

sliced, any kind of mushroom

1½

cups

pasta

elbow, vegan

2 1/2

cups

yellow onion

finely chopped

3-4

cups

Garbanzo beans

drained

2-3

cups

green peas

thawed
Instructions
Preheat the oven to 375°F and lightly grease the casserole dish.
To make creamy cashew sauce:
Using a blender, pulse the almond milk, cashews, Kelp powder, onion powder, and black pepper until smooth. Set them aside.
To make "tuna" filling:
In a saucepan over medium-high heat, cook the pasta according to the package directions. Remove from the heat and drain.

Meanwhile, in a skillet, saute the onion and mushrooms for 5-6 minutes or until lightly brown. Add a little amount of water, if needed.

Into the cooked drained pasta, combine the sauteed mushrooms and the green peas. Set aside.

Mash the Garbanzo beans using a blender until mushy but not too mushy; add them to the pasta mixture.

Add the creamy cashew sauce to a pasta mixture. Mix well until everything is incorporated.
It's baking time!
Transfer the pasta mixture to a prepared greased casserole dish and bake for 45 minutes or until everything is golden brown.
Nutrition
Calories:
1913
kcal
Carbohydrates:
276
g
Protein:
94
g
Fat:
60
g
Saturated Fat:
9
g
Polyunsaturated Fat:
17
g
Monounsaturated Fat:
27
g
Sodium:
2534
mg
Potassium:
5348
mg
Fiber:
78
g
Sugar:
77
g
Vitamin A:
3965
IU
Vitamin C:
179
mg
Calcium:
1211
mg
Iron:
57
mg
For More Vegan Recipes
The vegan meals listed below are ones you'll want to prepare frequently. It is also a wonderful addition to your vegan diet or to your list of must-try vegan recipes. As a result, if you want to stay up to date on our recently released vegan recipes as well as health advice. Therefore, be sure to sign up for our newsletter!
To Wrap It All Up
Vegan Creamy Tuna Casserole is a healthier and more delicious alternative to the non-vegan version. It is packed with amazing benefits that are essential for our health. One of these ingredients, kelp powder gives this casserole its distinct taste. All the other ingredients are easy to find and make. We hope you enjoy this vegan version of tuna casserole! Share your experience in our comments below.
Connect With Us
If you tried this vegan creamy tuna casserole, take a ?  and tag us on our social media: Facebook, Twitter, Pinterest, and Instagram, and subscribed to our YouTube Channel. I'd be delighted to see it! Make sure you don't miss any recipes and remember to subscribe to our email newsletter which will be delivered to your inbox every week. ?
Read More
Incredible Health Benefits of Sea Vegetables
Plant-Based Sources of Omega 3
Best Spice Rack Organizer: Keep Your Seasonings Close
Fun Activities-Thanksgiving day
Advantages of Homemade Casserole